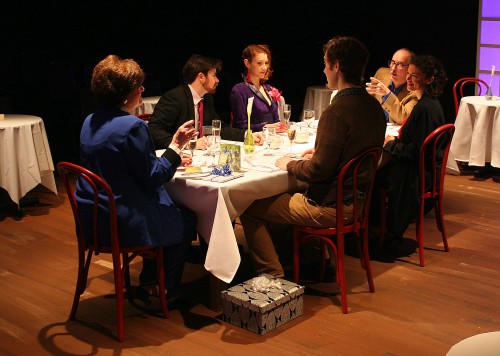 We've all been there– those uncomfortable little family dinners, roiling with resentments and old hurts, that turn testy between courses. Welcome to Zeitgeist Stage Company's accomplished production of TIME OF MY LIFE.
As we enter the theater, it's like walking into a restaurant and we're spectators– some of us at neighboring tables– observing a cacophonous family celebration: a  dinner party organized by businessman Gerry Stratton (the marvelous Michael Steven Costello) for his wife Laura's (Maureen Adduci) 54th birthday. They are joined by their sons–the eldest Glyn (Glen Moore) and his wife Stephanie (Margarita Martinez), his younger brother Adam (Evan Sanderson) and his new girlfriend Maureen (Ellen Soderberg).
The dinner party– and mother– is the fulcrum upon which the drama rests as the action pivots out in time– present, past and  future, simultaneously.  Mom always liked her youngest son best, dismissing her eldest Glyn, as having "the imagination of a coat hanger." The repercussions for Glyn are a rocky marriage and a failing business, and we follow his fortunes forward in time.
Mom is also threatened by her younger son's sexy hairdresser girlfriend who squirms uncomfortably under Laura's dismissive scrutiny. We follow Adam and Maureen's relationship backward in time.
Finally we hunker down in the present as Laura and her husband Gerry get drunker and drunker and devastating secrets come tumbling out. These are the production's best moments, when I felt there was something really at stake. The accomplished Maureen Adduci teeters masterfully on the dueling edges of Laura's personality: the superficially gracious and the delectably acid.  Michael John Costello as her vaguely coarse husband is alternately appealing and genuinely threatening as he begins to understand the truth of their past.
Though Ayckbourn closely and humorously observes the rituals of middle class life, this production's worst moments involve Gene Dante whose performance pulls us out of reality and into extreme farce. He is annoyingly over the top as a waiter/restaurateur who keeps popping up in each time frame, in an assortment of terrible wigs, mustaches, stuffed trousers, and accents. It's as if he's wandered in from a different play.
But overall, the production– ably directed by David Miller– successfully tackles the challenges of Ayckbourn's verbosity and clever structure as he peels back the layers of painful family dynamics. When mom finally opens up her birthday present from her eldest son– a clock–she has no idea: time's up. For us, it's a cue to seize the moment. So glad I was sitting at another table.  See TIME OF MY LIFE at Zeitgeist Stage Company Through March 3!