Paying the rent, colonizing a country, and milk like sugar–all cost; but these issues are definitely worth the price of admission as enacted on stages around town over the next few weeks.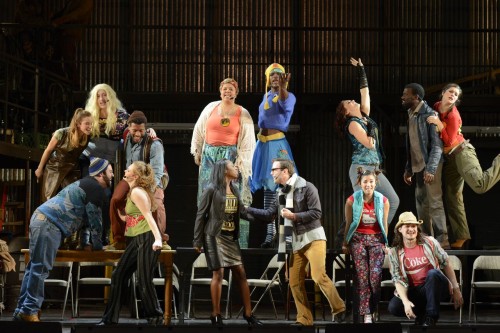 The 20th Anniversary production of RENT by Fiddlehead Theatre Company which runs only  through February 21 at the Back Bay Events Center is a musical about starving artists, drag queens, and AIDS based on Puccini's tragic opera La Boheme and first opened on Broadway 20 years ago. I wasn't crazy about it then. Why don't they have to pay the rent? Doesn't everyone?? (The notion that starving artists shouldn't be tainted by having to make a living, has always rubbed me the wrong way.) Book aside, the show's score, soaring, hymn-like, wistfully anthemic, music and lyrics also by the late Jonathan Larson– who died suddenly at age 35 of an aortic aneurysm just before the show opened off broadway, and long before it went on to win a Pulitzer and a Tony–has finally won me over. In fact it's been stuck in my head all week.
The latest production features a sprawling powerhouse vocal  ensemble,  Stacey Stephens's deft direction, and at least two outstanding performances: John Devereaux as Tom Collins with his deep, sonorous voice, and his lover the aptly named spirit of the show "Angel" played with great tenderness by Jay Kelley; they have a warm chemistry that lifts the production like a soft wind. The miscasting of the leads Roger (a pitchy Matthew Belles) and Mimi  (the too strident Ryoko Seta) was disappointing. But the ensemble, the score, and the relentless timeliness of the issues raised about belonging and addiction still resonate.
THE CONVERT produced by Underground Railway Theater over at Central Square Theater in Cambridge is a powerful drama by Danai Gurira set in 19th century Rhodesia (now Zimbabwe) and features a tremendous ensemble which brings the damage done by colonialism to visceral life in the here and now.
The playwright inspired by George Bernard Shaw's "Pygmalion" here tells the story of Jekesai, a brilliant, beautiful young woman from the Shona tribe who flees an arranged marriage and converts to Christianity under the tutelage of the missionary Chilford. Her new identity requires a new name–Ester, a new language–English, and re-education in the values and rituals of white European culture which will never fully embrace her or her countrymen, but which demands that she and they sacrifice their souls.
Ester is soon on a collision course with her own family and tribal leaders whom she has been forced to forsake. The increasingly tense social, political, economic, and gender-based inequities derived from these circumstances threaten to sweep them all up in a tsunami of violence, as Ester must choose to be who she really is.
The stage is spare and intimate, and director Megan Sandberg-Zakian shadows every corner with tension; the audience is right there on the front lines and I was blown away by the truth and power of all of these performances.  Especially notable is Adobuere Ebiama as the unwaveringly innocent Jekesai/Ester who is nobility incarnate. Maurice Emmanuel Parent as the tightly wound missionary is barely able to contain his own hidden rage against the compromises he's made himself. But it's the charismatic Equiano Mosieri as Chilford's friend the sleekly handsome Chancellor, an upwardly mobile mover and shaker who smoothly plays both sides of this rough bargain– until he doesn't–that shook me to the core. The climax of the play pivots on his towering performance, his transition from victimizer to victim who lets us understand the shifting balance of power in play here, and the increasingly untenable lines that must be straddled in order to maintain that balance.
THE CONVERT is supremely relevant right now in a world where immigrants and invading troops pour back and forth across the world's borders in search of freedom, identity, power, survival, acceptance.  See it and understand. Through February 28.
Finally, the Huntington Theatre Company presents Kirsten Greenidge's Obie Award-winning MILK LIKE SUGAR at the BCA's Calderwood Pavilion which features a crackling cast, street slang that just about required subtitles, and a plot ripped from the headlines: three teen girls who pinky swear to a pregnancy pact in a short-sighted grab for status. For the tough, no nonsense Talisha (Shazi Raja) and the bossy, materialistic Marjie (Carolina Sanchez) that means matching pink strollers they can push down the street with their cubs, feeling "strong and fierce like lions."  They clearly feel strength in numbers, which belies a fundamental insecurity about their decisions.
The third member of the trio is the smart questing Annie (Jasmine Carmichael) who begins to hesitate and wonders if she might aim for more. When she meets a young man Malik (Marc Pierre) who appeals to her native intelligence she begins to look up and out– literally. There's some rather literal onstage business between them involving telescopes, doves, and infinite horizons. Their scenes ring the least true. But we get the point.
Annie's heart also opens to another young woman the bookish, uncool Keera (Shanae Burch) who makes her own way by channeling an image of a perfect life and conjuring up enough joy to mask what ails her. Greenidge has delivered the view from an underserved community, punctuated by the rough and tumble lingo that goes with it. The language rings true as it riffs from urban slang to poetry, fierce and funny. Director M. Bevin O'Gara keeps it moving, vibrant, and real on a small stage bursting with life.   
Annie's scenes with her mother Myrna (the powerful Ramona Lisa Alexander) are the most affecting, a complex dance of love, anger, and shame as we come to understand how Myrna's stunted aspirations fuel her frustration and a legacy of diminished self-esteem. What choices did she actually have? What do any of these women feel they deserve and how does that self image propel them forward or hold them back? If you're only getting the powdered milk — the milk like sugar–how would you know it's not as sweet as the real thing?
See MILK LIKE SUGAR through February 27!