Still catching my breath and catching up with three more on the boards to check out:

REGULAR SINGING at NEW REP THEATRE takes the final bite out of the four-part "The Apple Family: Scenes from Life in the Country " cycle of plays by Tony Award-winning playwright Richard Nelson. We now know this family intimately as well as the exceptional cast who so movingly give these characters life.
Once again, the three Apple sisters– Barbara (Karen MacDonald), Marian (Sarah Newhouse), Jane (Laura Latreille) and one brother hanging on for dear life, Richard (Bill Mootos)– gather at the family manse in Rhinebeck, NY.  It's the 5oth anniversary of JFK's assassination and mortality is in the air, literally, as an ex-husband lies dying in an upstairs bedroom.
The allusion to Chekhov in the cycle's title, the setting, the array of sisters and an uncle, and the quotidian but loaded dialogue reflecting political events through the prism of a family in transition– render a poignant, elegiac world. Luckily, the Apple family is peopled with a teacher, a writer, and an actor (Joel Colodner as Uncle Benjamin a famous former actor now fighting dementia) who ruminate aloud on the meaning of life, and give voice to the depth and subtlety of their thoughts and emotions.
The cycle not only feels real and natural but also has the power and dignity of a ritual; REGULAR SINGING is a graceful conclusion, a lamentation on life's sorrows and the passage of time that demands we see this family through to the inevitable. See REGULAR SINGING at NEW REPERTORY THEATRE, Arsenal Center for the Arts through 9/25.
COMPANY– The Lyric Stage's latest outing into Sondheim territory is solidly directed by Spiro Veloudos and well-played by a first rate cast, but is unexciting; what they're playing feels dated. COMPANY stars John Ambrosino as a single man looking for love– or just looking. The musical pivots around his contemplation of the relationships of his friends, various married couples who've come to celebrate his birthday. He seems not quite committed to his swinging bachelor life, which plays like a throwback to another era with Rock Hudson in the lead, flighty females and all.
That said, Adrianne Hick's rambunctious "Barcelona," Leigh Barrett's sardonic rendering of "Ladies who Lunch," and Ambrosino's exultant delivery of Sondheim's sublime answer to, well, everything– "BEING ALIVE"– are worth the price of admission. See COMPANY at The Lyric Stage through October 9.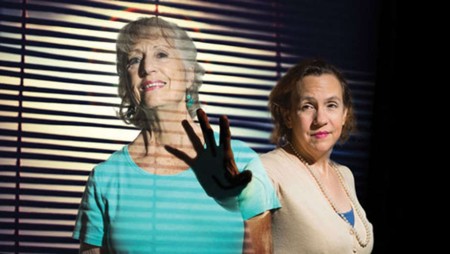 MARJORIE PRIME– is the first outing of the season by The Nora Theatre Company and continues its exploration of the science of existence, consciousness, and alternate realities. Jordan Harrison's Pulitzer Prize nominee is a sci-fi drama set in the "not-too-distant future" and scales the slippery slope of memory and identity. An elderly woman (Sarah deLima) is losing her memory, but has a humanoid younger version of her deceased husband Walter (Alejandro Simoes) programmed to keep her company and talk to her about their past together.
This "Walter" is an artificial intelligence called a Prime, and he's physically in his prime; the memories he's been programmed to have predate a central tragedy in Walter and Marjorie's "lived-life" together. Questions immediately arise about what any of us remember, or should remember, and how those memories shape our identities.
We all know that game of telephone, and the errors that history recounts as fact, and science has now shown us that memories are mutable, altered every time we recall them. So getting a grip on reality is tricky at best. But immediately, what to remind Marjorie about– falls to her daughter Tess played by artistic director Lee Mikeska Gardner and Tess's husband Jon (Barlow Adamson).
The play made me think about therapy and how we honestly talk to ourselves there if we have a tabula rasa of a therapist wise enough not to get in the way. Jordan's play posits that if given the chance, we can have that conversation in a different way, and alter our painful memories, reprogramming idealized versions of ourselves; but the "dishonesty" is somehow ennobling, freeing us to become our best selves, whom we could not be– to ourselves and our loved ones– in reality.
One could say that in MARJORIE PRIME "artificial" intelligence raises reality to "art." Or so I remember thinking when it saw it. See it and tell me what you think you remember. At The Central Square Theater through October 9! (Soon to be released as a major motion picture starring Geena Davis, Lois Smith, Tim Robbins, and the unforgettable Jon Hamm.)