Here's a quick round-up of three plays now onstage in and around Boston!
THE LIGHT now on at LYRIC STAGE. This beautifully staged and explosive two-hander is deftly directed by Jacqui Parker who guides her two-person cast through a roller coaster of emotions as they try to navigate a pivotal point in their relationship without going off the rails.
Dominic Carter and Yewande Odetoyinbo star as Rashad and Genesis who've been a couple for 2 years and are ready for the next step. These two actors bounce off each other like a pair of boxers, sizing each other up, navigating the unique rhythms of their relationship. They bob and weave through a fast-paced script by Loy A. Webb laced with funny repartee, sexy banter, and the occasional playful jab.  On this particular evening, Rashad's got something up his sleeve, but when he springs it, courting and sparking soon turns to serious sparring.
Information surfaces which throws the relationship into a whole new orbit– one that hinges on her vulnerability and trust, and his unconscious biases; ideological and emotional warfare ensues undergirded by their clear love for each other. The script too- facilely pitches them into a no-win debate revolving around gender, race, and power. But the actors make credible the script's not so hidden agendas and light up the stage in a fleet 70 minutes right up to an ending which doesn't quite clear the dust in the air.  SEE "THE LIGHT " at Lyric Stage through  June 26!
COMMON GROUND REVISITED— This world premiere at THE HUNTINGTON emerges on the ground where the history happened. The play is "based in part on, and inspired by" J. Anthony Lukas 1985 Pulitzer Prize winner about the effect of desegregation via busing on three Boston families in the 1970's: Common Ground: A Turbulent Decade in the Lives of Three American Families.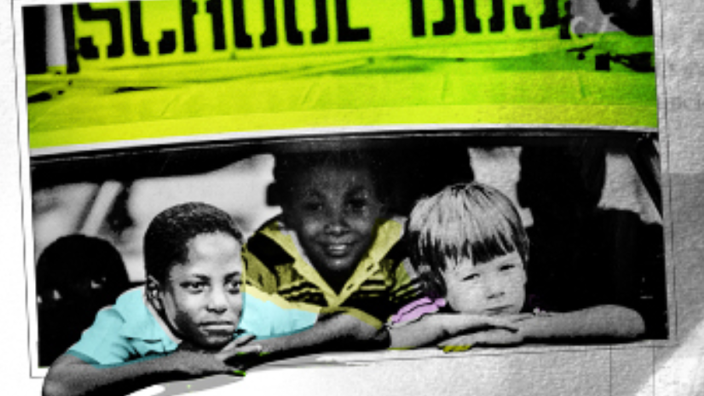 Co-conceived by director Melia Bensussen and Huntington Playwriting Fellow Kirsten Greenidge, the play updates the iconic book and attempts to capture a sprawling swath of Boston history anchored by a first-rate Boston cast offering a road map to our past, present, and future. It's a monumental task and an indisputably relevant one, but this theatrical event tries to cover too much ground in one fell swoop; it's more didactic than dramatic and downright exhausting.
We're talking 12 excellent, well-known Boston actors who also contributed personal stories to the piece. They re-enact the established history sketching out rather than fleshing out the stories from multiple perspectives, household to household, character to character, condensing that history into quick flashes, so as to let us see the tribal boundaries that have coalesced into the crazy quilt of neighborhoods which is Boston, and which led to the inadequate solution that busing was to a problem that stemmed from racial, ethnic, and socio-economic inequity; the effect on the Boston public school system, then and now, is profound. Just who or what is a Bostonian anyway? This is one of the most provocative and enlightening sections of the play.
Of course, we need the lens provided here to help us understand ourselves as citizens of this city; we carry this history with us and live it every day whether we know it or not, its impact on our politics and evolving cultural landscape inescapable. But I would have loved to have seen this material shaped as a potent theatrical trilogy; it might have allowed room for more dramatic development of these characters, and more deeply felt and vividly alive performances through these stories which remain alive in our city to this day. COMMON GROUND REVISITED At The Huntington through June 26.
Finally it's 1776 the 1969 Tony-winning musical revived and co-presented by American Repertory Theater and Roundabout Theatre Company directed by Jeffrey L. Page and Diane Paulus, onstage now at The Loeb Drama Center. I saw the original "1776" in London when I was 17 years old. I was blown away by the way the tale was told — the irreverence, the pop score, the infighting, randy jokes, and these historical figures presented as wildly different personalities who wrangled mightily before they all agreed to sign the Declaration of Independence! Then came HAMILTON–which re-centered the immigrant story of the founding of the country and blew our minds with a dazzling whip-smart score.
Now it's back to 1776  in a revival which tries to refocus our attention on who was left out of that declaration, re-centering the story around race, women, and gender expression. The parts are all played by performers who identify as female, non-binary, and trans which is somewhat revolutionary and a potentially interesting idea. I get it–and I got it in the first five minutes once the cast made its appearance. And this cast does its best with some stand out moments. But there remains the same old undistinguished score by Sherman Edwards, and a book by Peter Stone with its flaccid jokes about the congressional members' "members," and what we've already been told about these various characters and their quirks played mostly for laughs: who was a nag, who was a drunk, who could play the violin– and how.
There were two truly powerful, beautiful musical numbers. One belonged to the multi talented Sara Porkalob who slayed us in the "Dragon Cycle"  and here finally took center stage with a searing indictment of slavery in "Molasses to Rum." Then there was an exquisitely haunting elegy sung by Salome B. Smith who plays a character on the periphery of the action but who gets to the beating heart of the show– and the audience– when she intones the words of a dying soldier in "Momma, Look Sharp."
But it would take more than unorthodox casting and hanging our contemporary awareness on an unattractive set to revolutionize this over-the-hill musical. The show is out of date, while 1776 remains a year to be reckoned with. At A.R.T through July 24.