Rounding out the season, I've seen a raft of shows– here are the ones that floated my boat:
DRAGON MAMA: I was blown away by this one-woman show at Club Oberon part of A.R.T.'s breakout series in Harvard Square, Cambridge. This is a solo memoir and tour de force performance by the extraordinary storyteller, actress, singer, writer, Sara Porkalob.  She slips like quicksilver, from one character to the next, acting out the history of her Philipino/Chinese family with its entire cast of funny, heartbreaking relatives and friends. These are very specific, full characters in a deeply humane story that grabbed me from the get go. AND THAT VOICE— beautiful and mesmerizing. DRAGON MAMA is part II of an in-progress trilogy, with Part I (can't wait to see that too), DRAGON LADY, in repertory now through April 7 at Club Oberon !
PHOTOGRAPH 51– I gravitate to tales of brilliant women whose accomplishments and contributions to the world have been hidden for decades under the rock of male patriarchy and finally uncovered. PHOTOGRAPH 51 by Anna Ziegler, directed by Rebecca Bradshaw, produced by the Nora Theatre Company at the Central Square Theater in Cambridge is such a tale, and it infuriated me all over again.
Stacy Fischer heads up an excellent cast as the cool, meticulous biophysicist Doctor Rosalind Franklin whose work at King's College in London was instrumental in revealing the double helix structure of DNA. Her work led to the Nobel Prize– which was claimed by three men named Crick, Watson, and Wilson, who of course thought they did it on their own.  Barlow Adamson is also a standout as the thorn in Franklin's side, the stuffy Dr. Maurice Wilkins who immediately underestimated the accomplished Rosalind, banned her from eating lunch in the senior common room, and referred to her as "Miss" instead of "Doctor Franklin." See this eye-opening, handsomely staged production at Central Square Theater through April 14!
CARDBOARD PIANO–A surprisingly moving play and New England premiere by Hansol Jung at New Rep Theatre in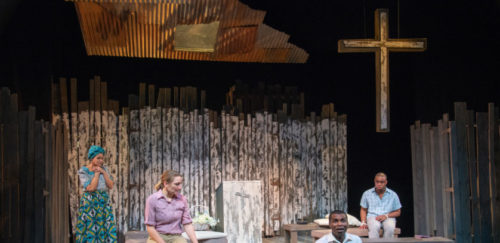 Watertown, about a young lesbian couple in Northern Uganda in the midst of a civil war and lethal homophobia. Act I was slow, and didn't tell me much I didn't already know, when suddenly, it exploded into a thriller of revelation, hatred, forgiveness, and redemption. Act II makes sense of that odd, working metaphor of a title, and the performances by this superb cast cut to the bone, especially that of Marc Pierre whom we first meet as a terrified, conscripted boy soldier. Benny Sato Ambush directs this crisis of the soul with great heart, elegance, and clarity. At New Rep Theatre through April 14.