Once upon a time…there was a brilliant Tony Award-winning musical INTO THE WOODS by the late great Stephen Sondheim and James Lapine which won three Tony's its first time out.  Now its first acclaimed Broadway production in 20 years has made its way from the great white way to Boston's Colonial Theatre with much of its dazzling Broadway cast intact! INTO THE WOODS is here to slay us once again, and I was—
Slayed. Stupefied. Bewitched. Astounded. This profoundly-moving, tragicomic musical brought me to tears, gave me goosebumps, let me look through rose-colored glasses then smashed them to bits, to reveal a truer, more compassionate vision of the human condition in all its heartbreaking complexity– if you like that sort of thing.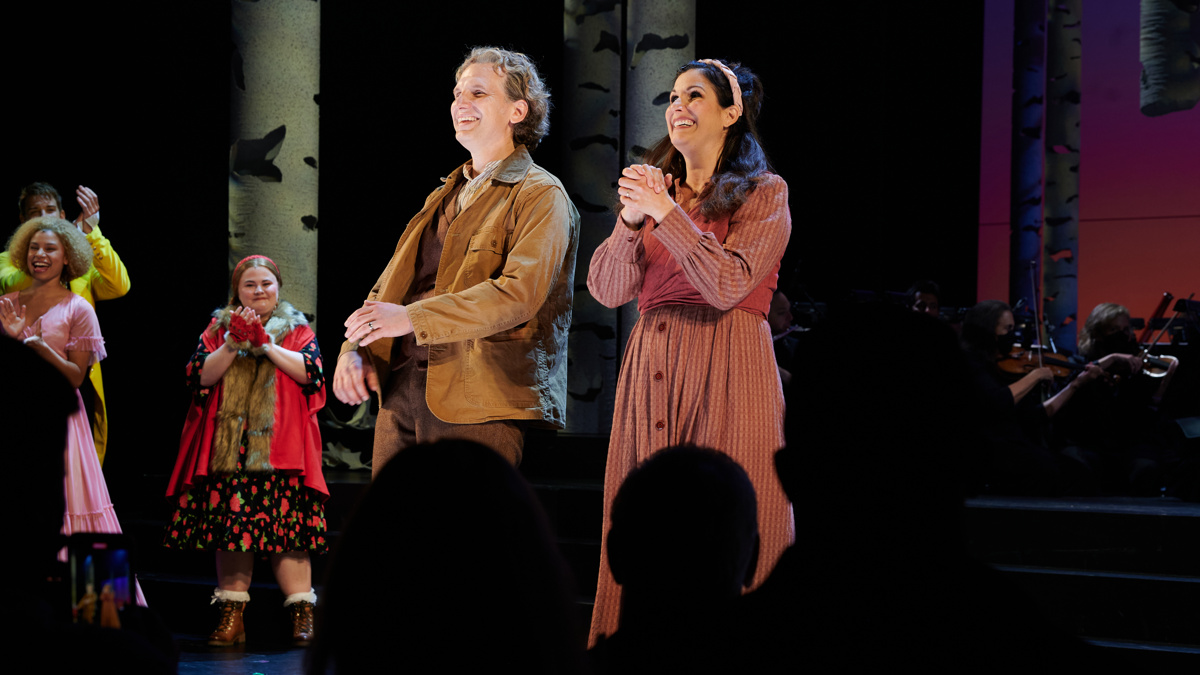 Into the Woods takes us right into the thicket of life through an ingenious recasting of archetypal fairytales. The set and staging are simple and effective with a full orchestra right upstage behind the action downstage along with a narrator who fractures the fairy tales we grew up with: the barren Baker and his wife, hungry Little Red Riding Hood, a doltish Jack, his mother, and the beanstalk, sweet Cinderella, forlorn Rapunzel, a pair of puffed-up Prince Charmings, and of course a wicked witch of a mother who tries to break a spell –which spells trouble for everyone. Act I arrives at a happy ending –which is really just the beginning…
Act II finds these characters wandering in the woods encountering trouble, temptation, terror, and turmoil, clinging to ever-deepening disappointment as they try to find their way out. Could there be a more relevant play for the woods we're all in right now?  This musical will give you hope leavened with compassion.
I found it in the little ticks and foibles of each character; Kennedy Kanagawa's expressive puppeteering of Jack's sad-eyed pet cow Milky White; the crystalline voices of Katy Geraghty as the hilariously bossy little Red Riding Hood; the pair of charming and disarming Princes: Jason Forbach to Rapunzel (Alysia Velez) and Gavin Creel (Cinderella's Prince and also the Wolf!) whose goofy bravado nearly steals the show; the sweet soprano of Ellie Fishman as Cinderella; Cole Thompson as the dimwitted Jack who proves ignorance can be bliss; Montego Glover as the Witch caught between a curse and its reverse; Sebastian Arcelus as the salt of the earth baker and his wife– the towering Stephanie J. Block who brings the house down in a soul-searing ode to staying or straying:  " 'Is it always 'or?'  Is it never 'and?' " There isn't a false note among this outrageously gifted ensemble.
And binding it together is Sondheim's ravishing score with its bittersweet dissonances, unexpected melodic leaps, and diabolically-clever,  rhymed and reasoned lyrics. Lapine's wise book holds us firmly at the crossroads of life's triumphs and tragedies, blessings and curses, and all the aching mysteries of those moments in the woods.
YOU MUST SEE THIS. This Broadway production of INTO THE WOODS is one of only ten limited-engagement appearances across the USA–see it at Emerson Colonial Theatre only through April 2!!