I must say, I'm not crazy about THE ADDAMS FAMILY musical, despite adoring the TV show based on the characters created by cartoonist Charles Addams. I was mad about Carolyn Jones as the slender, pale-faced, black-haired Morticia (I once dressed as Morticia for Hallowe'en) and John Astin as Gomez, her googly-eyed, Romeo of a husband. But the production now onstage at Wheelock Family Theatre boasts a first-rate cast of local veteran musical theater stars and kept me and their young audience engaged!
In the uninspired musical version, book by Rick Elice & Marshall Brickman with generic music & lyrics by Andrew Lippa, the plot doesn't thicken–it merely boils down to the deadpan Wednesday, now 18, who falls in love for the first time with a "normal" boy from Ohio and invites him and his "normal" parents to dinner to meet the outre Addams clan. The setup is actually more relevant now than ever and turns the struggle for inclusivity on its head. To the Addams Family who cut the blooms off their roses and enjoy being electrocuted for fun, it's the cheerful Ohioans who are the weirdos. But the Addams's do their best to appear as traditional as apple pie (minus the newts) with mildly humorous results,
What makes it work is this excellent cast all punching below their weight. We're talking Aimee Doherty as the slinky, silken-voice Morticia; Leigh Barrett as the hilariously wholesome Alice Beineke who may be nuttier than Morticia. Leigh has never sounded better; her voice is remarkably powerful,  malleable, and expressive. Wednesday is played by the very talented Emilia Tagliani who turns the usually chill Wednesday into a volcano of rebellion as she tries to get her new boyfriend Lucas Beineke (Timothy Bevens) to elope. Anthony Pires Jr. makes his mark as Uncle Fester, as does Luis Negron as a sympathetic Gomez, and Jack Baumrind as little brother Pugsley. Wheelock veteran Jane Staab is the perfect Grandma Addams,  though WHOSE  grandma is up for grabs. And when looming Lurch (Sam David Cohen) finally opens his mouth to sing–the sound may as well swallow the whole theater!
The sets (James Rotondo) and costumes (Zoe Sundra) are fine and a troupe of singing and dancing ancestors keep things moving. The ultimate message is  a healthy one: what's normal is that we are all different, and expanding our worldview is the way forward.
THE ADDAMS FAMILY is onstage at Wheelock Family Theatre NOW EXTENDED through November 19— Bring the kids!! 
But leave the kids home (Must be 18+ to attend. Must bring photo ID.) when you head to MR. SWINDLE'S TRAVELING PECULIARIUM and Drink-Ory Garden located under the big top at Harpoon Brewery! Grab a pretzel dog and a beer and wander inside to a cozy little tent to witness all manner of schtick: sometimes raunchy jokes, sometimes real circus thrills– without the poor animals, thank you.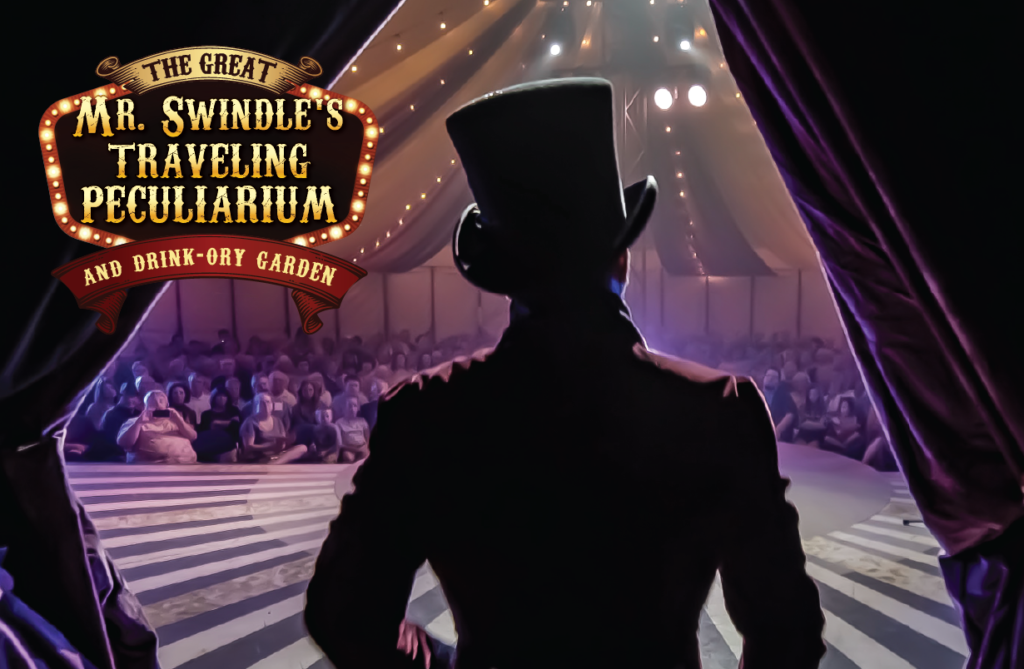 The show is a 90-minute, lowdown riot, a burlesque with jugglers, gymnasts, strong men, contortionists, hoopsters, tumblers, and acrobats. The acts are presided over by a quack lot led by B.S. Swindle himself (emphasis on B. & S.), the shifty Dr. Elixir who toys with a willing audience, and a wacky husband and wife team Jonathan Taylor and Anne Goldmann (onetime Boston dwellers) who sing and dance and tell stupid jokes and occasionally end up in compromising positions. They are surprisingly funny as they interact with the audience. Come prepared to be the butt end of a few jokes. There are occasional flights of nudity, and they do things with bananas in a climactic gag sequence that may leave YOU gagging.  This is cheesy adult humor at its finest, so let your hair down and get ready for an old-fashioned Circus, Vaudeville, Burlesque, Medicine show, with carnival overtones and beer. On the grounds of the Harpoon Brewery through November 5 .