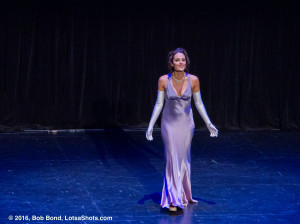 The view from the wings of the Shubert Theatre was magical… there was the beautiful actress Jennifer Ellis in a satin gown under a silvery light with an even more silvery soprano singing solo from her winning performance in The Lyric Stage Company's marvelous production of MY FAIR LADY. There was the sultry McCaela Donovan holding us spellbound with
a haunting ballad from her winning turn in the Huntington Theatre Company's wondrous A LITTLE NIGHT MUSIC. The Gold Dust Orphans Tim Lawton with veiled back up dancers in drag brought his big bold voice to his winning performance in THOROUGHLY MUSLIM MILLIE. This year's Elliot Norton Prize Winner for Sustained Excellence Steven Maler closed with a tender reading of one of the Bard's sonnets. Our Guest of Honor and Tony and Drama Desk Award-winning actress Mary Louise Wilson and Lifetime Achievement Award winner reminded us that she was the only one in the room old enough to have been criticized (he liked her!) by the Dean of Theater Critics himself, the late great Elliot Norton! Our namesake would have been proud. It was a smashing night, awards ceremony followed by a gala after party in the grand lobby of the Wang Theater!
It was my privilege as President of the Boston Theater Critics Association to host the 34th installment of this event. Each year we select and present the annual Elliot Norton Awards to honor the outstanding work of the past theatrical season. This year we bestowed 27 awards in all with performances in between by most of the nominated musicals! A Special Citation was awarded to Matthew Aucoin, for bringing Walt Whitman to life with his own artful sense of operatic poetry in his opera, Crossing.  Oscar-winner Mark Rylance won an award, so did movie star and Norwell's own Jennifer Coolidge!
Just when you think it couldn't get any better, the Boston Theater community outdoes itself. This year we celebrated the dazzling array of productions and performances– large, small, visiting, and fringe– which tackled the issues of the day with exceptional intelligence, verve, sophistication, and craft.  Huge congrats to the folks who continue to make it happen every night on stages all around our City!
Here's the complete list of awards!
Outstanding Visiting Production
Ghost Quartet (presented by American Repertory Theater)
Outstanding Production by a Large Resident Theater
Come Back, Little Sheba (Huntington Theatre Company)
Outstanding Production by a Midsize Theater
The Convert (Underground Railway Theater)
Outstanding Production by a Small Theater
The Diary of Anne Frank (Boston Children's Theatre)
Outstanding Production by a Fringe Theater
A Beautiful Day in November on the Banks of the Greatest of the Great Lakes (Apollinaire Theatre Company)
Outstanding Musical Production by a Large Theater
Natasha, Pierre and the Great Comet of 1812 (American Repertory Theater)
Outstanding Musical Production by a Midsize, Small or Fringe Theater
My Fair Lady (Lyric Stage Company of Boston)
Outstanding Design, Large Theater
Natasha, Pierre and the Great Comet of 1812 (American Repertory Theater) Scenic design by Mimi Lien, Costumes by Paloma Young, Lighting by Bradley King, Sound by Matt Hubbs, Wigs and Makeup by Rachel Padula Shufelt
Outstanding Design, Midsize, Small or Fringe Theater
Mary Poppins (Wheelock Family Theatre) Scenic design by Janie E. Howland, Lighting by Franklin Meissner Jr., Costumes by Elisabetta Polito, Sound by Roger J. Moore, Props by Marjorie Lusignan
Outstanding Actor, Large Theater
Mark Rylance, Nice Fish (American Repertory Theater)
Outstanding Actress, Large Theater
Adrianne Krstansky, Come Back, Little Sheba (Huntington Theatre Company)
Outstanding Actor, Midsize Theater
Johnnie McQuarley, Othello (Actors' Shakespeare Project)
Outstanding Actress, Midsize Theater
Jennifer Coolidge, Saving Kitty (Nora Theatre Company)
Outstanding Actor, Small or Fringe Theater
Brandon Green, An Octoroon (Company One Theatre)
Outstanding Actress, Small or Fringe Theater
Zehava Younger, The Diary of Anne Frank (Boston Children's Theatre)
Outstanding New Script
The Launch Prize, by MJ Halberstadt (Bridge Repertory Theater of Boston)
Outstanding Solo Performance
Phil Tayler, Buyer & Cellar (Lyric Stage Company of Boston)
 Outstanding Director, Large Theater
Rachel Chavkin, Natasha, Pierre and the Great Comet of 1812 (American Repertory Theater)
Outstanding Director, Midsize Theater
Scott Edmiston, Casa Valentina (SpeakEasy Stage Company) and My Fair Lady (Lyric Stage Company of Boston)
Outstanding Director, Small or Fringe Theater
Summer L. Williams, Colossal and An Octoroon (Company One Theatre)
 Outstanding Musical Performance by an Actor, Large Theater
Wade McCollum, Ernest Shackleton Loves Me (ArtsEmerson)
Outstanding Musical Performance by an Actor, Midsize, Small or Fringe Theater
Tim Lawton, Thoroughly Muslim Millie (Gold Dust Orphans)
Outstanding Musical Performance by an Actress, Large Theater
McCaela Donovan, A Little Night Music (Huntington Theatre Company)
Outstanding Musical Performance by an Actress, Midsize, Small or Fringe Theater
Jennifer Ellis, My Fair Lady (Lyric Stage Company of Boston) and Wonderful Town (Reagle Music Theatre of Greater Boston)
Outstanding Ensemble, Large Theater
Come Back, Little Sheba (Huntington Theatre Company)
Outstanding Ensemble, Midsize, Small or Fringe Theater
The New Electric Ballroom (Gloucester Stage Company)