The movie event I live for ALL year is happening this weekend! The host-less 92nd Oscars are set to air this Sunday night, February 9 on ABC @8PM!! 
I love the sartorial splendor, the rhetorical blunders, the offhand quips, and above all, Brad Pitt. Who is bound to win. He's won everything else, including our hearts from the first second we saw him shirtless and waving a blow-dryer atop Geena Davis in 1991's THELMA  & LOUISE. He is my first pick and prediction for the OSCARS this Sunday night.
I will be tweeting through every bit of it all night long! So join me on twitter, won't you? And weigh in on every fleeting moment, and thought that pops into my head as I settle in, wine in hand, to gaze upon this star-studded parade of pomp and cinema.
My snubs, picks, and predictions are as follows along with this handy guide:  GG=Golden Globes/ SAG= Screen Actors Guild /DGA= Directors Guild Awards/PGA= Producers Guild of America/BAFTA=British Academy of Film and Televison Arts
SUPPORTING ACTOR (snubbed Chris Cooper "A Beautiful Day in the Neighborhood" Sam Rockwell "Jojo Rabbit" and "Richard Jewell")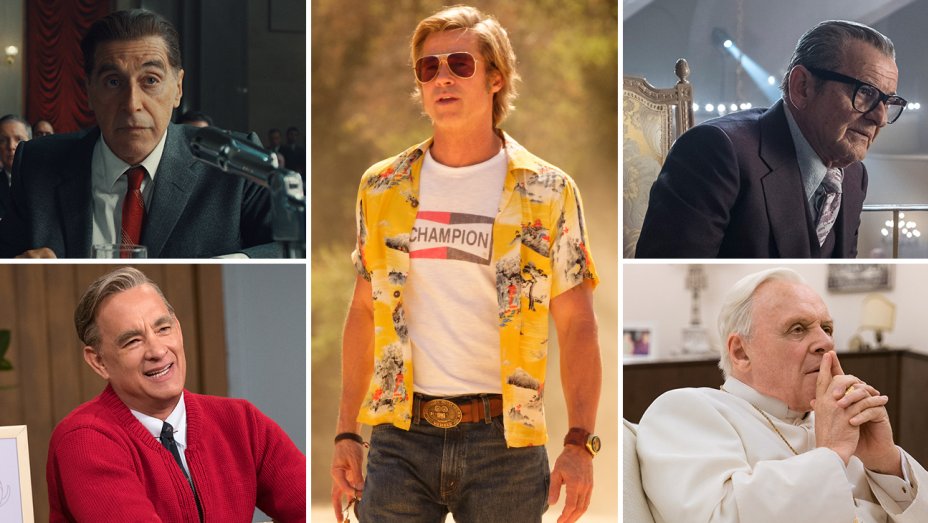 Will win/Should win: Brad Pitt (won SAG, GG, BAFTA, CRITICS CHOICE) gives a great speech. Won an Oscar for producing "12 Years a Slave" but never won for acting though nominated 4X in acting categories, twice for best actor in"Benjamin Button" & "Moneyball."
SUPPORTING ACTRESS: snubbed Jennifer Lopez in "Hustlers" Did Scarlett Johansson really need that second nomination in this category here when she's already nominated for Best Actress in "Marriage Story"?
Will win/should win: Laura Dern for "Marriage Story"(won GG, SAG, CRITICS CHOICE, BAFTA) Gives a very smart, layered performance as a marriage lawyer whose ruthlessness is relatable because she invokes the sisterhood in defending the wife, but all the while manipulating a dehumanizing system. So it's tricky– and she pulls it off. This would be her 1st Oscar. This may also may be only Oscar for "Marriage Story," very like Regina King's win last year for "If Beale Street Could Talk.")
I wouldn't be sorry if Margot Robbie upset the common wisdom here and won for "Bombshell."  Without a word, she nails that scene when called upon to demonstrate her journalistic capabilities by hiking up her skirt for the lascivious Roger Ailes. Robbie's gorgeous face conveys more than words could ever say about the degradation a woman feels in those all too common situations.
ACTOR (snubbed: Adam Sandler in"Uncut Gems"/Taron Egerton Rocketman" /Paul Walter Hauser "Richard Jewel"/ Eddie Murphy "Dolemite is my Name")
will win/should win: Joaquin Phoenix "Joker" (won GG, SAG, BAFTA, nominated for acting 4 times including "Gladiator, " "Walk the Line" & "The Master"). Tremendous actor who can play anything.
ACTRESS (snubbed: Alfre Woodard in "Clemency"  Lupita N'yongo in "US," and Cho Yeo-jeong in "Parasite")
will win/should win: Renee Zellweger in "Judy."(won GG & SAG, CRITICS CHOICE, BAFTA) Won previous Oscar for Best Supporting Actress in "Cold Mountain." Renee didn't sound like Garland but delivered an uncannily suggestive Judy, believable, smart, funny, and complex rather than a pathetic cartoon. It also echoes Zellweger's own Hollywood comeback story after dropping out for years.
BEST DIRECTOR (snubbed Greta Gerwig for "LITTLE WOMEN" which was nominated for BEST PICTURE and SCREENPLAY which she wrote.)
will win/should win: Sam Mendes for 1917 (won GG, DGA, PGA, BAFTA awards) and he and Roger Deakins have achieved something extraordinary here technically & aesthetically, with that edited to look like one long tracking shot which is wholly in service of and immersing us in an acutely emotional, tense,  personal and universal narrative. Mendes won an Oscar for directing "American Beauty."
This is one of the two toughest categories along with BEST PICTURE. I believe Mendes will edge out the masterful Scorsese for his elegiac "The Irishman," Bong Joon-ho for the shocking, brilliant, timely "Parasite," Quentin Tarantino for the extraordinary Hollywood Valentine "Once Upon a Time…in Hollywood" and Todd Phillips for "Joker" which did not garner a DGA nomination.
BEST PICTURE (snubbed: "Uncut Gems," "A Beautiful Day in the Neighborhood," "Booksmart," "Dolemite Is My Name") See My Top 10+ Movies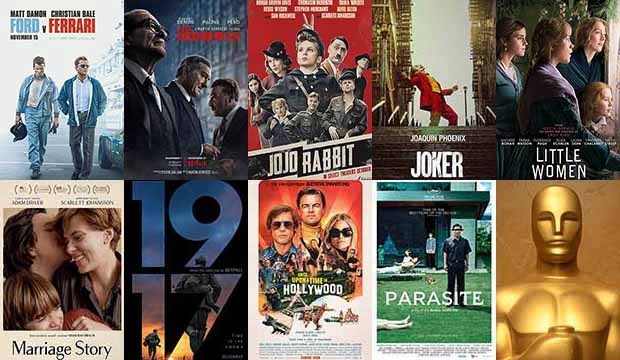 Will win: 1917 (won GG, DGA, PGA, BAFTA) Hollywood likes this film, these themes, and and the values here espoused. Extraordinary concept and cinematography by the acclaimed Roger Deakins, with global resonance as the world feels on the brink of so many wars, is deeply polarized, and empathy is at an all time low.  That it stars 2 relative unknowns puts the the film and "everyman"  front and center.
Should win:  Couldn't decide. My TOP faves upon repeated viewings are ONCE UPON A TIME IN HOLLYWOOD, PARASITE, 1917, LITTLE WOMEN–and I would be satisfied if any of these deserving films won the OSCAR for Best Picture in 2020.  That said, I have no idea what that likable entertainment but -are you kidding me- "Ford v Ferrari" is doing in this category.
Follow me on Twitter @JoyceKulhawik on Sunday night!!!!