This Sunday, for the 85th time, Hollywood will honor its own in a global pageant known as the OSCARS!  I love them.  I love watching them. I covered them live in a multitude of gowns for 25 years from the red carpet. This year, I will be luxuriating in every tear, laugh, gaffe, sartorial snafu while sipping red wine and communing online with my own little world Oscarphiles on Twitter and Facebook.
Herewith my predictions (who will win), picks (who should win), & slips (who was snubbed)
BEST PICTURE
I predict:ARGO*** My pick: LINCOLN*** What slipped: ANNA KARENINA
Ben Affleck's ARGO is the front runner by all accounts. He's won the GOLDEN GLOBES, The British BAFTA'S, The SAG AWARDS, the DIRECTORS GUILD AWARDS and besides– Ben's brother Casey said so. It's payback time for the beloved Ben's perceived snub in the best director category. LINCOLN was the more absorbing, demanding, and unusual film. But I will be thrilled for Ben to win for this savvy thriller that had us on the edge of our seats.  ANNA KARENINA– not even nominated– remains the most ravishing, ingenious, under-appreciated and misunderstood film of the year.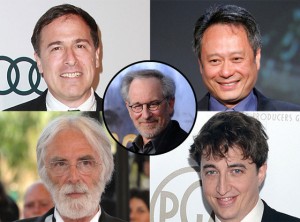 BEST DIRECTOR
I predict: Steven Spielberg "Lincoln" ***My pick: Steven Spielberg "Lincoln"***What slipped: Kathryn Bigelow "Zero Dark Thirty" and Ben Affleck "Argo"
Without Affleck and Bigelow in the running for their outstanding directorial achievements, Spielberg should walk away with this. Despite a few nauseating Spielbergianisms (like an array of black and white soldiers reciting the Gettysburg address to Lincoln seated high above them on the battle field) Spielberg most of the time indulged his more aesthetically inclined angels and created an illuminating, rousing historical epic.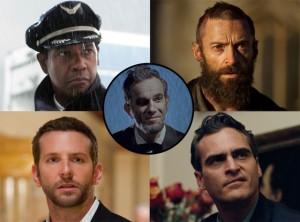 BEST ACTOR
I predict: Daniel Day-Lewis "Lincoln"*** My pick: Daniel Day-Lewis "Lincoln"*** What slipped: John Hawkes "The Sessions"
There is no contest in this category. I have seen Lincoln and he is Daniel Day-Lewis.  I have never caught the man "acting." He out-streeps Streep.  That said, John Hawkes's subtle, vulnerable, slyly funny and poignant turn as a man living most of his life in an iron lung and embarking on sex for the first time in the barely noticed THE SESSIONS was a remarkable leading performance. I wish more folks had seen this beautiful film.
BEST ACTRESS
I predict: Jennifer Lawrence "Silver Linings Playbook" ***My pick: Emmanuelle Riva "Amour"*** What slipped: Helen Hunt "The Sessions"
I have no idea why Jennifer Lawrence is the front runner here–this is not an unusually demanding or even particularly believable character, but she's won everything so far and so it goes. This is the weakest category. The 86 year old Emmanuelle Riva should win for her extraordinarily detailed and unsentimental portrayal of a woman in the final stages her life with her husband as they endure the ravages of her stroke. Not cheery enough for the Academy and too many pesky subtitles. Helen Hunt was naked, beautiful and unabashedly nurturing as a sex therapist. Perhaps the Academy was struck blind.  I also have no idea why Naomi Watts in "The Impossible" is in this category. She spent the entire film wet and moaning. That was some tsunami.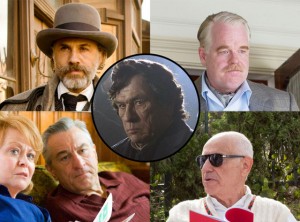 BEST SUPPORTING ACTOR
I predict: Tommy Lee Jones***My pick: Christoph Waltz "Django Unchained"***What slipped:John Goodman "Flight"
This is the strongest category– previous Oscar winners all– but it's really between Waltz and Jones– a rock and a hard place for sure. I think Jones will triumph because of his diabolically gleeful politicking at the heart of "Lincoln,"  while Waltz's part is embedded in the ultra-violent, though exuberant "Django Unchained." John Goodman's turn as Denzel's "Dr. Feelgood"  in "Flight" was hilarious. He walked in and stole every scene like a good supporting actor should.
BEST SUPPORTING ACTRESS
I predict: Anne Hathaway "Les Miserables"***My pick: Sally Field***What slipped:Helen Hunt
Anne has won it all so far and so she will win again. I just hope she can summon up an acceptance speech half as genuine as the performance she gave as the bereft and shorn "Fantine." Sally Field deserves to win because the role required much more range, and Field has titanic resourcefulness and nuance in that tiny little frame. And I'd just like to hear her make another Oscar speech. I'd really like it.  As for Helen Hunt– she doesn't belong in this category. She should have been nominated for BEST ACTRESS.
So there. We'll see how it goes on Sunday night 2/24. Meet me on Twitter and Facebook. I'll break out the wine.