Let's begin with STRAIGHT WHITE MEN— since most things do. But time's up and now what? That's the question raised by playwright Young Jean Lee in her Broadway hit now having its New England premiere onstage presented by New Rep Theatre. First, I am a fan of another work of Lee's– "We're Gonna Die" which audaciously confronts that reality with unexpected joy and humanity. Here, Lee sets up 4 "straw white men" then sets about tediously hobbling them over three acts.
The show opens with a pre-show– a "Person in Charge" (Dev Blair) who identifies and explicates "their" pronouns while dancing through the audience over a raunchy rap track. This person literally and figuratively sets the stage for what follows. There are 4 straight white men, 3 brothers holed up in a rec room over Christmas with their widowed Dad. There's Jake the material guy and a successful banker (Dennis Trainor), Drew (Michael Kaye) the thinking man and professor/writer, and Matt (Shelley Bolman) the acknowledged brilliant Harvard grad and socially conscious guy who's now living at home, cooking, cleaning, and working a temp job making copies at a volunteer organization. Is he depressed? Stepping aside to make room for others? A loser?
The question seems to be "What's a straight white privileged man to do?" Spare me. The question rings hollow and sounds, well, privileged. And spare yourself the aggravation of watching three adult men roughhousing and regressing over the course of three endless, humorless, clumsily directed acts. They bore little if any resemblance to any straight white adult men I know, let alone real 3D characters with lives and issues at stake. Dominant straight white male culture is a load, but Lee doesn't know what to do with it except point, debunk, then throw up her hands. At NEW REP through 9/30.
Then there's the world premiere of THE NICETIES –which are promptly dispensed with–in this taut, two-hander that cracks open an overdue debate about who gets to write history. The play, by Brookline native and Huntington Playwriting Fellow(!)  Eleanor Burgess, unfolds in a history professor's office as an esteemed, condescending yet earnest white prof (Lisa Banes), and her brilliant, rebellious black student (Jordan Boatman) wrangle over the student's thesis on the American Revolution, which posits that the presence of a slave class allowed the revolution to succeed. The encounter heats up and widens into a cataclysmic debate across generations about power, identity politics, and systemic racism.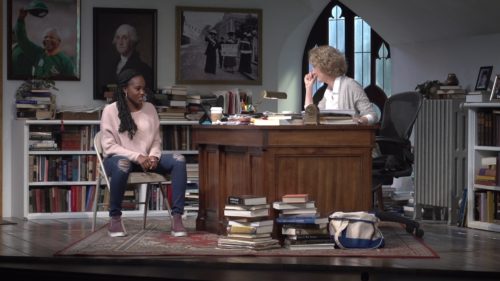 The dialogue hooked me; both characters are virtuosic talking heads, and I was dazzled by the way these actresses managed the rhythms of their rhetorical pyrotechnics. The result? I found myself on both sides of the argument at different times. Admittedly, both characters were but different shades of "liberal." I sided with the student's impatience and her challenge of the status quo, but also the prof's experience and tolerance for effecting incremental change. There are no easy answers and this play wisely does not provide them.
That said, the conversation engaged my head, but not my heart. I never felt the world outside their conversations truly present, never felt either of the protagonists as fully fleshed out people, and as such, these arguments to paraphrase Keats were never dramatically "proved upon (my) pulses." Some of the arguments fall short: why was Nelson Mandela's portrait never referenced? How would this history prof ever say slavery had nothing to do with this young woman's present life?
Given how focused the play is on these characters as mouthpieces for points of view, I wondered if it would have been more effective if they had been sprung loose from the theatrical convention of that office and instead, seated next to each other, speaking outward where the conversation might have conjured up a larger world of thought and our place in it.
In any case, the issues raised here are now critical. Having moved past the history of the world of this play, post Obama and into Trump's wasteland of alternative facts, this onstage debate almost feels like a luxury. WHO tells our current history and WHAT that story is has become so much more crucial than what either of these characters or any of us could have possibly imagined. Presented by the Huntington Theatre Company at the BCA Calderwood through October 6.
Finally there's the Lyric Stage presentation of KISS OF THE SPIDER WOMAN Terrence McNally's musical with Kander and Ebb about Argentinian political prisoners Molina (Eddy Cavazos) whose crime is being gay, and Valentin (Taavon Gamble) who's part of the resistance. Molina manages prison by escaping into fantasy and conjuring up a noir movie queen called The Spider Woman whose affections are fatal. The growing and complex relationship between Molina and the straight Valentin proves equally deadly.
There are many problems here, beginning with Lisa Yuen as the darkly dangerous Spider Woman. Ms. Yuen first emerges in what looks like an old green bathrobe. Stiff and glamourless, she goes through the motions but her motions ain't got that swing.  Which leaves us with a dull score, and little chemistry between Cavazos and Gamble, the only person who held my attention onstage. But without the heat and fantasy, this is a long, dreary business. At The Lyric Stage through October 7.