No kidding. The hottest spot in Europe now is POLAND. I just blew in from the land of pierogi and kielbasa, sauerkraut and beet soup, all of which have graced our Easter and Christmas Eve tables since I was a little girl. The Kulhawiks (pronounced "kool-HAH-veek") were a colorful bunch. My grandparents were born near or in Bialystok, in what was then PRUSSIA. My father Chester (Czeslav), and his siblings –Helen, John, Mary, & Edward all born in Bridgeport, Connecticut– spoke Polish before they spoke English. Half my family is blond and blue-eyed; my very tall cousin Eddie played basketball in high school with Lew Alcindor –aka Kareem Abdul-Jabbar, and later played rockin' good accordion in a traveling polka band.  Aunt Helen ran off to NYC to join the Rockettes but instead met the love of her life. Her brother and my Uncle Jake was a fire eater, did magic tricks, and drove a bus (not at the same time), while Aunt Mary (Ciocia) smoked cigars, rode motorcycles, and dated sailors. Their mother, my grandmother ("Babcia") besides being able to make soup out of anything (even shoelaces if necessary–they were very poor) entertained us by removing her false teeth and dressing up like "Moms Mabley."
That's what we knew growing up– but we wanted to know more. So nine of us– teenagers to sexagenarians– flew toward the Baltic Sea, landed in Warsaw (pronounced "var-SHA-va"– isn't that gorgeous?) piled into a van and set off in search of our roots. We saw the sights, drank copious amounts
of vodka and beer, stuffed ourselves with dumplings and pork knuckles, and nearly drowned in the record cold and rain that overflowed the rivers, shutting down streets and subways. It didn't matter. We felt at home and on an adventure together.
Besides the restaurants, architecture and shops, the all night beer, bonding, and candles our 1st evening in Poland, the interactive(!) Chopin Museum, that cute Polish "bun" hairdo, our spooky grand hotel in Lodz (pronounced "Woodj") thus the "Hollywoodj" of Poland– famous for the Lodz film school and its Oscar-winning alum Roman Polanski–there was that fluky fender bender in downtown Warsaw within 10 minutes of setting out, that found my husband sitting in the back of a Polish police cruiser while the officer noticed that his license had also expired–and casually uttered the word "Arrest."
There were these crazy salt mines outside of Krakow in Wieliczka– open for business in the 13th century and open for tourists in the 21st. We hiked 370 steps down to huge cavernous spaces and underground lakes, where 19th century revelers held grand balls and people still hold weddings in chapels with chandeliers– all carved out of salt!
There was the concentration camp where, once again, we found ourselves drenched and drained, walking in the mud, along the tracks where those selected for slaughter had once walked. We were led by an extraordinary guide Berta a native of  "Oswiecim"–the Polish name for her city now known to most of the world by its German name: Auschwitz.  We learned that this eloquent woman, also a teacher of Polish literature, has given this tour for over 20 years, but she rendered it for us as if for the first time, with unusual feeling, nuance and power. And even so, despite the graphic remains of the unrelenting misery we witnessed there, and all that has been written and said, the horror– all these decades later– remains unspeakable.
There was Krakow — Poland's most beautiful city with THE MOST charming square in Europe- more lively than Brussels, less commercial than Venice, more romantic than Vienna and Prague, ringed with mysterious candlelit cafes, and immaculate with flowers and white, horse-drawn carriages.
But the most astonishing part of Krakow for me was meeting Maciek. Just as we were starting to plan our trip to Poland back in the fall, I, out of nowhere received an e-mail from one Maciek Kulhawik a student in Wroclaw, Poland who had discovered my website online while researching his surname. He wondered if we were related. After many sporadic e-mails over much of the year– I told him we were indeed coming to Poland– we picked a place to meet: Krakow, the old town square, in front of  St. Mary's Church, 4 O'clock.
Once again it was pouring. The forecast also mentioned something about "hail." We wondered if this kid would show up. Who was he? Would he actually travel 3 hours in a flood,  on a bus, to meet people he didn't know? Who does this? It'll never happen. The clock struck 4. We  huddled under our umbrellas. Nothing.  Suddenly I saw a rather thug-like looking individual with a shaved head and a surly expression slouching toward us. Oh no.  He approached….I held my breath–and then he kept walking.
And just as I began to exhale, I felt a light tap on my shoulder and turned around to see a tall, slim, young man with the face of an angel asking me– "Are you Joyce?" I say, "Are you Maciek?" and
as he says "Yes," I– as would any self-respecting reporter — whip out my camera and snap his picture. The rest was amazing. We immediately surrounded him and headed off to the arcade for drinks.  We barely knew where to begin but Maciek produced a book with his family tree prepared by his great aunt Christine–which lead to much scrutiny, speculation, and more vodka. All his relatives come from the same area of Poland as ours do, and Kulhawik is not a very common name even in Poland– so we are still searching for how we are related. No matter. We were charmed. We took him to dinner at a beautiful old restaurant near the square where Maciek in his very fluent, British-accented English (he's spent some time in London) told us that he was studying civil engineering and also, that– HE IS A MAGICIAN!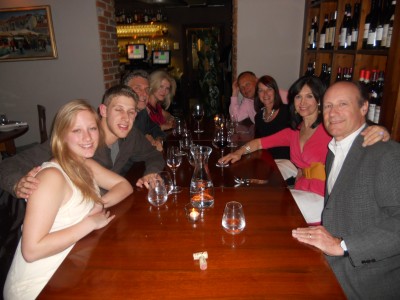 WHAT??? No way. He confessed that he seldom went anywhere without at least ten decks of cards. Naturally, we demanded a little prestidigitation and Maciek made magic in between courses.
We have invited him to the US and would love to show him around. In the meantime, I have no idea exactly how we are are related, but somehow I bet my Uncle Jake (who asked to be buried in his pajamas –and he was) and my crazy Ciocia Mary, and Babcia, and all our funny, beloved family, here and long gone, would have really gotten a kick out of someone who had traveled many miles and hours in a downpour, with ten decks of cards, on the chance of meeting a few other Kulhawiks– who apparently felt the same way. I'm still smiling