This Wednesday comes along once every 4 years: February 29th of course!! An extra day– deserves an EXTRA special something!
Here are two LEAP DAY  DEALS  for you: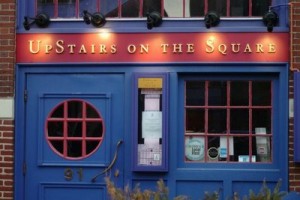 DEAL #1: February 29th is SADIE HAWKINS DAY!!!  So why not ask him to dinner?–UPSTAIRS ON THE SQUARE!  I pass along this invitation from the lady owners and chefs of UpStairs— whom I LOVE — proprietors Mary-Catherine Deibel, Deborah Hughes, and chef Susan Regis– have concocted a special aphrodisiacal menu for this special once-in-four-years event, available in the Soirée Room all night long next Wednesday through Friday nights, February 29 through March 2!
Invite Mr. Right, or at least Mr. Somebody, for an elegant and romantic dinner in the Soirée Room. That very carefully designed pink lighting and plush lavender banquettes make even Mr. Wrong look (and behave) like Romeo, and you, of course, are guaranteed to look stunning in our soothing and flattering ambiance. How about this menu:
ISLAND CREEK OYSTERS
sparkling chenin blanc mignonette
or
ROASTED ARTICHOKE HEART
brown butter & blood orange citrus vinaigrette
* * * *
CHARCOAL-GRILLED SIRLOIN
bone-in marrow, chermoula-crushed Maine fingerlings
or
HOOK & LINE-CAUGHT COD
parsley root brandade & pea greens
or
GRANDIOSO RAVIOLO
truffled egg, tender greens & honeyed ricotta
* * * *
ICE CREAM SUNDAE FOR TWO!
housemade ice creams, bittersweet chocolate sauce
candies & giant chocolate chip cookie
The cost of the Sadie Hawkins Day menu is $75 per person (including champagne, but not other beverages, gratuity or tax). We'll only agree to give you this special menu and price if you call yourself, ladies, so get on the phone! (617-864-1933) Mention our Sadie Hawkins Day special when you call for reservations. UpStairs on the Square, 91 Winthrop Street,  Harvard Square, Cambridge! We guarantee a great meal, but we can't be held responsible for what happens afterward…
***********************************
DEAL #2:  $29 TICKETS on FEBRUARY 29th!!  SPEAKEASY STAGE COMPANY is having a ONE DAY SALE on Wednesday February 29th : $29 tickets to XANADU the final production of their 2011-2012 season!
On 2/29, tickets for any of the first week of performances of XANADU (May 11 – May 17 shows only)  are just $29 (not including fees for phone or online sales).
Sales hours on Wed., Feb. 29  are 9am-midnight (online only) and noon-7PM (phone and walk-up sales).
You can purchase tickets in one of three ways:
Phone: 617-933-8600
Online: www.SpeakEasyStage.com
In Person: 527 Tremont Street, Boston, MA
Based on the cult film of the same name, this riotous new musical follows the efforts of a magical Greek muse named Kira who descends to Earth to help a struggling artist achieve his dream of opening a roller disco. Featuring an ingenious book by Douglas Carter Beane (The Little Dog Laughed) and a score full of chart-topping tunes (Magic, Suddenly, Evil Woman), XANADU is hilarity on wheels.
Have fun taking the leap!