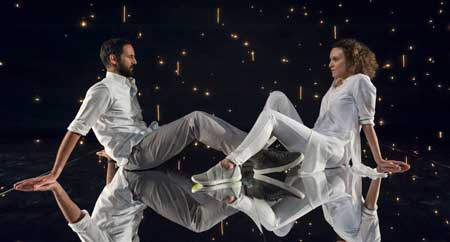 Here are three to see onstage right now beginning with CONSTELLATIONS presented by Underground Railway Theater at the Central Square Theater. This is one of the most fascinating and brilliantly performed productions I've ever seen locally, as emotionally charged as it is intellectually stimulating. I was entranced at first sight of the set– a luminous, limitless universe of lights into which step a man and a woman who are about to meet and begin a multifaceted journey through space and time. The play is part of their Catalyst Collaborative@MIT partnership which looks at life through the lens of science.
Here, the idea of a "multiverse" is the focus of playwright Nick Payne who examines one romantic relationship through the prism of simultaneous parallel universes– all the choices  "never and ever made." It's a dazzling idea and the implied celestial mechanics open up possibilities dramatic and romantic. The action is exquisitely directed by Scott Edmiston who fixes our gaze on two stellar performances: Marianna Bassham as "Marianne" and Nael Nacer as "Roland." She's a physicist who studies the origins of the universe, he's a beekeeper. We are transfixed as we watch them buzz around each other in a spiraling set of scenes, each scene repeating but taking a slightly different turn, tone, and direction depending on the choices made and the attitudes held.
For the actors it's an intricate and fulsome dance, a rich opportunity to examine their characters from multiple points of view, and harness all their inventiveness to reveal different outcomes.  The same or similar dialogue is delivered with varying emphases, a shift of the shoulder, the lift of an eyebrow, a devastating smirk, or a defensive smile– all of which shade a character's psyche and personality; it is enlightening to watch what comes of taking different stances in a relationship and where that can lead.  But the ultimate idea here is that everything IS possible and is in fact HAPPENING SIMULTANEOUSLY IN A MULTIVERSE in which we dwell. 
The play unfolds fleet and sleek, running 85 minutes but seeming both shorter and longer! It is so engrossing, it's as though we've been away forever. DO NOT MISS THIS PLEASE, though given the premise, there is no chance of that. Through October 8!
Then hurry and see IDEATION New Rep Theatre's season opener and Boston-area premiere at the Mosesian Center for the Arts in Watertown! The play sneaks up on you– then explodes in your face. It's a reverse dramatic fugue on paranoia as a team of consultants grows increasingly discombobulated when they are asked to design a project which puts their objective goals into competition with the moral implications of their decisions. As they move deeper into the project, they begin to find themselves in a thicket of ethical, psychological, religious, political, and personal conundrums which ratchet up their paranoia and leave them and the audience on increasingly shaky ground: what's true and what isn't? (Sound familiar?) As they question the client, each other, themselves, and the very premise of their existence, we grow increasingly anxious about how fragile are the assumptions we make about ourselves and our lives all the time.
It's an ingenious and timely play by Aaron Loeb directed by artistic director Jim Petosa who guides this first-rate cast ever so slyly into increasingly unstable territory. Among the standouts are Lewis D. Wheeler as the hotshot Brock who takes an instant dislike to his cocky counterpart, the new office intern (and son of one of the firm's suits) "Scooter " played by the excellent Jake Murphy. Christine Hamel as team leader Hannah walks a fine line between authority and sensuality as the sole woman on the team. Unlike the sharp, angular, black and white set on which it is played, the physical and moral universe in which the action unfolds grows increasingly murky. As the play asks "how do we know what we know," it also subtly the introduces the idea of faith. I have faith you'll be thoroughly engaged. Only through SEPTEMBER 24!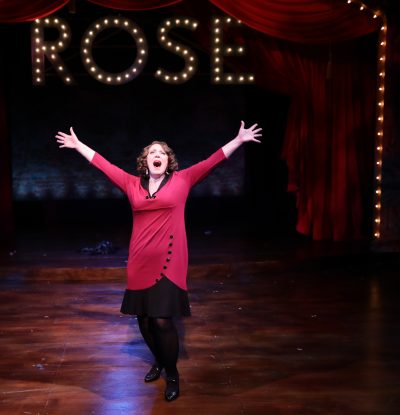 And there is ONE BIG REASON to see GYPSY A Musical Fable at The Lyric Stage: LEIGH BARRETT as the iconic "Mama Rose" in the Arthur Laurents, Jule Styne, Stephen Sondheim musical suggested by Gypsy Rose Lee's memoir of her sublimating mother who lived her show biz dreams through her daughters– one of whom became the iconic stripper formerly known as Louise.  You may remember Rosalind Russell's performance with Ethel Merman's dubbed singing voice in the film version, or were lucky enough to see Patti Lupone's Titanic Tony Award-winning turn on Broadway, but DO NOT miss your chance to see one of our most talented veteran musical theater stars Leigh Barrett in a funny, gutsy, dynamic, jubilant, career-capping performance as the ferocious Mama Rose. Barrett  has never sounded better and sustains us through the interminable first act build up to the triumphant, transformative, and touching Act II– which also brings us another local veteran musical comedy star in top form: the pint-sized Kathy St. George as Mazeppa, a gladiator in fishnets bugle-blowing her way through a strip tease with all the finesse of a Mack truck in heat. Priceless. The other ladies with a gimmick (Electra: Jordan Clark/Tessie Tura: Shannon Lee Jones) make this number a hoot, and the show just about worth the almost three hours of solid performances and classic numbers. Through October 8!