To see or not to see– that is the question! Definitely see"MISS SAIGON" up at the North Shore Music Theatre! I just saw it and despite the fact that it took me 35 minutes to get out of the parking lot– it was worth it. This Tony-Award winning musical based on Puccini's "Madama Butterfly," is set in Vietnam where a marine falls in love with a young Vietnamese woman, then is separated from her during the fall of Saigon, with tragic consequences. YES– this extremely effective theater-in-the round staging successfully convinces us that a helicopter actually lands amidst thousands clamoring to escape during the chaotic US departure. But most importantly, the leads Jennifer Paz as "Kim" and Jason Forbach as "Chris" are exceptionally charismatic with gorgeous voices that send this already beautiful score by "Les Mis" team Schonberg and Boublil soaring. Francis Jue is less caustic and more sympathetic than Broadway's Jonathan Price as the entrepreneurial Engineer– who dreams the American dream as more of a "scheme" to get rich. Tickets going fast– through November 17!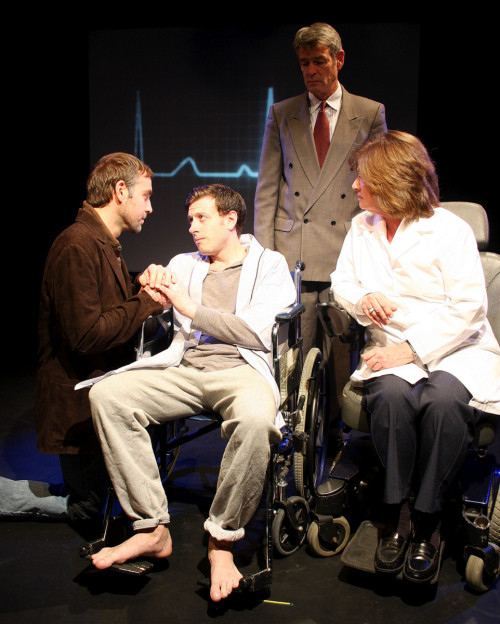 See THE NORMAL HEART. Larry Kramer's pivotal work in the canon of Gay Theater about the early days of the AIDS epidemic in NYC was last seen in Boston 25 years ago. Now, Zeitgeist Stage Company gives us a heavy-handed but heartfelt production, as urgent as the message it carries: AIDS killed thousands before it was acknowledged to be an epidemic. The reasons parsed out here are political, practical, painful, medical, but mostly prejudicial, fueled by, and a reaction to– gay hate. Some of the actors do a better job than others actors delivering three hours of agenda-driven theater. Maureen Adduci as a Dr. in a wheelchair tries but only partially succeeds in making pages of expository science sound natural. Victor Shopov does somewhat better as Ned Weeks, an angry activist who's in love with the handsome Felix Turner who begins to show signs of the disease; Joey C. Pelletier breaks your heart in the role. And Peter brown manages to be nuanced and sympathetic as Ned's distant, patrician brother. But it takes until Act II for  the human drama to break through the stats for a very moving, powerful conclusion.  See THE NORMAL HEART  at the BCA's Plaza Black Box Theatre through 11/23!

Don't rush to see Kurt Vonnegut's MAKE UP YOUR MIND over at the SpeakEasy Stage–a world premiere comedy? Drama? Surrealist/absurdist diatribe?/ Monkey business? The work was actually assembled by playwright Nicky Silver from an assortment of Vonnegut's drafts, and results in a weird concoction that I think means to be "satire" but falls like a "flat tire" (sorry–just taking my cue from the play). "MAKE UP YOUR MIND" begins in a therapist's (an awkward Barlow Adamson) office with a wealthy socialite patient (an unfunny Tracy Goss). He's not really a therapist (actually a telephone repairman), and she's not really wealthy (just slightly married to a billionaire) but she definitely cannot make up her mind. So she's come for the cure and Roland Stackhouse has it: a henchman who will beat his patients to a pulp if they change their minds. And they always do. Ah, we're reminded, "the only way to cure people is to cure them of being people."  Ain't it the truth.
Stackhouse's "disapproving" but only "maybe" his father George (a funny Ross Bickell) figures into a plot which involves Eskimos, carmelite nuns, bowling, and porno.  Richard Snee has marginal luck delivering his lines in a dual role as narrator Vonnegut and Ottis Fletcher, a chain-smoking patient who can't quit, so he's puffing away and in a cast within minutes.  The good news? The play runs a scant 90 minutes, no intermission, and there's great graphic design– cartoon drawings that become animated in the course of the action. But it is absurdly unfunny, with pretentions of something to say about sudden reversals of fortune, topsy turvy father/son relationships, and the intransigence of the human condition. Don't make your condition any worse –make up your mind to let this one go.