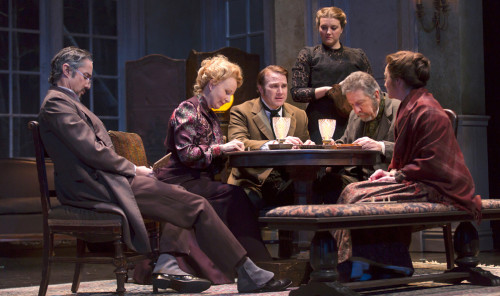 You know how Chekhov insists that his plays are comedies? Well the Huntington Theatre Company's production of THE SEAGULL proves the point–it's practically a laugh riot, which only enhances its serious impact. From the play's first two lines, when the schoolmaster Medvedenko asks Masha why she is always wearing black, Masha– who is in love with the young playwright Kostya, who is in love with fledgling actress Nina, who is in love with famous novelist Trigorin, who's not really in love with famous actress Madame Arkadina, who is really in love with herself, and who has a love/hate relationship with her son Kostya –declares to the schoolmaster, who is in love with her but whom she does not love, "I'm sick of my life"– we get the picture, and the audience howled at what it instinctively recognized as the tragic absurdity of it all.
Maria Aitken directs this fresh and knowing production of one of the pioneering works of modern drama, striking a tone acutely poised between absurdity and anguish. The production is physically beautiful, smart, and painfully funny, as it captures the randomness of life's trials and the relentlessness of time subsuming all.
Kate Burton is a lively and cunning Madame Arkadina, a grand dame of "THE THEATAH"– theater that is challenged within the world of the play by her revolutionary playwright son Kostya, and outside the world of the play by Chekhov who broke from the traditional theater of grand external gestures, and launched a "true to life" theater of complex characters with grand internal lives. That Kate Burton's real life son Morgan Ritchie (and grandson of the great actor Richard Burton!) plays her frustrated son Kostya in the play, adds yet another rich layer.
The  ensemble truly is superb–an ancient-looking Tom Derrah (whom I recognized by his mannerisms before I saw through his whiskers) as Arkadina's brother Sorin has a lot of fun with every line reading. Nael Nacer as the forlorn school teacher has never been more touching and nuanced. Auden Thornton is perfect as fragile beauty Nina ripped apart by the careless Trigorin– a blandly avid Ted Koch. Don Sparks is hilarious as the blowhard Shamrayev shackled to Nancy Carroll's haggard Pauline, who hankers after the downright sexy Marc Vietor as Dr. Dorn now a wise and aging bon vivant.
Chekhov, too, was a doctor and I suspect looks with rueful compassion on everyone here like an "about to be dead" duck– or rather–seagull.  The dead bird brought down in flight makes its appearance early on, but remains a symbol in motion; any one of these characters might be that bird, and our sympathies lie with them all. Unlike Shakespeare's comedic roundelay of lovers who consummate their love in wedded bliss, Chekhov's tragicomic protagonists are perpetually mismatched and unfulfilled. And when the final shot is fired, it happens off stage–to soften the blow? I think not. After all, we know no one gets out of here alive. The grand gesture belongs off stage and unseen; but its reverberation just below the surface, along with all the other little deaths as yet unnoticed by those remaining center stage– is what resonates. See THE SEAGULL before you die–at The Huntington Theatre Company through April 6!