What do THE HEART OF ROBIN HOOD and Shakespeare's HENRY VIII have in common? They're both onstage in the area right now, and both involve decapitation. I lost my head over one, but not the other. I'll begin with the one that also left me breathless, that timeless Sherwood Forest caper excitingly re-imagined over at Cambridge's American Repertory Theater: THE HEART OF ROBIN HOOD.
I found myself gasping before anything happened. Entering the theater I was plunged into an all-enveloping deep, dark, mysterious, magical forest, giant trees arching upward, with leaved branches curling out over the audience, above a three-quarter thrust stage, tapestried to look like the forest floor. It was thrilling, the beauty of it. Genius designer Borkur Jonsson is the Icelandian behind the magic–more about them later. Then, when lights began twinkling amid twisted tendrils overhead, and actor/acrobats commenced sliding into the action by way of a giant slope of mossy green, and swinging by ropes and leaping off two cantilevered drawbridges hovering center stage, I knew I was in heaven.  I didn't actually care if anything ever happened on that stage– the set, on its own, carried the full weight of dramatic possibility: the forests of Sherwood, Arden, and Eden all in one.
That said, adventure unfolds aplenty with twists and turns. In this version by playwright David Farr, orchestrated by director Gisli Orn Gardarsson and his team of expert Icelandian elves, the tale harkens back to its roots, with a "roots music" band ensconced in the trunks of trees, and Robin as a primitive thug who steals from anyone, keeps the loot, and orders an occasional beheading along the way. King Richard is fair, King John is foul– and sets his cruel sights on the lovely Maid Marion. But this maid needs no rescuing– she has set her cap for the Hood in the wood (Jordan Dean), who's in dire need of civilizing–and she's just the woman to do it.
In fact, this gorgeous sprite of an actress making her ART debut–Christina Bennett Lind as Marion– steals the show. She's a Katy Perry lookalike with fireworks to spare. In this version, she infiltrates Robin's rascally band disguised as a rather pretty young man, and ends up being man and woman enough to steal the bandit's heart. As the tale unwinds, tribes of noblemen and thieves tumble through the forest, entwined in a riot of references from "Dirty Harry" to "Jaws."  The tunes and dialogue are easily upstaged by the acrobatics, but the tale culminates in an image of such rapture and ethereal sweetness, I thought my own heart would break. You MUST see "THE HEART OF ROBIN HOOD" at the ART through January 19!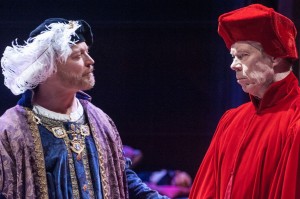 You might see Actors' Shakespeare Project's HENRY VIII at The Modern Theatre. I was very curious about it because it's seldom performed and little known. It's also the play that was onstage when Shakespeare's Globe Theatre burned to the ground in 1613. Would that the manuscript went with it.  The celebrated Tina Packer directs and puts the emphasis on Shakespeare's women here –God knows Henry leaves a string of them behind–but Packer gets almost no help from the Bard, if indeed he wrote it, and it has been suggested, he did not.
Whoever did write it, did so to flatter England's greatest Royal, Queen Elilzabeth I, Henry's daughter and heir by Anne Boleyn who lost her head to Henry, twice. There's much talk and pageantry here, but no drama.  And oddly, though most of the talk swirls around the titular character, he's the one we learn least about. But the lean Allyn Burrows as the oft-married monarch makes interesting work of the bits and pieces we are given of Henry VIII, even suggesting the ruler's heft and drollery.
10 actors play 42 parts including one "Fool"– a famous female named "Jane"  played by Bobbie Steinbach– who fills in stray parts and comments on the action.  Historical events rapidly unfold: Henry sidesteps the church to divorce his wife and former sister-in-law Katharine of Aragon when she doesn't give him a male heir, then marries Anne Boleyn who gives birth to Elizabeth. There's much wrangling for power in the Church and court. A standout performance by  Robert Walsh as Cardinal Wolsey helps anchor the production; Walsh tempers the Cardinal's pomposity with humanity. Tamara Hickey and Kathryn Myles as Queen Katherine and Anne Boleyn are beautiful and compelling, strong women caught in an even stronger web of intrigue and corruption.
But Janie E. Howland stumbles with a scenic design involving a projection of a dove of peace hovering over Susan Dibble's choreography– "modern" dancers whirling about like Martha Graham school escapees.  And a tipping crucifix signaling, what– the wobbly state of the Church?– just about pushed me over the edge. Let's put it this way. If we're keeping score of the Bard's successes– 36(plays) out of 37 ain't bad. Check it out for curiosity's sake– and it's certainly a curiosity.  HENRY VIII through January 5 at Suffolk's Modern Theatre.