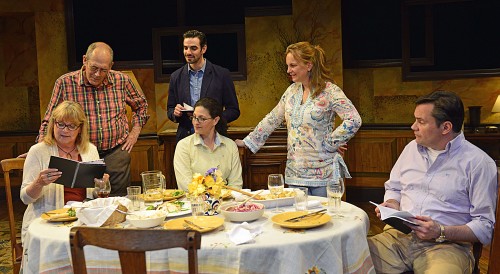 Head on up to Gloucester Stage for the last week of a touching play with a marvelous cast. SWEET AND SAD is part 2 of the four-part  "The Apple Family: Scenes from Life in the Country " cycle of plays by Tony-Award winning playwright Richard Nelson, here co-presented by Stoneham Theatre. This slice of the apple is juicier than my first bite of Part I. Here again the family gathers at a country home upstate in idyllic Rhinebeck, New York where the amusingly persnickety but grounded Barbara Apple (Karen MacDonald) lives with Uncle Benjamin (Joel Colodner) a brilliant former actor who's slowly losing his memory, and depressed, defensive sister Marian (Sarah Newhouse) who has recently moved in and is regrouping after a devastating loss.
Shortly, brother Richard(Bill Mootos) a somewhat lunky businessman who hates (hah!) the theater arrives, and will surprise their other sister the blunt and peevish Jane (Laura Latreille) who eventually rolls up with younger inamorato Tim Andrews (Paul Melendy) an actor and inevitable teller of stories. Oh, and it happens to be Sunday, September 11, 2011; the sad aftermath of that tragedy hangs over them all as they sit down for a meal together before heading out to commemorate that mournful anniversary. Before the play is over, we will all be enveloped by the reverberation of that larger tragedy, and how it puts these specific familial pains into a universal and terribly poignant context.
Let me just say, there couldn't be a more skilled cast of actors assembled to so transparently embody the sorrows and joys that families are heir to. Each of them is remarkably natural and real; it's as though we have wandered in and caught them unawares, sniping and griping, laughing and crying as families do about their lives and each other: love and marriage, careers and politics, children and parents.
Weylin Symes has directed them on a stage that feels roomy, though they never leave the dining room. Their dynamics have breathing space and many of us will see ourselves in this white American middle class family, all recognizable individuals at different stages of their lives, simply trying to find happiness and meaning in the midst of sibling rivalry, death, loss, and a world that appears increasingly complex and overwhelming.
The play takes its time, one hour and 45 minutes straight through, gently accumulating power. Along the way the family finds itself, in between the salad and mashed potatoes, tiptoeing through familiar land mines trying not to inflict too much harm; there's a crescendo of ghost stories, and old wounds, recorded bells ringing from the village church, and a tender musical requiem that gradually rings truer closer to home, wrapping itself around a poem by Walt Whitman invoking that most familially wrenching of all wars, the Civil War. It is here in the play's final exquisite minutes that we feel and understand the full power of theater, and art, and family to do what we can– to talk, to ask, to listen—binding ourselves to each other as we make our way through this life. SEE SWEET AND SAD at Gloucester Stage through June 20.