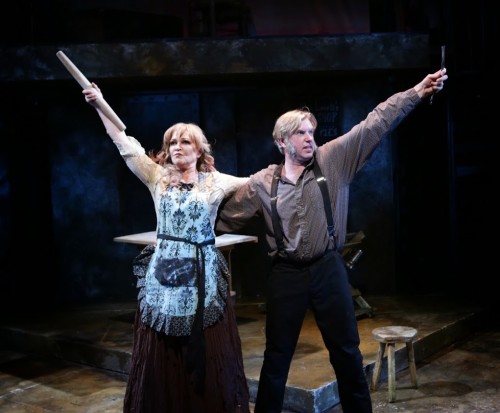 SWEENEY TODD– Stephen Sondheim's Tony award-winning masterpiece is a damned fine musical–emphasis on "damned." We're talking a macabre plot based on a 19th century English "penny dreadful" involving a demon barber–wrongfully imprisoned, his wife raped and daughter stolen– who returns with a vengeance and slits the throats of his shave-craving clients after which his landlady bakes them into pies.  Sondheim has made of this murk a thing of haunting, daunting beauty: the blood and guts staging, a nonstop score (80 percent of the show is sung through), diabolically elaborate lyrics intoned over devilishly intricate and heartbreakingly chromatic musical intervals.  The production now on at THE LYRIC STAGE falls a bit short in the singing, but even so manages its share of thrills and chills.
Smartly directed and staged by Spiro Veloudos who's a nut for Sondheim, the production begins with light: first a flash of cold white, then a spill of blood red that drenches a hollow-eyed chorus who begin the tale of Sweeney Todd, The Demon Barber of Fleet Street.  The two-tiered swamp-colored set with a hole to hell in the middle suggests the festering heap of blackness that accrues when one bad deed leads to another, inevitably tainting the world. (The abused daughter's ability to shoot someone dead in ACT II when her naive lover cannot– is revealing.)
Sondheim said he wanted to scare us to death and Spiro certainly helps. I did jump clear out of my seat at least once in Act II, thank you very much. I want my grand guignol GRAND. I want voices that knock me out of my chair, and resonate through my bones, but also overwhelm me with the fragile beauty of what it means to be alive; that requires  killer voices.
The men fare better than the women. As Sweeney, Christopher Chew is reminiscent of Len Cariou who originated the role on Broadway; Chew's voice is sonorous and supple. His Sweeney is crazy all right, but not so over the edge that we cannot see the wounded soul beneath. As the young sailor in love Anthony Hope, the appealing Sam Simahk sings with an aching tenor, clear and dead on pitch. Paul C. Soper as the oily, self-flagellating Judge Turpin is arrogance incarnate, and Davron S. Monroe flamboyantly voices the devious Adolfo Pirelli. But best of all is Phil Tayler as the simple-minded Tobias Ragg whose climactic appearance rivets our attention, our hearts and our ears–his voice rings out as clear and strong as the honest instincts his innocent character demands. Thank goodness three of the most beautiful ballads in the show–"Johanna,"  "Pretty Women," and "Not While I'm around"– belong mostly to the men, though Amelia Broome brings an eery tenderness to its cruel irony.
Which brings me to the women– Amelia Broome as the entrepreneurial Mrs. Lovett whose meat pie recipe now incorporates "people" instead of "pussy cats," presents a more beautiful, refined, and age-appropriate potential romantic partner for Mr. Todd than we usually see. Her deadpan funny and subtle performance grew on me, though her thin voice wobbled around the notes, often muddling the lyrics. The imprisoned ingenue Johanna, is likened to a caged, blinded bird that won't stop singing– out of pain comes art.   But Meghan LaFlam while very beautiful in the role, constantly strained at the limits of a part that demands an exceptionally high, expressive, and nimble soprano.
Even so, please do attend the tale of SWEENEY TODD at the Lyric Stage through October 11!