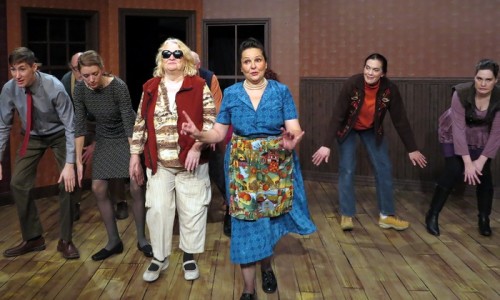 Absolutely dash up to the Apollinaire Theatre Co. in Chelsea and catch the last weekend of "A Beautiful Day in November on the Banks of the Greatest of the Great Lakes." It's a wild and horribly funny take on family dynamics as blood sport! A superb and physically fit ensemble of actors literally throw themselves into the action as 4 generations of the Wembly family doubling and tripling in parts in this fleet and aerobically challenging hour and 15 minutes. As they prepare and execute Thanksgiving dinner with the family, the action is heightened with "play by play" commentary by announcers calling every shot from the sidelines. This dazzling ensemble mimes it all from the linen on the table to the bird being basted in the oven. Things get hot, nerves fray, and we feel every beat of familial strain as Kate Benson's play brilliantly observes the not so subtle warfare within families, galvanized by the intensity of a holiday. You have NEVER seen anything like it. Hilarious and brilliantly observed, every bruised ego a flesh wound to be reckoned with. Prepare to be amazed. Through Sunday 1/17.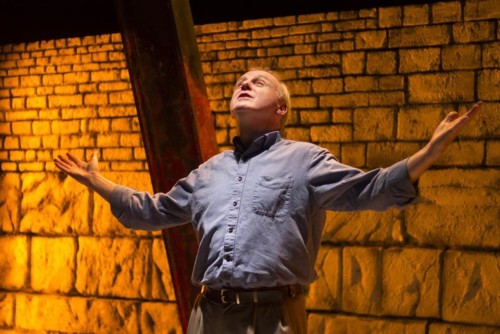 VIA DOLOROSA at New Repertory Theatre's Black Box is a challenging one-man show by David Hare about his travels to The Holy Land and his examination of the unholy tangle that is the middle east.  David Bryan Jackson stars as Hare the narrator and those he meets on this sorrowful way: settlers, religious leaders, politicians, artists, and historians from all camps political and religious, Jewish, Muslim, Christian. Hare's play is dense and demanding, and it took Jackson a bit to warm up. But slowly we are drawn into the gordian knot of a question at the heart of the strife: biblical or secular? How darkly funny to see the mounting of a play within a play–a production of "Romeo and Juliet" that took 8 years to produce and five months of rehearsals. The ways in which the Bard's tale of lovers caught in a tribal feud was co-opted by each side says it all. This production makes the most of its intimate performance space, and is neatly choreographed and lit to make vivid these increasingly illuminating and frustrating encounters. "Via Dolorosa," indeed, through January 31.
VIOLET now playing at SpeakEasy Stage is Tony award-winner Jeanine Tesori's first musical about a young woman from North Carolina with a scar and a prayer who jumps on a bus to seek out a faith healer to fix what ails her. Alison McCartan stars as the eponymous Violet, with a strong soaring alto, and loads of gumption to cover her wounds.  Along the way she gets to know her fellow passengers: a pair of soldiers, one black (Dan Belnavis) one white (Nile Scott Hawver). There's meaning in that racial divide, but only superficially explored.  There's  a feisty old lady played by the frisky funny tiny Kathy St. George with a big voice, and outsized talent. St. George dazzles as an old lady and a cheap trollop. Violet also gets to reconnect with her younger self (Audree Hedequist) who's sings well, but acts mechanically. Michael Mendiola is appealing as her father. But with the exception of one rousing gospel number led by the big-voiced Carolyn Saxon, the music isn't memorable, and the story makes no emotional sense. The scar is the result of an unambiguous accident, so resonates no complexity. It's also not clear why the soldiers fall so hard for Violet or she for either of them.  The formula is showing all the way through this prefab odyssey– we must all heal ourselves and enjoy the ride. Through Feb 6 at SpeakEasy Stage Company.