There's an ethnic smorgasbord onstage around town; I'm half Italian– so let's begin with ArtsEmerson's presentation of Carlo Goldoni's commedia dell' arte classic THE SERVANT OF TWO MASTERS.

A maelstrom of mayhem ensues when a servant hatches a plan to earn twice as much money by serving two masters simultaneously! Warning: A little commedia dell 'arte goes a long way. This overlong (2 hours and 40 minutes) overachieving production brought to you by the smarty pants Yale Repertory Theatre is like theatrical crack– sparking a quick high and a long sobering crash.
The talented Steven Epp plays the hapless servant Truffaldino and he and the rest of this facile cast of stock characters and their slap-shtick, whip themselves into a frenzy with a riot of running gags, and a plethora of pop cultural references: Bed Bath & Beyond to Honey Boo Boo, Carol Burnett to 50 Shades of Grey, Pachelbel to Patti Labelle and beyond — I mean Beyonce. Voulez-vous tune-out avec moi? You betcha. Did I mention loads of "inside"swipes at the A.R.T? "PIPPIN!" they cry out at odd moments– a la Charlie Sheen's "Winning!"
I started to think about joining a support group by the end of Act I. I returned to ACT II, and detected the audience laughter getting fainter and fainter as we all hung on for dear life. All that self-conscious cleverness plumb wore me out. I got sick of the shtick and relentless ribaldry, the silly sight gags and queasy-making quips. Haven't they heard of pacing? I say cut out 40 minutes and half the "jokes" and there'll still be plenty to give you a nervous breakdown. Through February 10 at the Paramount Mainstage. Bring a sedative.
Then there's  Frank McCourt's THE IRISH AND HOW THEY GOT THAT WAY which just opened at the Davis Square Theatre in Somerville. This is a six person cabaret of story and song that regales us with Irish history from the ancient "music makers," through the potato famine, George M. Cohan, and U2. The 90 minute-ish evening gets off to a slow start, with some "Irish light" dancing, weirdly poetic incantations, and one cast member wearing cowboy boots.  I wasn't quite sure where we were headed. Then there was the woman behind me singing in my ear to "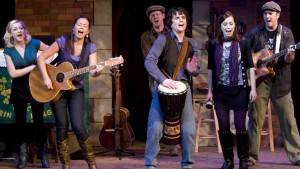 Danny Boy." (When I gave her a look that said "you're driving me crazy," she informed me that SHE was an "Irish woman"– and I was a long way from Tipperary.)
Clearly the show had struck a chord. Slowly but surely some of the history and story-telling took hold, the pleasingly talented cast threw themselves into it, singing, dancing, and playing multiple instruments– and by golly one song moved me, then another, and by the end I was polishing off a Bailey's and clapping along to U2's "Still Haven't Found What I'm Looking For." Well, you might find it here–even if you're NOT Irish.  THE IRISH AND HOW THEY GOT THAT WAY  is playing at least through St. Patrick's Day at the downstairs pub-like Davis Square Theatre.
And now a word about North Korea. The New England Premiere of Mia Chung's YOU FOR ME FOR YOU presented by COMPANY ONE is original and well-acted, but awkwardly staged. The story begins as two sisters negotiate defection from their brutal homeland, North Korea. Junhee (Jordan Clark) is desperately trying to convince her sister Mingee (Giselle Ty) to leave their lives of starvation and repression and risk the perilous flight to the West. Junhee sees the West as a place of plenty and opportunity, while her sister has bought "Dear Leader's" party line and believes the West is a crazy dangerous place where people worship shoes, animals, and food (!), and will steal your organs for profit.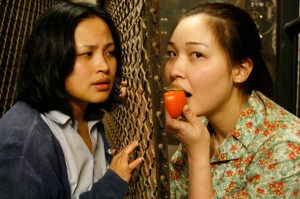 Playwright Mia Chung does a great job of putting the audience in another person's shoes. Through the clever manipulation of normal English cadence, she makes us hear ourselves as a non-English speaker would: Junhee when she first lands in America. Much of the dialogue is robustly poetic. The play — sometimes startling and revealing– speaks to the nature of imprisonment, the power of perception and propaganda, and its impact on one's understanding of personal freedom.
The title actually encompasses the arc of the action and the relationship between the two sisters. There's some baffling business involving a highly symbolic  persimmon that needs to be worked out, but I felt the freshness of a new voice which held me from beginning to end. YOU FOR ME FOR YOU runs through February 16 at Company One.