What do the Three Musketeers, two young newlyweds, and Austen's Bennet sisters have in common? They're all subjects for some good old-fashioned fun onstage around town this weekend!
Head to Stoneham for the Greater Boston Stage Company and The Front Porch Arts Collective production of Dumas' swashbuckler THE THREE MUSKETEERS which reframes the 17th century classic of stolen jewels, secret lovers, court intrigue and male bonding via assorted escapades, as a multiracial, cross-gendered tour de force.  Director Dawn M. Simmons provides a platform for copious, well-choreographed sword fights, and puts us "en garde" for black and white women to upstage traditional white male roles and sexual preferences. The production doesn't think too deeply about whether the world thusly peopled would have played by these rules, but it's exciting and important to see past our past, and stretch its boundaries to see what such a world might have superficially looked like!
Two of the musketeers are women; I especially enjoyed a sassy Lyndsay Allyn Cox as the lovelorn Athos and Paige Clark's buoyant bravado as Aramis. Marc Pierre had a winning earnestness as the easily-smitten musketeer wannabe D'Artagnan, while Tonasia Jones as the musketeers' captain, now Madame de Treville, is fiery and fierce. Stealing the show however was Maurice Emmanuel Parent as the cunning Cardinal Richelieu who let rip a satanic chortle at every turn. (His red dupioni silk cloak flared at every devilish entrance and exit.) The whole production could use an extra dose of whatever he's having. That said, this topsy-turvy romp in a hypothetical universe is a lot of fun.
THE THREE MUSKETEERS NOW through June 30!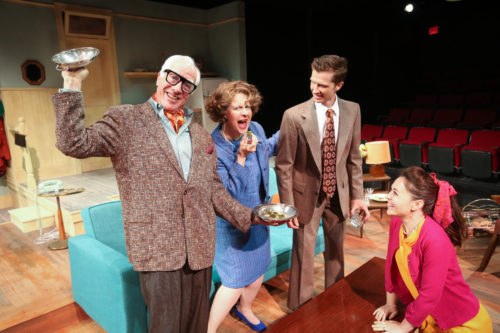 Then head up to the Gloucester Stage Company and go BAREFOOT IN THE PARK with comedic master Neil Simon's longest running Broadway play. The romantic comedy takes us back to the days when young newlyweds hot off a luxurious six-day honeymoon, emerge barely knowing each other and head for their unfurnished flat where they set about trying to fulfill their traditional roles. Joe Short and McCaela Donovan are delightful together as he, a lawyer, worries about his big new case, and she, a housewife, flits around trying to get his attention and make him the king of their castle–a tiny sixth floor walk-up with a broken skylight.
It takes some effort to suspend this much disbelief, but what makes this production finally click is the appearance of Paula Plum and Richard Snee. As the bride's single mother, Plum drifts hilariously from tactful to tipsy. Snee is hysterically funny as the hand-kissing bon vivant who lives in the attic, and sees every woman as ripe for his charms. Plum and Snee (married in real life) are masters of the comedic universe, and should patent whatever it is they do together. BAREFOOT IN THE PARK Now though June 30! 
Finally, settle down with those early 19th century bachelorettes who are looking to do just that– settle down. Meet Jane Austen's Bennet sisters in Kate Hamill's adaptation of PRIDE AND PREJUDICE. A lively well-staged and color/gender blind production presented by Actors' Shakespeare Project at Tuft's Balch Arena Theater in Medford, this "Pride and Prejudice" plays around with the tangled web of love, marriage, and money that were inextricably entwined in the social order of the day, when the daughters of the British landed gentry focused on landing rich gentry as husbands, since women could not inherit. If they were lucky, they might also fall in love.
Thus Mrs. Bennet played by an overheated Mara Sidmore has just gotten wind of a fresh prospect in the form of the wealthy and available Mr. D'Arcy (an ultra dour Omar Robinson) living on the estate next door. When he pays a visit, there is immediate friction (which eventually becomes heat) between the aloof D'Arcy and witty middle daughter Lizzie Bennett (a vibrant Lydia Barnett-Mulligan) who proudly disdains marriage. Eldest and most temperate is Jane (Zoe Laiz) in sharp contrast to youngest and flightiest daughter Lydia who's not as quick a learner as she thinks.
Ambitiously directed by Christopher V. Edwards, the production and everything in it moves at a quite a clip from the dialogue to the sets which serve as various elegant country houses with a few quick turns and a little help from the cast, who also double in several roles. Especially funny is Anna Bortnick as spoiled little sister Lydia, then later appears as the elderly and super, supercilious Lady Catherine. Some contemporary moves and grooves are thrown into the mix (Chaka Khan's "Ain't nobody loves me better"). The portrayals are often too broad for the intricacies of plot and character which Austen has deftly observed. But overall it's a treat to be enjoyed. PRIDE AND PREJUDICE  Now through June 29!