Theater season is up and running and this week I'll give you my take–beginning with the best show on stage right now: the Huntington Theatre Company's wise and wicked-funny season opener GOOD PEOPLE! It's a Tony-nominated show that's very close to home. Pulitzer Prize-winner and South Boston native David Lindsay-Abaire has set his tale in Southie's Lower End, and what he has to say about class, luck, success, and making ends meet is laced with laughs only a native could exploit, and the kind of truth everyone who's ever struggled can relate to.
Right off we meet Margie (Johanna Day) single mother to a disabled adult daughter, trying wheedle her way out of being fired yet again– this time from the local dollar store. Her best friend  Jean–"Mouthie from Southie"– is played by the hilarious Karen MacDonald in a flaming magenta wig;  I swear– EVERY bone in that woman's body must be funny.  Margie, Jean, and Dottie the landlady -played by the uproariously deadpan Nancy E. Carroll sit around the kitchen table trying to figure things out.
When an old flame Mike (Michael Laurence)– now a "dawktah" in Chestnut Hill– surfaces, Margie hopes he'll help jumpstart her stalled life. What happens when they meet is a collision of explosive, hysterical, and poignant proportions. The awkward disparities, simmering resentments, guilt, guile, and a turbulent past bubble up and boil over. Their encounters are masterfully written and directed.   Johanna Day is by turns sarcastic and tender, self pitying and self-reliant as the gritty, proud, yet unpretentious Margie. Mike parries her every barb with the deftness of a man who knows where he came from and wants o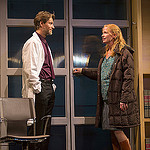 h so smoothly to forget– until Marjie challenges his "street cred," and his Southie roots come roaring back.
The play's climax left me seething– then sympathetic. I was shocked at the subtle truths the playwright was willing to explore and dramatize– truths that challenge the complacency of those who've "made it," with the deeper, complicated reality of those who have not. All of these characters– including Mike's wife Kate in a knockout performance by Rachael Holmes — challenge us and convey the insularity and humanity of unique individuals raised in a very particular place. I started thinking about "luck" as a more potent piece of the puzzle of a person's life, and any play that can make me think a new thought is time well-spent.
The night I saw GOOD PEOPLE happened to be "Southie" night; Ray Flynn was there, and representatives of the Boys and Girls Clubs, and it seemed the whole audience felt like one big neighborhood. And though I'm not from Southie,  I felt like that too.  GOOD PEOPLE runs through October 14 at Huntington's BU Theatre.
More from the boards  tomorrow…!