The FALL theater season is
on– with mostly winning productions! This is what I've seen so far–in order of  "shelf-life."And so I begin with the first to expire:
THE ELEPHANT MAN— which is dead on arrival at New Rep Theatre in Watertown. It's a plodding play based on the true story of John Merrick born in 1862 and abandoned as a child because of a gross physical deformity which eventually landed him in a freak show labeled THE ELEPHANT MAN. The play by Bernard Pomerance which was inspired by the reminiscences of Dr. Frederick Treves (twice referrred to in the director's program notes as an 18th (??) century physician) who rescued and treated Mr. Merrick at the London Hospital before Merrick's death in 1890– is an inert meditation on healthcare, victorian mores, and human suffering. Stilted performances, ponderous direction, and wavering accents–finally flatten an already dull, overwritten and undercooked drama; death by circumlocution would have been inevitable– if the work weren't already moribund. Loved the live, solo oboe by Louis Toth–whose last name (possibly derived from the German for "death") ironically underscores this production's fate. THROUGH 9/29.
But rush to see DRIVING MISS DAISY up at the Gloucester Stage Company before it ends on 9/22! This is a sublime production of Alfred Uhry's tender chamber piece built on two characters in the deep south on the eve of the civil rights movement through the early 70's. An elderly white Jewish woman (Lindsay Crouse) and the black chauffeur (Johnny Lee Davenport) whom her son (Robert Pemberton) has hired to drive his recalcitrant mother around, transcend their differences and evolve a deeply touching relationship. We of course see they've always had a lot in common; they are each emblems of two distinct but marginalized cultures; each has known prejudice, each strives for independence, and each of course is a truly decent human being. This lovely one-act unfolds in a series of short scenes, quick epiphanies, packed with nuance and feeling. The sets are minimal but naturalistically evocative. And we are in the hands of supremely gifted actors. Lindsay Crouse is feisty and funny, proud and vulnerable. Johnny Lee Davenport as Hoke is confident, gentle, and wise enough to take Miss Daisy's reservations in stride. All of the performances are marked by an easy authenticity;  by the time the last scene rolls around, Miss Daisy and Hoke share a bench and a slice of pie, and we see they've arrived at the same place, at the same time, with each other– and it's a beautiful thing. I'm gonna cry. DO NOT MISS THIS THROUGH 9/22.
And if you're feeling adventurous, check out Bridge Repertory Theater and NY's Playhouse Creatures Theatre Co.'s co-production of THE LIBERTINE! Wow– this one shocked me. What a great troupe of actors and a fascinating play about plays,
art, acting, illusion, lust and love. Brilliantly designed and directed by Eric Tucker, and solidly acted, THE LIBERTINE is a tale of, well, a libertine– the randy, obscenity-spewing, sex obsessed, rum-soaked 2nd Earl of Rochester (Joseph W. Rodriguez) who discovers an actress –Elizabeth Barry (Olivia D'Ambrosio)– he DOESN'T want to seduce.  Instead, he wants to cultivate her talent! No kidding. He sees in her art, the kernel of truth (out of fashion in the broad style of playing in early theatricals; in fact, she's booed off the stage). As a man abandoned by his own father, who's spent himself acting out –against authority, especially the king's, he craves her brilliance and the spark of life she promises which he's almost snuffed out in himself and everyone around him including his long-suffering wife (Sarah Koestner).
The set is ingenious, a fluid choreography of doors, manipulated by the actors from scene to scene, delineating drawing rooms and dressing rooms, bordellos and royal boudoirs. They obscure and reveal. The staging of the final scene made me gasp. The actors are quite good, especially the intelligent Olivia D'Ambrosio as the transcendant Lizzie who will not be beholden to anybody. Rodriguez is fine too as Rochester– though I wish he had not rushed his lines so as to slur the dense and challenging text. He also needs to pace himself dramatically, so he doesn't run out of steam before the emotionally draining climax.  At the Calderwood in Boston THROUGH 9/22.
Finally– YOU MUST SEE "TRIBES" by Nina Raine– the SpeakEasy's first entry this season with a splendid cast featuring an actor from the National Theatre of the Deaf  around whose character the action revolves. A very competitive, argumentative intellectual English family whose adult children have returned to the nest,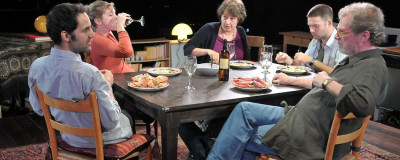 argue endlessly over ideas–about language, feeling, music, novels, and whether orange juice or pear is best. These people are tightly wound and nuts. The youngest son Billy (James Caverly) deaf from birth, sits quietly. He's been taught to speak and read lips, but is essentially one step removed from the maelstrom swirling around him. Patrick Shea as the acid-tongued, ultra-opinionated patriarch– despite his loose grip on an English accent– effortlessly makes every line hilarious. Nael Nacer shines– annoying and vulnerable– as Billy's older brother who has begun hearing voices. Billy's sister Ruth (Kathryn Myles) who's not as sharply articulate as the rest, is searching for her voice, literally, as an opera singer. Mom Beth (Adrianne Krstansky) is writing a novel.
Enter the fabulous Erica Spyres as Sylvia a young woman who is losing her hearing. On the brink of total deafness, she falls for the deaf son– and is about to open up his world, thus challenging  the delicate balance his family has struck around communication, connection, meaning, words. Is deafness a handicap? Should  Billy learn to sign?  Which language is best? Do words say it all? HOW DO WE COMMUNICATE? Act II takes an odd but illuminating turn, and leaves us unsettled with all the right questions.
Director Bevin O'Gara has set the action in the round so we see everything as if from all sides. Video screens hover above, translating signing and speech, and in one ingenious moment they spell out what we KNOW the characters are thinking but NOT saying or signing. At another moment, they translate music into images and all of our senses are synaesthetically involved, reinforcing the notion that communication is more than the sum of its parts. DO NOT MISS "TRIBES" THROUGH 10/12!