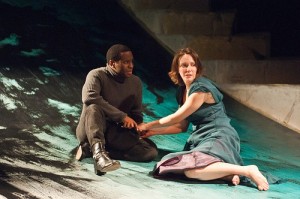 I've seen 4 plays over the last ten days– here's the latest: TWELFTH NIGHT, Shakespeare's hilarious romp about a shipwreck that leaves siblings disguised and lovers mismatched, all of them adrift on a storm-tossed shore–until they find themselves and each other.  Marvelously directed by Melia Bensussen with a big slip and slide of a wet set, this Actors' Shakespeare Project production gets just about everything right!
It's superbly played by a particularly vivid cast; the funny characters are truly funny– especially artistic director and father-to-be any minute Allyn Burrows whose too tightly- wound Malvolio unwinds in a twisted heap of kinky yellow cross garters. And if music be the food of love, I'd be besotted, so beautifully sung are the songs. The audience is mischievously included in the proceedings .
Alas, it all ends this Saturday night– and it's SOLD OUT!!!