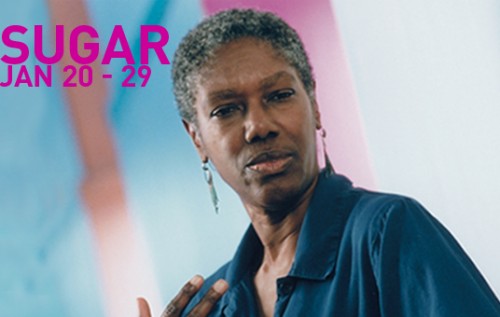 You have till Sunday (1/29) to see this world premiere –and you must. It's called SUGAR, and Robbie McCauley has spun an extraordinarily sweet and stirring memoir out of her grueling, life-long battle with disease: Diabetes. What? A one woman show about diabetes? That's right, and I sat there for two hours mesmerized; the story resonates far beyond the medical condition to the social, political, emotional, spiritual, psychological– yes–universal implications of what it means to be a struggling human being in this world. I don't have diabetes, but there wasn't any part of this story I couldn't identify with.
Robbie McCauley– Bessie and OBIE award winning actress, writer, teacher– is alone onstage at the Paramount Center's Black Box theater–  with three chairs, which she meticulously choreographs to punctuate her tale. And there's a pianist, Chauncey Moore, who also composed the music he plays which helps set the mood as the  decades of McCauley's life unfold.
It all begins in the south as McCauley effortlessly conjures up her childhood lush with love, family, and food. The grits and fresh eggs, the chocolate cakes, biscuits with lard, cornbread and syrup make our mouths water, then our eyes– as we begin to understand the dark side of having "a little bit of sugar."  When she tells how she was treated as a diabetic black woman in the south, how it paralleled the history of segregation, McCauley begins to illuminate the connection between diabetes and racism, the politics of sugar and the slave trade, the connection between diabetes and alcoholism."Where's the research on drinking and diabetes?" she asks in one of her few didactic moments.
She liberally quotes Marx, drops many names– from Anna Deavere Smith and Debbie Allen to Samuel L. Jackson and "Denzel." She "shoots up" insulin center stage –so we can see. She casually consumes an avocado. She has a vivid eye for detail and a poetic soul. She is an easy yet breathtakingly compelling performer who tells her story from the inside out. As McCauley says early on, "Like anyone who's born in the middle of a story I've got history in my body." We're lucky she's found a way to live it, onstage– for all the world to share. See SUGAR at Boston's Paramount Center, The Jackie Liebergott Black Box ("The Jackie") through Sunday 1/29.