One can just imagine what the late Molly Ivins' reaction to the murder of French journalists by islamic terrorists bent on silencing Charlie Hebdo's brand of political satire might have been. The late Texas liberal journalist, political humorist/commentator and thorn in the side of those who would, by design or their own imbecility, stifle our liberty, was a force to be reckoned with. And one of our best actresses– the great Karen MacDonald– has taken the Lyric Stage in a one-woman show RED HOT PATRIOT The Kick-Ass Wit of Molly Ivins  that does Molly justice; but it's Ivins' own words that carry the day.
The first time we see MacDonald, she's sitting stage right, her cowboy-booted feet up on a cluttered desk, leaning back and letting her ideas "steep" as she sets her sights on her next target. After some silence (and after the folks in front of me have stopped talking) she declares– "I'm rotten"– which is Texas drawl for "I'm  writing." She then goes on to explain that "writing is 75 percent thinking, 15 percent typing, and 10 percent caffeine." Writers everywhere know whence she speaks. MacDonald eases comfortably into Ivins' cadence and the script by Margaret Engel and Allison Engel. Director Courtney O'Connor keeps it simple, the slight piece–75 minutes with but one other character Jacob Athyal as the "Helper." The back wall often becomes a giant video screen on which appear images from her life, times, and the unfortunate personages who suffered the slings and arrows of her outrageous wit.  The show captures Molly's kick-ass wit, but sheds less light on how she came to BE the firebrand whom Jon Stewart and Steven Colbert channel nightly on TV.
We know that Molly Ivins was the wealthy daughter of a powerful Texas oilman, the next in a long line of women in her family to attend Smith college, and that she turned her privileged upbringing on its head and her sharp eye on those who held sway over the disempowered among us. She was a confirmed populist who walked tall (six feet with red hair!), and lampooned the powerful from her vantage point, to keep them honest.
Molly notes that her mom was an unwittingly colorful character who once referred to the larger than average Molly at her debutante ball as a "St.Bernard among greyhounds." In fact Molly was never really comfortable among the privileged, and, with a sixth sense about the corruption that power breeds, either deliberately or unconsciously seems to have sabotaged her success in certain quarters. She started writing at the Houston Chronicle and the Minneapolis Tribune and then the Texas Observer where she developed her voice and used it to skewer the meanderings and malapropisms of bone-headed politicians within her purview. By the time the NY TIMES sniffed her out, she knew who she was and she wasn't about to compromise. She refers to the august publication as the place where "my copy was declawed and neutered." That she was making five times her previous salary probably added fuel to her fire and made her damn uncomfortable.
MacDonald carefully calibrates this performance so as not to render Molly a big ol' Texas caricature. Neither the drawl nor the "comedy" get out of hand. Molly would have been a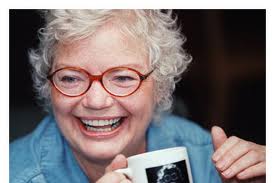 killer stand up comedian but MacDonald is careful to deliver Molly's zingers(of GW Bush she says,"Instead of a thousand points of light  we got one dim bulb.") with a combination of earthy cynicism and an urgency that bespeaks the deeply held beliefs that launched them. The show is not a complex emotional exploration of what makes Molly tick, but it  does give us a real feel for who she was and what she fought for — writing until the very end when she lost her long battle with breast cancer. The show ends not with this loss however, but with a ringing call to arms against special interests and big money hijacking our values, our elections, and our patriotism– which left the audience applauding their approval.
As I read of the "religious" barbarians who reportedly and proudly declared themselves as they ran from the butchery they'd just inflicted on those brave journalists in France, I praise those who fearlessly continue to aim their words in a steady barrage against despots and morons in power, and who, like Molly, claim the Bill of Rights and the liberties embedded there as their bible.
This is the time to see "RED HOT PATRIOT The Kick-Ass Wit of Molly Ivins" at the Lyric Stage Company of Boston through January 31st!