Here are three to see onstage this summer weekend– all are short, smart, inspiring, entertaining, and incredibly affordable or PAY-WHAT-YOU-CAN to see!
LOVE, LOSS, & WHAT I WORE presented by HUB THEATRE COMPANY of BOSTON only runs through Saturday 8/5– and it's too bad it's not having a longer run! Based on the book by Ilene Beckerman, the play was written by those funny, smart, and observant Ephron sisters– Nora and Delia. This 90-minute, 5-person ensemble piece with music is heartwarming, hilarious, and quite touching. This instantly relatable cast (Nettie Chickering, Barbara Douglass, Lauren Elias, Evelyn Holley, June Kfoury) directed by revered actress/director Paula Plum, delivers an intimate memoir about women of all ages sharing what binds us together and the wardrobes we wore while doing it. The evening takes us from first loves and first clothes, through mothers, multiple marriages, and mastectomies.
The clothes in the show carry more than their weight in wardrobe as these women muse about the virtues of "the perfect shirt," the "boots" that walked them through rape or divorce, and the color "BLACK" as the holy grail of fashion at any age, occasion, or size.  I found myself either tearing up and cracking up as I looked back on my own personal fashion choices signifying an evolving identity in a world obsessed with body image. The tone is resolutely upbeat and underwired for resilience, even in 2023 when the politics of clothing can still get a woman killed.  SEE THIS and "pay-what-you can" through SATURDAY AUGUST 5 at CLUB CAFE!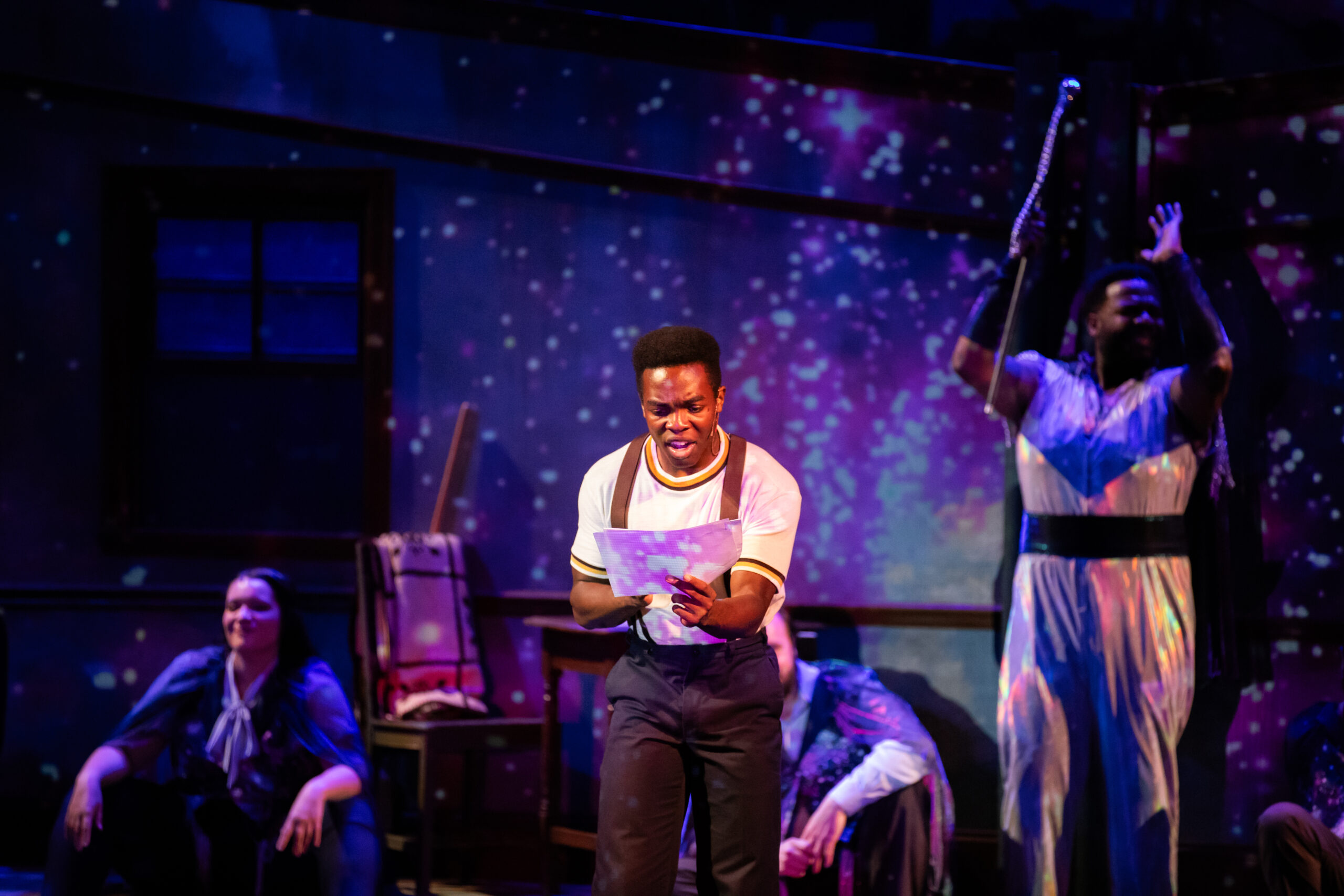 THE BOY WHO KISSED THE SKY presented by "Company ONE Theatre" is a family affair –as in bring the whole family to see this ode to creativity and gloss on the best guitarist who ever lived– my own personal idol–JIMI HENDRIX. I remember my 14 year-old Catholic schoolgirl self, crooning Joni Mitchell in public, but rocking out in my bedroom behind closed doors to Hendrix's "Purple Haze." So raw. So real. So free. This new play by poet, playwright, and performer Idris Goodwin spins a musical fable which takes off from a real event in Hendrix young life. As a kid growing up in Seattle, little Jimi bounced around the house with a broom miming guitar licks, when one day his father, with an eye for discarded treasures, brought home a ukulele someone had tossed– and the rest is history.
Goodwin launches this episode into a charming, incisive, and universal tale of creativity. The Boy (Errol Service Jr.) is taken on a trip through Black music as a liberating, boundary-breaking transcendent expression of soul and self which informs American music from jazz, blues, gospel, and  rock n' roll, to hip hop, rap, and beyond. A singing/dancing chorus propelled by a live onstage band and melodies by multi-talented co-composers Divinity Roxx and Eugene H. Russell IV illuminate Black music in the most informative and  joyous way, igniting imaginations and the narrative Goodwin and director Summer L. Williams set in motion. SEE THIS 75 minute musical fantasy and "pay-what -you-can" through August 12 at THE STRAND THEATRE !
REVOLUTION'S EDGE is a uniquely engaging time-travel experience, this one staged in the actual place where the pivotal event in our nation's history took place! You take a seat in Old North Church where that lantern signaling "two if by sea" ignited the American Revolution! Patrick Gabridge's original play produced by "Plays in Place," and commissioned by OLD NORTH ILLUMINATED takes us to the eve of the revolution, when the colonies stood deeply divided: loyalty to a British King or a new independent country?
This superbly acted and elegantly written play details three characters–Rev. Dr. Mather Byles, Jr. a loyalist played with great nuance by Brookes Reeves; Sea Captain John Pulling, Jr., a patriot played by a fired-up Evan Turissini; Cato, an African man enslaved by the Reverend Byles played by Nathan Johnson with enormous gravitas. With no loyalty to either side– neither of which acknowledges his sovereignty as a human being (even as the patriots fight for their own)– Cato begins and ends the play. He stands at the fulcrum of the fundamental paradox of slavery at the heart of the American democracy.
In a sleek 45 minutes, Gabridge constructs an imaginary conversation among three real people with all the nuances of what is at stake for each of them, especially as family men as the hour bears down and war is upon them. Sitting in those pews in that church gave me goosebumps; I felt that history alive before me, and how connected we all are. The resonance in our own time is haunting as our country stands perilously divided over race, politics, faith, gender, with the democracy conceived in 1775 now at stake.  MUST SEE THIS at 5:15 in the OLD NORTH CHURCH and head out to dinner in the North End at 6 o'clock with lots to digest. Through September 19!