'Tis the season to be jolly! From the sacred to the profane, you'll find it all onstage now–with MUSIC!  Hang onto your hot cocoa and here we go.
Head on up to Stoneham to see one of the best productions ever mounted by Greater Boston Stage Company: LITTLE WOMEN The Broadway Musical!  It's Louisa May Alcott's poignant original featuring Jo, Meg, Beth, Amy and mother Marmee as they navigate Christmas while father's away during the civil war. BUT IT'S A MUSICAL which showcases a top notch cast, every performance a stand out– no one more so than the dynamic Liza Giangrande as Jo, a stunner with a voice of gold.  Abriel Coleman as the gentle Beth tore my heart out every time she opened her mouth. Amy Barker's indomitable Marmee sings like she could win the war singlehandedly. Ilyse Robbins directs and choreographs with her usual inventiveness and flare. The set, with its swiveling bookcase was clever but a tad bland; nevertheless the spell this production casts is overwhelmingly joyous and moving! THIS IS A MUST SEE to get in the Christmas Spirit!  LITTLE WOMEN The Broadway Musical is a MUST SEE at GREATER BOSTON STAGE COMPANY thru 12/23!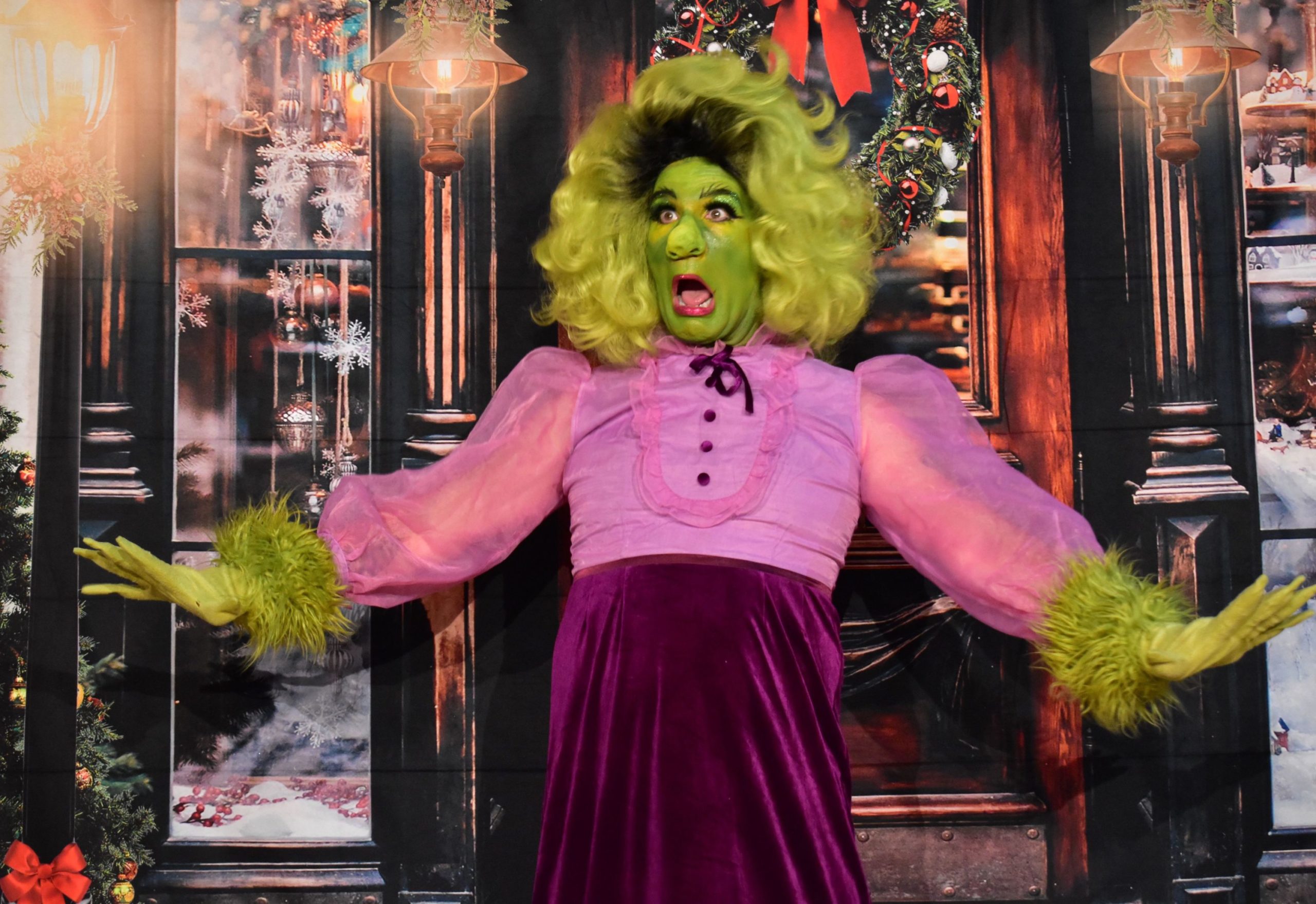 And speaking of little women– I wish Ryan Landry and the Gold Dust Orphans would take a crack at those March sisters. For now, they're in the throes of another wildly inappropriate, riotously raunchy, satirical mashup of all we hold near and dear during the Christmas season– and doing it with love and abandon! LITTLE CHRISTMAS TREE SHOP OF HORRORS  is an over-the-top ADULT delight.  This "little shop of horrors" is set in a dollar store in Revere run by the hellacious, pun-spewing Hermione P. Grinchley (a no holds barred Ryan Landry) and home to a killer Christmas tree which wraps its limbs around unsuspecting shoppers!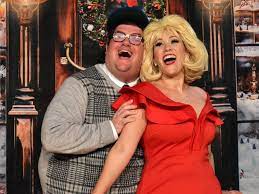 The tree was a gift from clerk Norbert Feinstein (the astounding Tim Lawton who brings the house down every time he sings!) to the gal he pines for– the titillating Tawdry (adorable songstress Taryn Lane) as she bears the bruises inflicted by her lesbian lover Barb (Gina Carmela actually makes this funny).
From its opening fanfare to its closing  production number, the show is a meticulously-directed (Kiki Samko) extravaganza! The musical numbers roll out fast and furiously with spot-on samplings of multifarious musical styles from classic musical theater to the blues and disco with a heavy layover in the 60's, danced by The "Glitterpuss Dancers" and backed up by "The Revere Sisters" (Lizette Marie Morris, Tad McKitterick, Tori Dowd) whose bouffant hairdos echo their larger than life nonstop vocals.  They also managed what seemed like a thousand dazzling costume changes (The House of Martino) faster than Cher on speed.
There's something happening in every corner of the stage, all the time, the laughs barely catching up with the references to local politics and personalities–Boston Public Radio's Jim and Margery play themselves– as puppets. The orphans also never met a line they couldn't cross (Who ever heard of a Christmas show with abortion and suicide hotline jokes?!) The audience  follows wherever they lead, groaning or screaming in delight at every cheesy effect, corny aside, wacky plot twist, unnecessary display of naked flesh, and the skewering of all things PC that need skewering. What this band of performers do is not only remarkably technically skillful, but sneakily brilliant. The Orphans take us out of our little lives, keep us laughing at our peccadillos large and small, and in the process keep us sane in these insane times. I wafted out on a cloud of Aqua Net and good cheer. LITTLE CHRISTMAS TREE SHOP OF HORRORS through December 23rd at — where else– Iron Wolf Theatre at the South Boston Lithuanian Hall, 368 W Broadway, 3rd Floor, South Boston, Massachusetts! Leave the kids home.