There's a celebration happening on at least two stages in Boston– The Emerson Colonial and SpeakEasy Stage and it's just what we need in the shadow of the Ukraine, the pandemic, rising sea levels, and assorted other ills this flesh is heir to. But spring has sprung again and these two shows reinforce joy and renewal against all odds.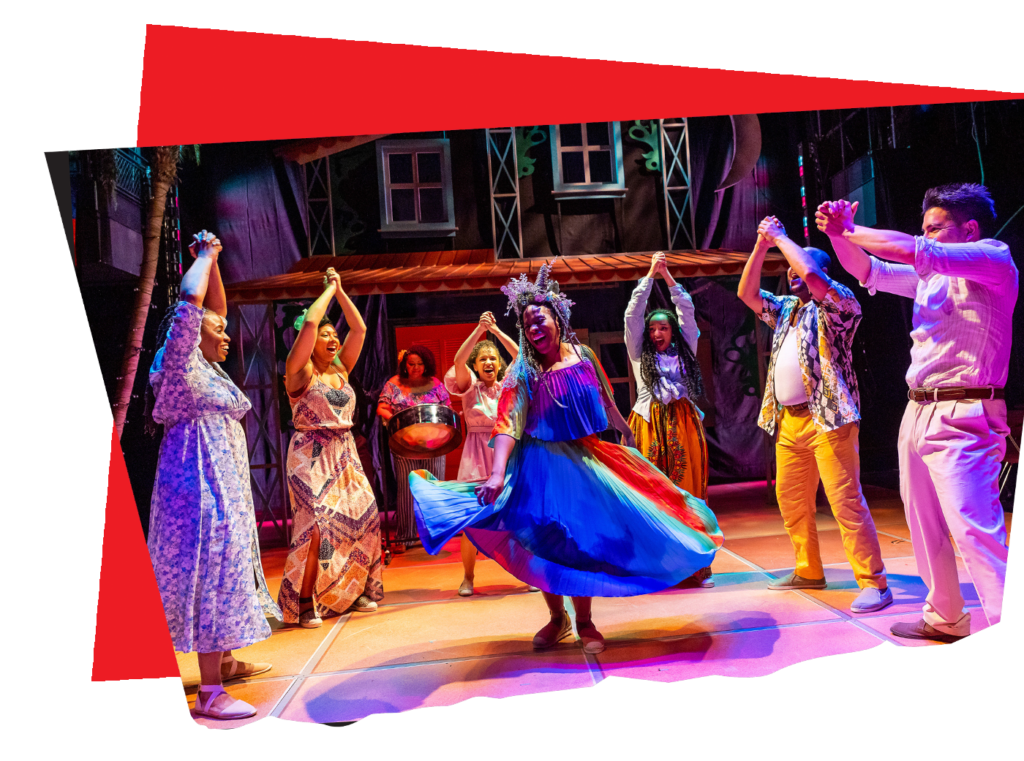 ONCE ON THIS ISLAND at SpeakEasy is an instant party! The minute the lights go down and this marvelous ensemble– led by Davron S. Monroe, Lovely Hoffman, and Yewande Odetoyinbo–hits the stage, we are plunged into the tropical warmth, mystical stories, and complicated colonial history of the island of Haiti, the narrative propelled by the layered beats of a live orchestra hovering in the rafters over the action below. I felt the temperature rise and the energy build as the audience on three sides surrounded what became an open air market with ripe fruit, colorful fabrics, coconut trees, and at one point an ingeniously staged storm with tinsel raindrops sparkling from umbrellas. Vibrant choreography (Jazelynn Goudy in her SpeakEasy debut!) and the score by Tony Award-winners Lynn Ahrens and Stephen Flaherty (musical direction David Freeman Coleman) are front and center in this tale of life and death, love and class, sorrow and hope.
Director Pascale Florestal brings the fullness of her own Haitian heritage to bear on this fable of gods and goddesses fatefully impacting the lives of generations of mortals living on the island. Into this world drops a young girl, Ti Moune, who is orphaned in a storm, and is then saved by new parents who nurture her as she grows. Boston Conservatory at Berklee student Peli Naomi Woods, lithe and gamine, plays the grown up Ti Moune. Her voice  veers from sweet soprano into a lower belt that could use some modulation, but she has acting chops and charisma to spare. Ti Moune's innocence is tested as she begins an epic journey which will pit her love against the crushing history that has cursed everyone on the island in some way. The musical is a unique amalgam of light and dark forces, with ample heart to confront not only the deeply held biases that keep us apart and continue to shape class and color on this planet, but also to illuminate the truth that we are all inevitably connected. It's a story that needs repeated retelling, and this production, right now, resonates in the spring air.  ONCE ON THIS ISLAND onstage at SpeakEasy Stage through April 16!
Meanwhile onstage at the Colonial Theatre and hot off a Special Tony Award-winning broadway run– is FREESTYLE LOVE SUPREME! I love words. I love music. I loved this. It's a fresh, funny, free-for-all of rhyme and rhythm called "freestyling." For the uninitiated–and this is explained right at the beginning of the show–freestyling is the ability to make up a rhyme on the spot and improvise a stream of ideas.  Think of it like a verbal jazz solo over a beat provided by an onstage band or troupe mates who vocalize percussive sounds to underscore whoever is freestyling in the moment.
Herewith Freestyle Love Supreme and their hip hop monikers: Andrew Bancroft AKA Jelly Donut; Richard Baskin Jr. AKA Rich Midway; Jay C. Ellis AKA Jellis J; Aneesa Folds AKA Young Nees; Kaila Mullady AKA Kaiser Roze; Morgan Reilly AKA Hummingbird; James Rushin AKA Not Draggin; Chris Sullivan AKA Shockwave; Anthony Veneziale AKA Two Touch.  They drew from a broadly informed raft of references from the topical to the classical to keep an uninterrupted flow going throughout the 90 minute show; brilliant and bawdy, they bravely tossed themselves into verbal free fall at the prompting of the audience.
The audience provides the words or subjects, and the freestylers hip hop through whatever verbiage is thrown their way. The audience communicates by scanning a QR code provided in the program or by shouting out suggestions through their masks, no small feat, and I was immediately impressed by the creativity of our Boston audience.  No run of the mill suggestions here; suggestions like "hemoglobin,"  "backflip" and "persnickety" were tossed out and soon absorbed into a dazzling rhyme scheme by these endlessly inventive and courageous freestylers! Occasionally they veered into the twilight zone and back again, and I was on the edge of my seat watching to see how far these performers could go, how they would get there, and knowing they were making it all up on the spot! It was sometimes hair raising, sometimes incredibly moving. One extended freestyle on the subject of WOMEN that required each troupe member to riff and say only what was personal and absolutely true for them– was cathartic and uplifting and plugged into some powerful themes of the day around respect, love,  and social justice which brought them to tears and us to our feet.
Conceived/emceed by Anthony Veneziale along with co-creators Thomas Kail and Lin-Manuel Miranda, the show does what art can do: creates a free space for invention, for communication, for connection, where no words or topics are off limits–the only boundary is one's own ingenuity, skill,  and willingness to take a chance, to be there, to have fun, to say what's top of mind, to be uncensored, to be free together–audience and performers.  Entertainment at its best. It's FREESTYLE LOVE SUPREME at the Colonial Theatre through April 2!