QUICK TAKES on what's onstage NOW  in and around Boston–
This is the last weekend to see MY FAIR LADY presented by Broadway in Boston at the OPERA HOUSE. ACT I was bogged down in muddy sound and even muddier cockney accents.  Madeline Powell as leading lady Eliza Doolittle lacked the role's requisite charm and her voice was caught between her head and chest voice, though she was consistently on pitch. But she lacked comic timing in the washed-out racetrack scene where the drab gray color scheme made me long for Cecil Beaton's blazing Black and White in the  film adaptation.
ACT II however, plumbed some serious dramatic depths as Eliza and Professor Henry Higgins (a hopped-up Jonathan Grunert) sparred over identity, autonomy, personhood, and class. It also featured a killer production number around getting Eliza's dad Alfred ( a wonderful Michael Hegarty) to the church on time with the aid of an ensemble of actors in drag! The show reaffirmed its topical relevance, but might have hit the contemporary bullseye if Eliza had dared to do something else in the show's final moments with the professor's slippers.  Through Sunday April 30!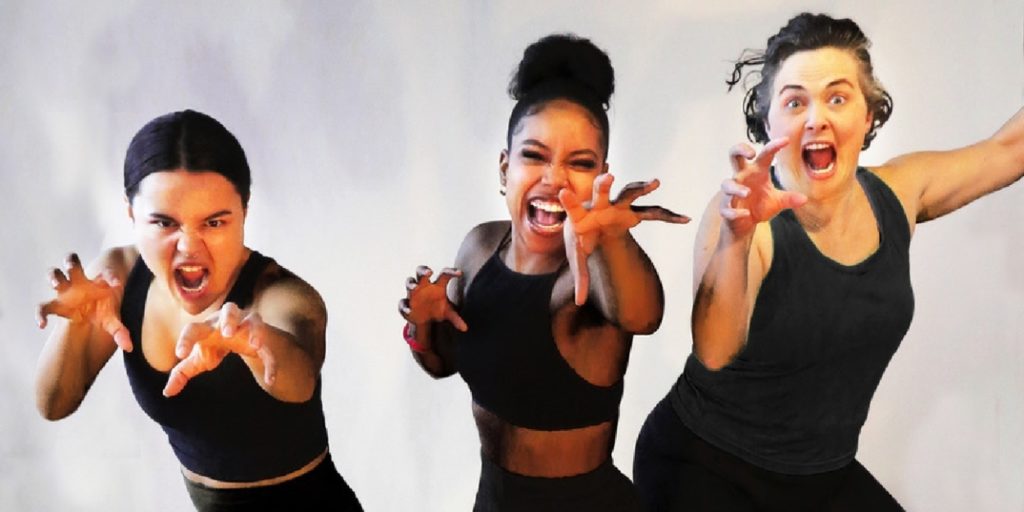 See DANCE NATION presented by the inevitably daring, smart, and skillful Apollinaire Theatre Company in Chelsea! This is a first-rate production of an unusually compelling play about a young dance troupe on its way to a national competition. The production set on a postage stamp-size set, takes us behind the scenes and into the struggle on every level: what it takes to make art in the world and succeed, and what it takes to become who you are: insight, talent, teamwork, heart, and discipline. Though the specifics vary, those with "star" quality and those without, are equally challenged to locate their personal power in a world still dominated by the patriarchy and complicated by the competition it breeds. The play teeters on the edge of hilarity and pain as we watch these young women coming of age. The dialogue is deliciously overripe as it voices the anxieties, ambitions, conscious and unconscious forces which drive not just teenage girls owning their bodies and souls, but all of us forever finding ourselves and our way through this weird and unpredictable life. Fulsomely acted and directed by the adventurous Danielle Fauteux Jacques. Through May 14! 
Wheelock Family Theatre's  BUD, NOT BUDDY is worth it.  The play, a theatrical adaptation of the award-winning children's book by Christopher Paul Curtis, slowly but surely works its way into your heart. Here we watch Anderson Stinson III as the young Bud– never Buddy– slowly blossom. Orphaned at age 6, Bud now 10 years old, sets out for home in the world. This delicate production with its poignant theme, is in danger of getting lost on that cavernous, sparely appointed stage. But the story is so compelling, the actors so committed, and the direction by Dawn M. Simmons so focused, that the young audience I saw it with at a Friday matinee were totally tuned in–even as Act II brought the show in at just about two hours. The production absolutely taps into that universal need for finding our origins and a safe place to lay our heads down.  Through May 14!