There are two extremely well-executed classics on stage in Boston right now, but you couldn't find two more wildly different experiences, in theme and execution: the first a tragedy about illusions that destroy, and the other a comedy about illusions that reveal and make merry; one realistic/naturalistic, the other, cutting edge– with puppets!
Lyric Stage Co.'s sorrowful DEATH OF A SALESMAN is a kinder gentler approach to Arthur Miller's classic about Willy Loman (Ken Baltin) the little salesman that couldn't. He's been selling himself a bill of goods all his life, and the buck has finally stopped. Period. His cheating calculus of glad-handing and "being liked" has added up to zero, which echoes what he knows about himself: nothing. He has passed on that zero sum game  to his sons, Biff and Happy. Only Biff  (Kelby T.Akin) sees the truth and knowingly bears the scars, while Happy (Joseph Marrella) is a newer, brassier version of the lo-man who is his dad, and has become a master of shortcuts and self-deception.
The cast is exemplary, especially Paula Plum as Willy's wife Linda who does a fine job of standing by her man, looking on the bright side, keeping the growing ache inside at bay. Her forbearance comes from some inner core of knowing; she is not the nervous, beaten down Linda we've seen before; this woman may be exhausted but she is not afraid. Ken Baltin as Willy is accessible and well-cast here, stumbling and stooped in a threadbare suit, but able to muster considerable bluster. His raging and sense of failure never convey quite the abyss of despair we've seen in other interpretations. But his scaled back approach lead me to experience Willy's humanity in a way I've not felt before. Willy's blindness to himself remains staggering and transparent to the audience, but somehow I didn't judge him so harshly. The seamless staging back in forth in time and space, is supported by a warm lighting scheme, a mournful and tender soundscape of original compositions by Dewey Dellay, all guided by the sure directorial hand of Spiro Veloudos.
This SALESMAN seems ever more relevant in our online meta world and its promise of global success, where illusion and disillusion are consciously intertwined. It's easy to get lost. See DEATH OF A SALESMAN before it closes at The Lyric Stage Company with an added performance Sunday March 16!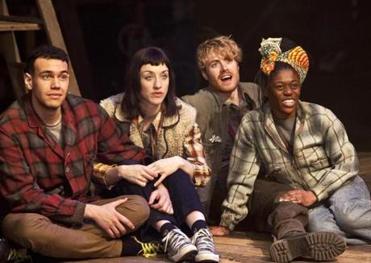 Then race over to A MIDSUMMER NIGHT'S DREAM at the Cutler Majestic—presented by ArtsEmerson, and produced by the Bristol Old Vic in association with those ingenious puppeteers who created WAR HORSE— South Africa's Handspring Puppet Company! These two troupes have orchestrated a wacky, whimsical, "inmates have overtaken the asylum" production of the Bard's comedy.
Shakespeare puts four lovers, Hermia and Lysander and Helena and Demetrius, at the mercy of a bickering fairy King and Queen–Oberon and Titania, in an enchanted forest full of mischievous fairies–Puck, and a passel of bumpkins bent on putting on a play. He then interweaves high and low in a thicket of misguided affections, romantic passion, and magic run amok.
Then things get really topsy-turvy. The rudest of these bumpkins or "rude mechanicals" is BOTTOM and it's "Bottom's up" in every sense of the expression.  The character is front and center from the minute he enters our world, and spends a good part of the end of Act I and Act II in the most compromising position I've ever seen on a stage. (I actually shrieked at the folks behind me, "I don't believe this!" as my eyes nearly popped out of my head.)  Let the name "Bottom"be your guide.
The actor who plays him operates with sheer and total abandon: Miltos Yerolemou– in a dual role– is freer than free on that stage. First he's dignified and daunting as Hermia's authoritarian father Egeus; then one scene later he's breaking the fourth wall and joking with the audience as the cheeky Bottom, until a scene later he's a "bewitched" Bottom turned ass– and served upside down to an enchanted Titania who caresses his cheeky nether regions. Finally Bottom re-emerges diva-like to play both romantic leads in the mechanicals' production about the ill-fated lovers  "Pyramus and Thisbe." I ended up as in love with Bottom as he was with himself…!
Like the rude mechanicals who anthropomorphize the hole in the wall through which the lovers speak, the Handspring Puppet Company craftily bring inanimate objects to life onstage. Puck is but a basket, a saw and a watering can– but magically more than the sum of his parts. Theseus and Hippolyta's larger than life masks have gleaming eyes that look like they can actually see.
And what of the four lovers? These young actors –Akiya Henry, Alex Felton, Naomi Cranston, and Kyle Lima– ignite Shakespeare's language and thickened plot, bringing it to a boil in a blazingly funny climax, a kicking, screaming, lovers meltdown that left me howling and these characters exhausted from the frenzy and passion of young love. Never was a midsummer night's dream at once so down to earth and out of this world. See it before it ends on the Cutler Majestic through March 15!