There are two fabulous shows in town right now right next door to each other: BURGERZ at The Paramount and AIN'T TOO PROUD The Life And Times of THE TEMPTATIONS at The Opera House!
BURGERZ closes this weekend so time is short and so is the show. Only 70 minutes, but it packs a wallop–and so did the burger that was thrown one night in 2016 at theater artist Travis Alabanza– who subsequently turned the incident into a "one trans show." Alabanza, a leading voice in the UK's trans community, takes the stage at ArtsEmerson's Jackie Liebergott intimate Black Box and starts bantering with the audience. Alabanza is pretty, and witty, and bright as they stand at a counter chatting, unpacking, and preparing the ingredients for an actual burger with help from an audience volunteer– specifically a white cisgender male.
Alabanza deftly turns their conversation into funny repartee. But as the two of them chop onions and get out the frying pan, Alabanza asks, "When was the last time you cried?" Suddenly it's really intimate in that theater, and it's clear the humor has been tenderizing us to consume what Alabanza is serving up: the cruelty and pain of being excluded, insulted, assaulted, and humiliated as a trans person of color, and a regular experience for anyone who doesn't fit into a neat societal box. That there are cardboard boxes and real burgers onstage makes the metaphorical concrete and perhaps easier to digest. What doesn't go down easy is our own complicity as bystanders who look away despite our shared humanity. Alabanza is raw up there and we feel it. By cooking up their own weaponized burger in the course of this small powerful production directed by Sam Curtis Lindsay, Alabanza unloads some anger, makes us laugh and squirm, and gets to the meat of the matter. SEE BURGERZ through April 24!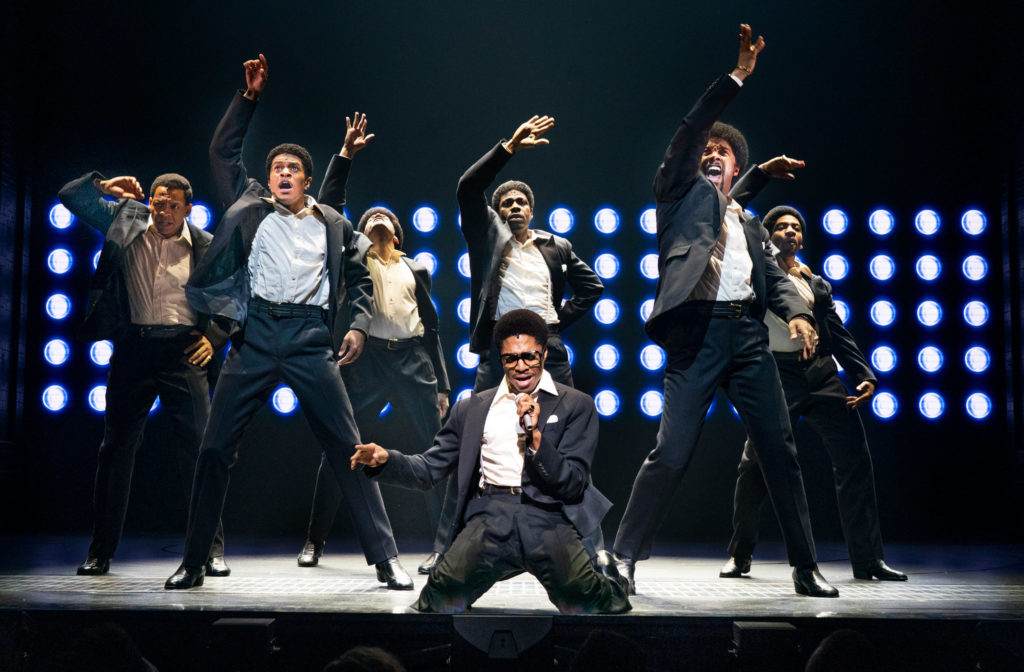 Next door at The Opera House is one of the most entertaining, tightly scripted, best performed musicals I've seen in awhile: AIN'T TOO PROUD The Life And Times of THE TEMPTATIONS!  I didn't know all the details of the story of this  MOTOWN supergroup, but I can sure sing all the songs and there are plenty of them here, perfectly choreographed by Sergio Trujillo in this terrific production directed by Des McAnuff. This is the team that should have put the Donna Summer musical onstage.
Dominique Morisseau who wrote the musical's smart book (based on Otis Williams memoir) tells the tale of the formation of the group out of hardscrabble Detroit (Otis Williams, Melvin Franklin, Paul Williams, Eddie Kendricks, and David Ruffin) their rise to fame, their crossover success, the evolution of their sound against the backdrop of civil rights protests and the war in Vietnam, mirrored by the internal stresses of the group wrought by the pressures of fame, personality conflicts, addiction, abuse, the wear and tear of life on the road, and the ultimate evolution of the "classic five" group members and beyond– along with their huge catalogue of hits!  You'll hear at least 25 of them!
It's a lot to unpack and this show seamlessly weaves it all together with each song somehow moving the story forward, capturing the emotional inflection points, knowing where to linger, where to move on.  In other words it's a musical tale told by someone who knows how to use music to tell a story. And even if you're familiar with this story you can't look away!  One voice is better than the next, each number flows into the next, each personality distinctive, every move and scene change as elegant, smooth, and tight as the harmonies of these vocals, brilliantly performed here.  I was on Cloud Nine. And just when I thought it was over, it wasn't; get ready for a big musical reveal at the end! I was ON MY FEET! This show looks good and sounds even better. It will take you back– and then forward singing all the way home.  AIN'T TOO PROUD Through MAY 1 at The Opera House presented by Broadway in Boston!