It has been an intense week for theater– all of it worthy and wildly different!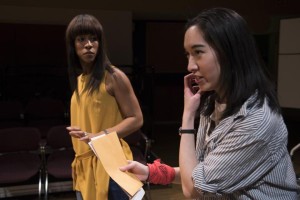 Check out THE LAUNCH PRIZE a terrifically engaging new play presented by MJ Halberstadt and produced by Bridge Rep. The situation is as timely as it is provocative. Four arts students are vying for the big, year-end academic prize which will launch their careers. As they are mounting their final exhibits, the envelope announcing the winner arrives and they speculate on who will win and why. One student happens to be African-American, one student is white, one is half mexican, another is Chinese and the offspring of immigrant parents. There are two women, two men, and their conversation opens up a Pandora's box of issues: race, gender, prejudice, hidden assumptions about identity, and how to navigate the current PC geography. It's all examined from a prism of angles depending on who wins the prize! The play comes up with an ingenious device for doing this which I did not see coming, and flips the whole thing on its head again in the last few moments. Well staged and directed and convincingly played by Katharine Chen Lerner, Bari Robinson, Angela K. Thomas, and John Tracey. See it and knock yourself out discussing over drinks immediately after. Through March 20 at the intimate Deane Hall at the BCA's Calderwood Pavilion.
Then head over to SpeakEasy Stage and check out BOOTY CANDY— and bring the smelling salts. We're talking Full Frontal Nudity, "MATURE" themes involving crude references and frank sex talk among parents and kids, gay lovers, grannies and girlfriends, preachers, pedophiles, muggers and strangers. I had no idea what "booty candy" was (all right, I had some idea) but the eponymous phrase is baldly defined in the very first in this series of vignettes-turned-play based on playwright Robert O'Hara's growing up black, gay and gifted in Cincinnati. I was ready for something uproarious, but not for something as emotionally raw and revealing as this puzzle of coming of age incidents, nimbly directed by Summer L.Williams.
This first rate ensemble is mostly marvelous in multiple roles, among them: Johnny Lee Davenport as a fiery preacher who knows how to enflame a congregation, Jackie Davis as a lesbian named  "Genitalia," Tiffany Nichole Greene as her bitchy "ex" named "Intifada," Maurice Emmanuel Parent exceptional as the autobiographical subject Sutter holding this piece together at every age, and finally the achingly affecting John Kuntz in all his splendor as we've never seen him before. One quibble: almost every scene would work better if it were shorter; there would still be more than enough candy to go around. See BOOTY CANDY at the BCA's Calderwood Pavilion through April 9th!
Finally there's the production I'm still rightfully scratching my head over having been knocked into unconsciousness by it onstage at ArtsEmerson's Paramount: A BECKETT TRILOGY:NOT I/FOOTFALLS/ROCKABY and its acclaimed performance by Lisa Dwan.  Just in time for St.Patrick's Day, the Irish playwright finds expression in a totally blacked out theater–I'm talking NO EXIT (!) signs. The performance begins with a small, fleshy, disembodied, brogue-spewing gob stage right.  The actress is unseen but for her mouth, the weight of her fully behind the words however, as she pushes them out at what Dwan calls "the speed of thought." Advice– read the text before you go and you will catch an outline: an old woman mute, perhaps illegitimate, born before her time, suddenly finds her voice one April day in a field and can barely believe it is hers. Beckett's verbiage comes right for us, non-stop, rat-tat-tat staccato phrases circling back on themselves, spiraling toward our comprehension as we float in the void.  I didn't know who I was or what to think. So I didn't. It ended.
3 minutes more of silent blackness, then the second piece: FOOTFALLS. A beautiful pale female spectre in a long white gown materializes in a shaft of light and paces slowly, deliberately, back and forth, stopping to a speak to another– her mother? Dying? She is unseen. They converse; at one point the younger speaks in the voice of the older. Are they the same? Is one the dream of the other? It is haunting and deeply sad. 
3 minutes more of silent darkness and then a woman appears out of the black, rocking back and forth in a chair, which may be moving on its own, relentlessly, evenly, echoing the pacing of the previous piece, as she beats down the minutes to her death in the succinctly named ROCKABY.  The woman is glistening in the dark, rocking toward the inevitable. Is she soothing herself? Us? A woman's voice– her own? speaks while the rocking woman rocks and stops, and seems to float, and there is a momentum within the stillness and we are still in the darkness with her. I was mesmerized. Not thinking.
I was stunned by the physical/technical discipline required to fulfill Beckett's daunting stage directions. Dwan has been trained by Beckett's go-to interpreter, the late English actress Billie Whitelaw.  See this Trilogy and have the experience. And don't be that moron sitting behind me who didn't turn off his phone (despite 5 reminders from the stage) and ruptured the silence. 55 minutes no intermission. At the conclusion, the actress's spritely bows were like bubbles popping from some tightly corked elixir. Only through March 20th.