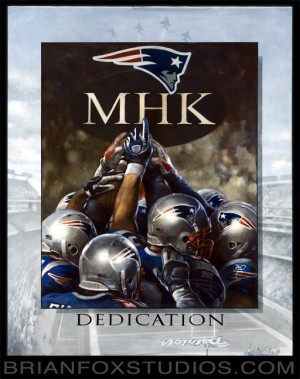 This painting is on its way to the Superbowl with The Patriots! (I knew there'd be an art angle on this SUPERBOWL caper.) It was painted by Massachusetts artist  Brian Fox whom I did a story on a few years ago. It was immediately clear he knew a thing or two about drafting– drafting as in drawing, as in exquisitely detailed portraits and uncanny likenesses of sports legends. The Patriots commissioned this portrait as a heartfelt surprise for team owner Bob Kraft, and presented it to him on Christmas Eve– his first without his wife Myra who died earlier in the year. It was Patriot Matt Light who knew the artist, and told Fox the team wanted to pay tribute to Myra.
Fox told me he was inspired by the Pats wanting it to be from the whole "TEAM–not offense or defense or one player versus another. Players gather together in a huddle like this before games, coming together as one. Since this was a gift from the team to the Kraft family, I wanted it to have that feel– but having the MHK initials (based on the patch every player wears in remembrance of Myra H Kraft) incorporated as the focal point and because the season is dedicated to her…. I feel incredibly blessed to have been asked to do this painting as well as be in the locker room when it was presented."
Now here's where art meets life.  According to ESPN.com:
"Light presented the painting to Kraft on Christmas Eve after the Patriots beat the Dolphins and it was later moved to his office. The following week, with the Patriots trailing the Buffalo Bills 21-0 in the final regular-season game, Kraft, a deeply spiritual man, had an idea. He directed his chief of staff, Al Labelle, to move the painting into the Patriots' locker room, where it was placed on an easel.
"In the middle of the locker room," Jonathan Kraft said, "so both the offense and defense could see it. Nobody said anything. Nobody had to. It was just there."
…The Patriots scored 49 unanswered points and haven't lost since. The painting is with the team in Indianapolis and will be prominently displayed in their locker room at Lucas Oil Stadium when they meet the Giants."
The Broncos had Tebow. But the Patriots? They have Myra.