ArtsBoston Survey: Nearly 90 Percent of Bay Staters Would Be Excited to Get Performing Arts Tickets as Holiday Gifts!! 8 out of 10 Prefer Tickets to an Event Over "Stuff" for the Holidays. READ MORE
So Now Thru Jan 1st Mayor Thomas Menino invites you to enjoy 9th Annual Mayor's Holiday Special offering thousands of 1/2-price tickets to over 70 of the region's most beloved holiday performances, dining deals and unique gift ideas. The Mayor's Holiday Special is the go-to resource for the complete Greater Boston holiday experience and is created in partnership with local non-profit ArtsBoston, the Mayor's Office of Arts Tourism and Special Events and Greater Boston Convention & Visitors Bureau (GBCVB).
And here are a few of MY A & E stocking stuffers coming up for the holidays– all wrapped up in one neat package– ENJOY!!

New England's Brightest Holiday Tradition RETURNS!
North Shore Music Theatre presents the 22nd production of
A CHRISTMAS CAROL
A Musical Ghost Story
12 PERFORMANCES ONLY!
December 7 – 23 – Tickets on sale now! 

*****************************
IT'S A WONDERFUL LIFE
now at
Stoneham Theatre
!
Artistic Director, Weylin Symes, brings his adaptation of this Holiday favorite to the stage!
November 23 – December 23, 2012
**************************
A BRAND NEW CHRISTMAS SHOW FROM THE GOLD DUST ORPHANS!
Rudolph The Red Necked Reindeer
(This is an ADULT parody! DO NOT BRING YOUR CHILDREN!)
November 29th through December 23rd ONLY!
Opening Thursday, November 29th at 8:00 pm and playing every Thursday, Friday and Saturday night at 8:00 pm and every Sunday afternoon at 5:00 pm
until December 23rd ONLY!
MACHINE –  1254 Boylston Street, Boston.
$35 General Admission / $45 V.I.P. Reserved Seating
tickets can be purchased at Brown Paper Tickets
http://www.brownpapertickets.com/event/291882
**************
URBAN NUTCRACKER RETURNS TO JOHN HANCOCK HALL WITH MIX OF DIVERSE DANCE STYLES FROM CLASSIC BALLET TO HIP HOP!!
Anthony Williams' "Urban Nutcracker"returns to the stage for its  12th season, updated with new choreography and packed with more magic for the whole family. Performances will run from Dec. 8 to 23 at the John Hancock Hall, 180 Berkeley St., Boston. www.urbannutcracker.com
***********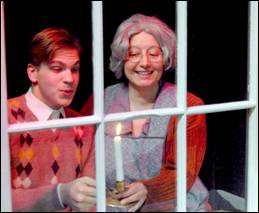 New Repertory Theatre proudly announces Truman
Capote's  heart-warming stories:
HOLIDAY MEMORIES
December 9 through 23, 2012, performing in the Charles Mosesian Theater, Arsenal Center for the
Arts, 321 Arsenal Street, Watertown, MA.  www.newrep.org

******************
TWO GENTLEMEN OF VERONA – which will be playing December 12 to January 6, at the Davis Square Theatre (255 Elm Street, downstairs with Saloon ).  ASP company member Robert Walsh will direct a fantastic ensemble including John Kuntz and Thomas Derrah.  www.actorsshakespeareproject.org    
***************
10th Annual Boston Christmas Cavalcade Benefit for the Homeless at Johnny D's!
Thursday Dec. 13  17 Holland Ave. Somerville 617-776 -7450
Chandler Travis Philharmonic, Livingston Taylor, Jenny Dee & the Delinquents, Barrence Whitfield, Jennifer Kimball, Vance Gilbert, the Catbirds, Ray Mason, Erin Harpe & the Delta Swingers, the Jessica Schroeder Dancer, Miriam, Shaun Wortis, Bird Mancini, Aaron Spade, Kami Lyle, the Darlings, the Classic Ruins, Sal Baglio, and Chris Mascara, the Second Line Social Aid and Pleasure Society Brass Band, the Philharmonic Trombone Shout Band, the Athol Thingerth, and a cast of zillions; 8pm.
http://www.chandlertravis.com/xmas-pix/
***************
WINTERBLOOM
at
Oberon
December 14, 7 & 10 PM
2 Arrow Street
Cambridge, MA 02138
www.cluboberon.com
Tickets: $25.00 – $35.00.
OBERON, the American Repertory Theater's second stage
and club theater venue, and
Club Passim
present WINTERBLOOM, four singer-songwriters sharing their diverse cultural traditions through song and story for the holiday season, on Friday, December 14 at 7 and 10pm.  Doors will open at 6:30 and 9:30pm.
***********
THE HOLIDAY TRADITION CONTINUES FOR A
4th SEASON!
BOSTON CHILDREN'S THEATRE PRESENTS
'THE VELVETEEN RABBIT'
THE VELVETEEN RABBIT has captured the hearts of thousands with its touching and entertaining story about friendship and love told through the eyes of a young boy and his beloved Velveteen Rabbit.
December 15, 16, 22 and 23 at the Benjamin Franklin Institute, 41 Berkeley Street, Boston, MA.
***************
THE BOOK OF MORMON
which comes to the
Boston Opera House
April 9 – 28, 2013. 
Single tickets will go on sale to the public on Monday, December 17th at 10am
. 
An exclusive pre-sale for American Express ® Card-members will begin at 10 AM on Wednesday, December 5th thru Tuesday, December 11th.
Ticketmaster 1-800-982-2787, or by visiting www.BroadwayInBoston.com.  Tickets will also be sold directly at the Boston Opera House Box Office, 539 Washington Street, Boston, MA beginning Monday, December 17th at 10 AM.
************
FLEETWOOD MAC LIVE 2013 TOUR ANNOUNCED
TOUR INCLUDES STOP AT BOSTON'S TD GARDEN
ON APRIL 18, 2013
TICKETS GO ON SALE BEGINNING
MONDAY, DECEMBER 17 AT 10:00 AM
****************
"CHRISTMASTIME" SPECTACULAR DEC. 7-16
BROADWAY STARS SARAH PFISTERER AND RICK HILSABECK LEAD CAST OF 200
AT REAGLE MUSIC THEATRE!
****************************
THE CHRISTMAS REVELS
An Irish Celebration of the Winter Solstice
December 14–27,
Sanders Theatre, Harvard University, Cambridge, MA
. Celebrate the holidays with family and friends at the 42nd annual Christmas Revels – a joyous participatory theatrical event filled with music, dance, comedy and carols, this year from the Emerald Isle.
www.revels.org
or by phone through the Harvard Box Office at 617-496-2222 (Tue-Sun 12-6pm)
*********************
GLORIA:  A RENAISSANCE CHRISTMAS PAGEANT Dec 15-16 (various locations-check website)

Cappella Clausura's alternative Christmas pageant is back!  This program is ever-popular with families, with its graceful child dancers, sing-alongs, giant puppets – and gorgeous music.  But what makes it different is the source of the music:  written by mostly cloistered nuns from 12th – 17th century Italy and Germany and told from Mary's point of view.  Who knew they composed such beautiful music, hidden away in their convents! www.clausura.org
*********
Playwrights' Theatre at Boston University
present THE BOSTON ONE-MINUTE PLAY FESTIVAL
featuring plays from over 40 local playwrights
January 5 – 7, 2013 at 8pm.
www.bostonplaywrights.org
************************
THE NEXT THING (TNT) is a ten-day festival of performances, screenings and workshops presented in association with The Center for the Theater Commons and New York's Under the Radar Festival. TNT Festival,  runs Feb. 15—24, 2013.  Festival passes and Mike Daisey's American Utopias are on sale to members beginning Dec. 5 at www.artsemerson.org or by phone at (617) 824-8400.