GREAT week around town–theater is thriving and the Mayor–though barely mobile- is everywhere! I popped into his office this week and presented His Honor with THE ELLIOT NORTON CHAMPION OF THE PERFORMING ARTS AWARD! Play below or click here to download video which we'll play at the "Norties" Monday night May 13 at the Paramount when we honor all the outstanding work of our theater community.  Broadway legend CHITA RIVERA our guest of honor will be in the house, along with tapper Maurice Hines who will preview his show opening next week!  It's still not too late to buy a ticket! I will host– and would love to see you there!
As for what's onstage right now? Plenty–for everyone.  Grab your teenagers and head for ZEITGEIST STAGE COMPANY's riveting, superbly acted/directed, and acutely relevant production of (former teacher) Simon Stephens PUNK ROCK. It's a dramatic exploration of the sudden eruption of violence among teens at a British secondary school in the pressure cooker of their senior year.  We're like flies on the wall as a new girl comes to town, adding fuel to the firey dynamics of this claustrophobic society. We recognize the complex, often cruel dynamics of kids struggling with identity, power, loyalty and lust. I jumped out of my seat more than once. The cast will blow your mind. Do not miss PUNK ROCK at ZEITGEIST through May 25th!
If classical music's your speed- check out New Rep's solid production of Peter Shaffer's 7-time Tony Award-winning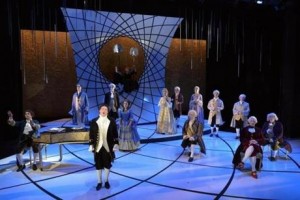 AMADEUS about the potty-mouthed prodigy Mozart and the mediocre but celebrated court composer Antonio Salieri who hates him. Salieri has the ears to recognize the upstart's genius, but not the chops to equal him; thus he wages war on GOD and Mozart is the battleground. Mozart's arch nemesis backstabs him into oblivion during his lifetime; Salieri flourishes while Mozart flounders– but God will have the last laugh. The production sags under the weight of "too many words," but nimble direction, a winning cast (especially Ben Evett, McCaela Donovan, and Tim Spears) and Mozart's music make the evening not exactly whiz–but at least engrossingly glide by. At New Rep extended through May 26th!
Finally, onstage for the porn-obsessed, fairy-tale loving dramaphiliacs among us– get downstairs to the Ramrod Center for the Performing Arts (AKA Machine)  and DON'T bring the kids. Ryan Landry and those frisky Gold Dust Orphans have tackled Pinocchio and turned him into a porn star in "PORNOCCHIO"!  A riotous opening number set to "Funiculì, Funiculà" launches a 2-hour drag mash-up that involves the Blue Fairy as a foul-mouthed crackhead, Liza's belting, Fosse's moves, "Fiddler's" fiddling, Rosemary Clooney's Mambo Italiano, JC Superstar,  and Landry's adorably deadpan doggy Rhoda. A non-stop chorus of singers and dancers kicks up its heels in endless production numbers that reveal all. (This is Landry's most explicitly costumed show to date.) Act II's staging is a thing of wonder as we are plunged into the deep blue sea, and climaxes with the ejokulation we've been waiting for. Did I just write that? Not for the faint of heart: See PORNOCCHIO through May 26th– your last chance to see the orphans before they hit the road for NYC and NEW ORLEANS. Break a leg!