The Lyric Stage company has gone from THE WOLVES to THE LITTLE FOXES, Lillian Hellman's classic about a ravenous pack of southerners hungry for a business deal that would satiate their need for even greater wealth and power. This melodrama set in the antebellum south is brilliantly helmed by Scott Edmiston, staged on a glorious set by the inimitable Janie E. Howland, and features a gorgeously costumed (Gail Astrid Buckley) all-star cast, who flesh out every second of this tale of lost innocence, corruption, greed, and internecine warfare. I was on the edge of my seat all two plus hours!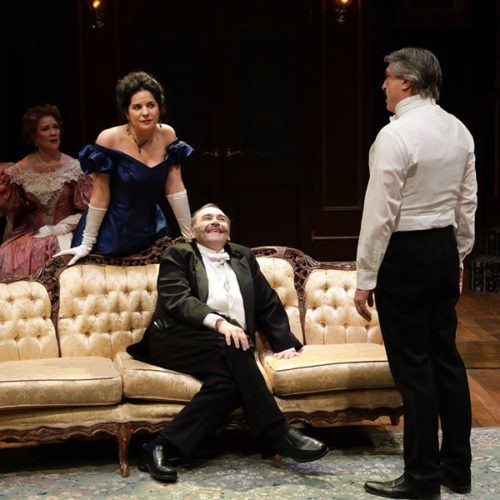 The Machiavellian twists and turns begin as Regina Giddens (Anne Gottlieb in an earthy, go for broke performance) descends a spiral staircase in a halo of light (Karen Perlow) to her den of thieving siblings salivating over a deal they hope to consummate with rich Chicagoan, Mr. Marshall.  Bill Mootos plays it just right, intrigued yet sensing he shouldn't turn his back on this cagey lot and whatever's beneath the southern hospitality they're ladling out. Indeed, these rapacious relatives will eventually sink their teeth into each other as they connive to come up with the funds needed to invest in a scheme to additionally line their pockets at the expense of the already impoverished. Remo Airaldi as the mean and lowbrow brother Ben attempts to outmaneuver his brother Oscar, Will McGarrahan in a chilling turn as an abusive husband to the sweet Birdie whom he's married for her money, while eviscerating her spirit. Regina is also fair game, but she may be the most ruthless of them all.
Among the casualties are Regina's noble husband Horace (Craig Mathers) who may hold his wife's share of the purse strings, but he's been wounded by her callousness and not long for this world. As Regina's gentle sister-in-law Birdie, Amelia Broome has never been better; with her refined features and frame, she's a mournful throwback to another era; we are nervous for her as she twitters about, a creature who expects to be hurt. Her counterpart in the younger generation is her niece, Regina's teenage daughter Alexandra played by Rosa Procaccino whose face is as open as her heart. Will Alexandra avoid her aunt's doomed fate as an incestuous marital sacrifice to her weaselly first cousin Leo? He's captured dead-on by Michael John Ciszewski.
Circling the action, and at the edges of our contemporary consciences are black servants Addie (Cheryl D. Singleton) and Cal (Kinson Theodoris). Singleton plays the role with great dignity and perspective. This wealthy, post civil war family no doubt look back on "the Old South" with a nostalgia Addie doesn't share, though her devotion to this family is palpable. It's a fine line to tread, and Singleton does it with finesse and gravitas. Kinson Theodoris's cheery, deferential manner seems bred of centuries of oppression; he barely dares to contradict his "employer" even when sent on a fool's errand, an unknowing cog in a wicked wheel. These characters are painful reminders of how far we have NOT come since the cusp of the last century when the play was set.  Edmiston rides every undercurrent and extracts every bit of murderous tension, heat, and drama with an eye to that through line, and a lightning rod to 21st century issues of race, class, power, privilege, and income disparity.
DO NOT MISS "THE LITTLE FOXES" at The Lyric Stage through March 17!