The dog days of summer feature two movies based on books that require some navigation through PC muddied waters.
BLACKkKLANSMAN is Spike Lee's take on the "true" tale of Ron Stallworth (John David Washington, Denzel's son!) the first black detective on the Colorado Springs Police Force in the early '70's who infiltrates the Ku Klux Klan with the help of his white partner Flip Zimmerman (Adam Driver). Produced by the team behind last year's audacious Oscar-winning GET OUT, it has just been trashed by Boots Riley, director of this summer's savvy SORRY TO BOTHER YOU, for cutting the white police force too much slack.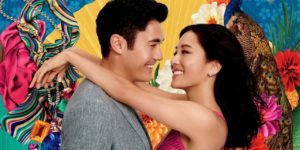 CRAZY RICH ASIANS has been heralded as the "Chinese Black Panther" for representing an all-Asian cast in a global mainstream movie for the first time in a quarter century. But the film has gotten flack in Asia for not featuring enough brown Asians, and reinforcing stereotypes by shoehorning this story into a Hollywood fantasy formula about ultra rich, glamorous and westernized Asians.
But are these good films? It's clear Spike Lee has an ax to grind but it's an ax that needs grinding and he's a filmmaker with the chops to do it. Lee has hitched Stallworth's story to history, real and cinematic, and in Spike's words– though this happened in the 70's, "it's still happening."
The movie is bookended by powerful images that establish the historic parameters of the tale Spike's really telling. He begins with pivotal movie images that set and reinforced cinematic history's racist tone: there's D.W. Griffith's infamous 1915 epic THE BIRTH OF A NATION featuring torch-wielding Klansman on horseback defending frightened white folk from rabidly dangerous blacks run amok. There's that famous tracking shot from 1939's GONE WITH THE WIND widening out to reveal a sea of wounded confederate soldiers fresh from the civil war– a war we're still fighting. Within this context, Charlottesville 2017 leaps inevitably and painfully to mind. Lee concludes the film with actual footage from those rallies and protests.
Lee has also goosed the relevance of Stallworth's story by making Ron's partner Jewish (he wasn't in real life). He also gives Stallworth a non-existent love interest, a beautiful civil rights activist whose organization Stallworth has been ordered to infiltrate. Lee further heightens the drama by having Stallworth interrupt a bomb attack, which also didn't happen in real life. (Riley notes that many of these embellishments further a hidden agenda: that Lee was paid for a NYC ad campaign to improve relations between minorities and the police.)
But what's most important and remarkable here is what really did happen. Ron Stallworth posing on the phone as a virulent racist and antisemite actually got head hooded honcho David Duke on the line and sank the hook; white partner Flip Zimmerman then met Duke in person to reel him in.
The scenes featuring kkk-ers, boneheads beneath their hoods, are pitched so over the top, I could barely keep from laughing–until I got to Topher Grace's David Duke. His performance is a brilliant and terrifying calibration, a chilling combo of soft spoken "squareness" and singleminded hatred. Just when you think he might wink, he pulls back, snakelike, and lashes out.
Lee delivers a vivid, intelligent, disturbing black comedy/thriller that conjures a through line from the subversively racist 70's to the overtly and darkly cartoonish world we now inhabit, where a reality show host/president openly fans the flames of racism that never went out. Lee embellishes the facts, but with an eye to W.E. B. Du Bois "double consciousness" while highlighting a solution: two men, one black, one white, working together literally as one man for a greater good.
The film's final scenes featuring elder civil rights statesman/artist Harry Belafonte playing essentially himself, leave no doubt about Lee's conviction, his passion, and his vision as an artist. Spike Lee has altered the facts to be sure, and it is up to the viewer to decide if his method is a sell-out or an expression of this story's potential truth as it resonates in the here and now. I say, well-done. Stay to hear a rare Prince song "Mary Don't You Weep" over the credits and see Spike's music video featuring the song here.
As for CRAZY RICH ASIANS– I LOVED it! I laughed. I ate popcorn. I devoured every familial crisis and bitchy intrigue, every gorgeous gown and luxe setting in this topsy turvy romance involving super rich, glam, fab, beautiful people whom we get to ogle and discover they suffer (well sort of) like we do. Not representational enough? Excuse me, but it's a rom-com called CRAZY RICH ASIANS, aptly directed by Jon M. Chu and serves that demographic perfectly; it even manages to make these characters more dimensional than expected, thanks to an exciting cast, and a clever script. Once I got past a few initial stiff and awkwardly acted scenes, I was able to surrender to the plight of this attractive young couple trying to navigate the shark infested waters between the merely well off and the absurdly wealthy.
There I encountered a host of unfamiliar and exciting starring faces. The adorable Constance Wu plays New Yorker Rachel Chu who's on her way to Singapore to meet her boyfriend Nick Young's family. Hunky Henry Golding plays Nick with a British by-way-of-boarding school accent. International action star Michelle Yeoh channels her crouching tiger, not so hidden dragon here as Nick's cooly elegant mom Eleanor who doesn't think Rachel is good enough for her son.
We soon learn that Nick comes from extraordinary wealth and a hefty pedigree which includes a whole dynasty of extended family and friends. Rachel however is armed with a secret weapon– her best friend and former college roommate Peik played by the off-the-charts hilarious Awkwafina. A little firecracker, she steals every scene she's in, shooting off hilarious, rapid fire asides even when the nutso Ken Jeong is on screen as Peik's flamboyantly bougie father.
About half way through, I realized I was not only having a great time, but was also caught up in what was happening to these characters and touched by unfamiliar-to-me family rituals, like everybody making dumplings at the kitchen table. The film took me by surprise as the tale becomes more intricate, characters get fleshed out,  and back stories filled in; some scenes actually carry surprising emotional weight. I was moved, worried, laughed some more, and generally had a blast. SEE CRAZY RICH ASIANS and pray for additional films that round up more than the usual suspects on the big screen for our global entertainment.