IT JUST OPENED!  Don't miss MARTHA MARCY MAY MARLENE, a dark and unrelenting psychological thriller starring Elizabeth Olsen–younger sister of Mary Kate and Ashley. If her performance here as a traumatized cult survivor is any indication, Elizabeth will henceforth stand on her own merit. The 23 year-old Olsen is built for screen stardom; lean yet voluptuous, she absorbs us with her stillness and lucid beauty.
On the run after two years under the spell of a Manson-like "family" leader (John Hawkes of WINTER'S BONE), Martha attempts to reconnect with her estranged sister (Sarah Paulsen) and her sister's new husband (Hugh Dancy). This is director Sean Durkin's feature film debut for which he also won "Best Director" at this year's Sundance Film Festival. It's easy to see why; he has deftly orchestrated the fine line between present and past, reality and illusion, as the movie seamlessly shifts back and forth across the fault line of Martha's jangled psyche– with volatile results. It's no accident that her two families—and two selves –mirror each other.We are in thrall to the last frame as Martha/Marcy May Marlene fights for her sanity.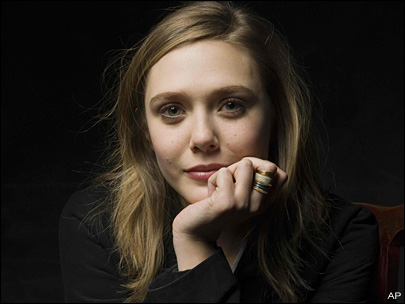 I talked to Elizabeth Olsen when she was in town about her feature film debut as a cult survivor:
 HOW HARD WAS IT TO PLAY SUCH A DARK TRAUMATIC ROLE YOUR FIRST TIME OUT?
"The scariest thing to me is giving someone your body…someone else having control over that…that's taken away from her (MARTHA). So (nude scenes) needed to be there… This might sound weird but that was the easier stuff …the harder stuff was finding the light in it and the hope."
DESCRIBE THE POWER OF THE CULT LEADER HERE PLAYED BY JOHN HAWKES ("WINTER'S BONE").
"When you meet him…it may be the first time someone has ever been that interested in you… he gives all of his attention to you and you feel safe … and then slowly little things start happening."
 WHY DID YOU BECOME AN ACTRESS—IS IT SOMETHING IN THE WATER IN THE OLSEN HOUSEHOLD?
"It' wasn't like I said 'I'm ready now! '(laughs) I'v e never wanted to have anything for any reason except …me earning it. In order to do that I wanted to have all the tools.I did it since I was 8, during kids summer   camps …acting classes for child actors. I've trained…went to conservatories.  I've seen how the media can take advantage of any young actor… We (my family) all give each other advice. There are six kids; our parents are really close; we have a supportive family."
For a full list of  the movies I can't wait to see this Fall– check out my previous post on My Fall Movie Preview— which I also contributed to EXHALE magazine!