Toxic and intoxicating: two films to consider this midsummer weekend!
RADIOACTIVE: Beware its unstable script and the resulting half life it sketches of one of the world's great scientists and the first woman ever to win the Nobel Prize. Rosamund Pike stars as Marie Curie, the pioneering scientist who along with her husband Pierre discovered radioactivity by way of two new elements: radium and polonium. But first she had to break the scientific community's toxic male logjam and get herself a lab, a collegial husband, and taken seriously–though it was only her husband who was initially credited by the Nobel committee for their groundbreaking work in physics. The film is hobbled by director Marjane Satrapi and Jack Thorne's awkward screenplay. Jarringly edited, the film hurtles back and forth in time with the finesse of an atomic bomb. I suppose the intent was to show the repercussions of Curie's work on the 20th century, but these scenes from the 1950's pop out of nowhere and feel like they're part of another movie.  After her husband died, Curie's scandalous affair with a married man takes center stage, while little energy is spent on her inner life and character. Pike's portrayal toggles between icy cold stares and fiery flare ups. And then there's her subsequent work. Curie went on to become the first person ever to win a second Nobel Prize, this time in chemistry. RADIOACTIVE could be one of the worst biopics ever made. It is most certainly a wasted opportunity to expand what we know about one of the few female greats heretofore recognized in the field of science, whose contributions were, among many other things, seminal to cancer treatment in the atomic age.
Available on Amazon Prime 7/24, Rated PG-13, 109 minutes.
Now for the most fun you'll have at the movies all weekend!  If you love the female form and are familiar with the famous German photographer/provocateur known for equal parts eroticism, wit, and social commentary watch HELMUT NEWTON: THE BAD AND THE BEAUTIFUL. He died in 2004 in a car accident in front of L.A.'s infamous Chateau Marmont, but his photos live on in the annals of fashion and in this documentary directed by Gero von Boehm. It's a feast of flesh and fantasy with an engaging array of models, muses, and admirers weighing in on Helmut's subversive genius.
We hear from giant blonde supermodels Nadja Auermann and Claudia Schiffer, actresses Charlotte Rampling, Isabella Rossellini, and German arthouse diva Hannah Schygulla who talk easily about how he worked with them and to what end.  Marianne Faithfull and Grace Jones sing his praises ("He's a little bit pervert but so am I…"). I swooned over footage of the young supermodel Cindy Crawford and the face that launched a thousand French coins, Catherine Deneuve.  Though he was obsessed with the female form, all agreed they felt safe with him, that he was unrelentingly funny and unpretentious enough to declare that the dirtiest words in photography were "art" and "good taste."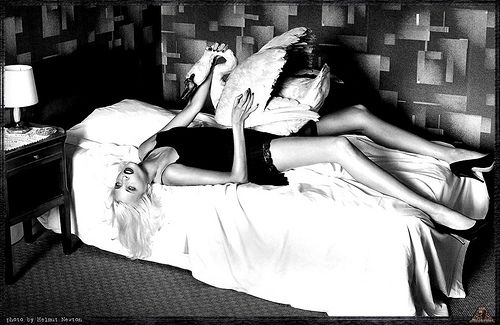 The man who emerges is an ironic "naughty boy" with a complex background which fueled work that was subversive and often provoked audiences– who missed the point. He was irresistibly attracted to powerful figures political, financial, sexual.  He was especially drawn to pale, six foot tall,  razor-cheeked amazons. When he posed Nadja Auermann with a giant stuffed swan atop her sprawling lithe figure, he was accused of animal abuse, laughable when one understands the image is a commentary on the myth of Leda and the Swan. At the heart of the image is the question of power: is the woman a victim or is the image an indictment of a culture which victimizes and fetishizes women as victims?  Do Newton's photos of naked women objectify them or celebrate their raw power?
The documentary helps us understand the development of his proclivities and resulting aesthetic when we learn he came of age in freewheeling Weimar Germany with Hitler on the horizon and Aryan perfection through filmmaker Leni Riefenstahl's lens on German Olympians embedded in his mind's eye. As a Jew, Helmut was no doubt attracted and troubled by these images and that conflict is most certainly reflected in his penchant for the shocking juxtapositions in his photographs: a bejeweled female hand preparing a bloody chicken –one of his obsessions, especially a chicken wearing high heels.
His sensibilities are debated in the film by everyone from Susan Sontag who in one TV interview smilingly declares to his face that he is certainly a misogynist, while Vogue's sunglassed doyenne in chief Anna Wintour sees him as a social commentator of uncommon wit and vision. The film continually opens up revealing Helmut's long and loving marriage to wife June Newton, and his deference to her vision of his work. The film's final shot is a photo devastating in its frankness and poignance. The doc is revelatory in the way that a documentary should be, showing us more than meets the eye. Here we begin to see the inner workings of an artist who served his own vision through the photos he took, wherever they took him, until THE moment only he could recognize appeared in a flash through a shutter, through his lens, and we get a glimpse of some elusive, unquantifiable truth captured once and forever, and never again.
Helmut Newton: The Bad and the Beautiful/ German & English, 89 minutes opened 7/24 at Coolidge Corner Theatre's Virtual Cinema