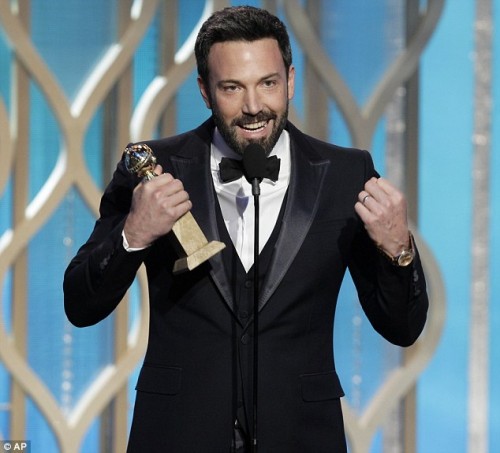 My head's STILL spinning from Sunday night's 70th installment of THE GOLDEN GLOBES! What a wild night.
BEN AFFLECK trumped the OSCAR snub by winning– much to his and everyone else's amazement– BEST DIRECTOR and BEST PICTURE (drama) for ARGO. He then forgot to thank producer George Clooney with whom he was sitting all night. His wife Jennifer Garner took care of it later onstage just before she presented another award.
GIRLS creator and star LENA DUNHAM –tattooed and hobbling in a Vera Wang gown– claimed 2 Golden Globes for her provocative HBO TV series and BEST ACTRESS performance, thanking her co-nominees for getting her "through middle school." I'll be interviewing Lena and her mother Laurie Simmons before a live audience at Boston's MUSEUM OF FINE ARTS on FEB 6!
JODIE FOSTER gave a flabbergasting speech as she accepted the Cecil B. DeMille LIFETIME (at the ripe old age of 50?!) ACHIEVEMENT AWARD. She built up to an "un-coming" out announcement, confirmed her "single," status,  made a pointed plea for "privacy," then seemed to declare that she would never act again– until she cleared that up backstage by stating, "I could never stop acting. You'd have to drag me behind a team of horses."  All this, after the camera cut to her pal Mel Gibson presenting her with a stuffed hamster on a silver platter, as Robert Downey Jr. introduced her onstage. It all culminated in an astonishingly tender, heart-wrenching, straight-to-camera message of love to her apparently dying mother– which left the entire room on their feet and in tears. The woman is brilliant and talented and can say whatever she wants. I am still recuperating:

It was President Bill Clinton however, who got the loudest applause of the evening, when he strode out onstage to a thunderous ovation and introduced a movie about one of his predecessors– LINCOLN–which earned Daniel Day-Lewis (to no one's surprise) a most deserving BEST ACTOR AWARD.
Anne Hathaway who won BEST ACTRESS for LES MISERABLES, however, failed to give a convincing portrayal of  sincerity when making her acceptance speech. Loved the chic white Chanel gown, though.
Finally, Jennifer Lawrence who won BEST ACTRESS for SILVER LININGS PLAYBOOK had what a friend of mine pointed out may have been the best line of the evening:"Thanks, Harvey (Weinstein), for having whomever killed so I could be standing here tonight."
And if looks could kill, Kristen Wiig and Will Ferrell would be dead–so angry did Tommy Lee Jones appear as the camera caught him practically snarling as the two brought the house down when presenting the nominees for Best Actress:

Meanwhile, hosts TINA FEY and AMY POEHLER absolutely killed– they were totally in command,  downright hilarious, beautiful, edgy, spontaneous, upbeat– in other words, PERFECT. BRING THEM BACK NEXT YEAR.
To see all the nominees and winners of the 70th Annual GOLDEN GLOBE AWARDS click here!
Whew. Stay tuned for the Oscars on February 24th!