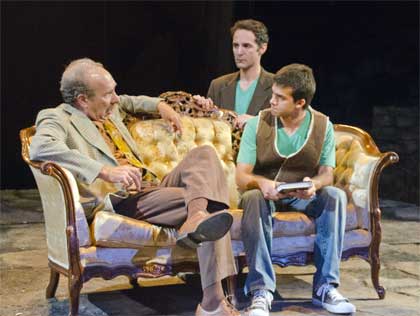 If you read and liked the 2003 best seller by Khaled Hosseini- you'll recognize the slavishly reproduced play: New Rep's season opener THE KITE RUNNER. Though I'm told it's faithful, the life has apparently been drained out of it.  Set in 1970′s Kabul Afghanistan, THE KITE RUNNER tells a tale of friendship between two boys across class lines– one wealthy– Amir, the other poor– Hassan, the son of the family's lifelong servant. Fathers and sons, patriarchy, and what it means to be a man are all mixed up in an improbable and melodramatic soap opera about love, betrayal, and redemption.
This adaptation by Matthew Spangler- though it spans three decades of political strife in the middle east– plays pretty flat. It's lazy– basically one long monologue that places an enormous burden on Nael Nacer who plays the grown up Amir looking back, trying to make sense– and amends for the past. He often bobs in and out of the action of his past, like a spectator at his own childhood. See photo at left. (That's him peeking over the couch at a conversation between his father and his younger self.) It feels hokey. He went up on his lines frequently the afternoon I saw him; at well over two hours, with waning dramatic tension, who could blame him? My mind wandered too.
The work could stand editing, could make better use of music, lighting, color, and with the exception of one truly harrowing scene inside an oil tanker as the Afghanistanis flee their occupied country– some inventive staging and direction. Even the pivotal moment, the one that should have stopped us dead in our tracks, the one that makes all the difference–fails to rivet us.  There's a lot of hot air keeping this KITE aloft. I felt like I was listening to a tall tale– and didn't quite believe a word of it, especially by the end of Act II which had me cringing in disbelief.
But I'm always interested to know what you all think. So check out THE KITE RUNNER at NEW REPERTORY THEATRE and see for yourself. It's just been extended by popular demand through October 7th!