I've been seeing a lot of theater lately while nursing a broken shoulder and it's just what the doctor ordered!  Listen. It's going to be rainy this weekend. Maybe thunder and lightning. Very dramatic. So why not take the drama indoors and check out some of the fabulous offerings onstage in and around Boston this weekend!
It's the last weekend to catch "JAGGED LITTLE PILL The Musical" as in Alanis Morissette's eponymous hit album and it's onstage now through Sunday 6/25 at the Boston Opera House. This is an absolute MUST SEE! A flawless ensemble with the mother of all leads– Heidi Blickenstaff– a multitalented dynamo whose comic timing, dramatic power, and mighty vocals stop the show more than once.  You could argue Diablo Cody's book centered on an upscale family dabbles in too much dysfunction — drug addiction, date rape,  interracial adoption, and marital discord. But each issue is smartly dealt with and is played out against Morissette's tunes, and stunningly choreographed by Sidi Larbi Cherkaoui in a production that originated at American Rep Theater in Cambridge and directed by Diane Paulus. It's been tweaked, did time on Broadway, and has returned to its stomping grounds on tour and is better than ever. You Oughta' Know. Now through 6/25 presented by Broadway in Boston.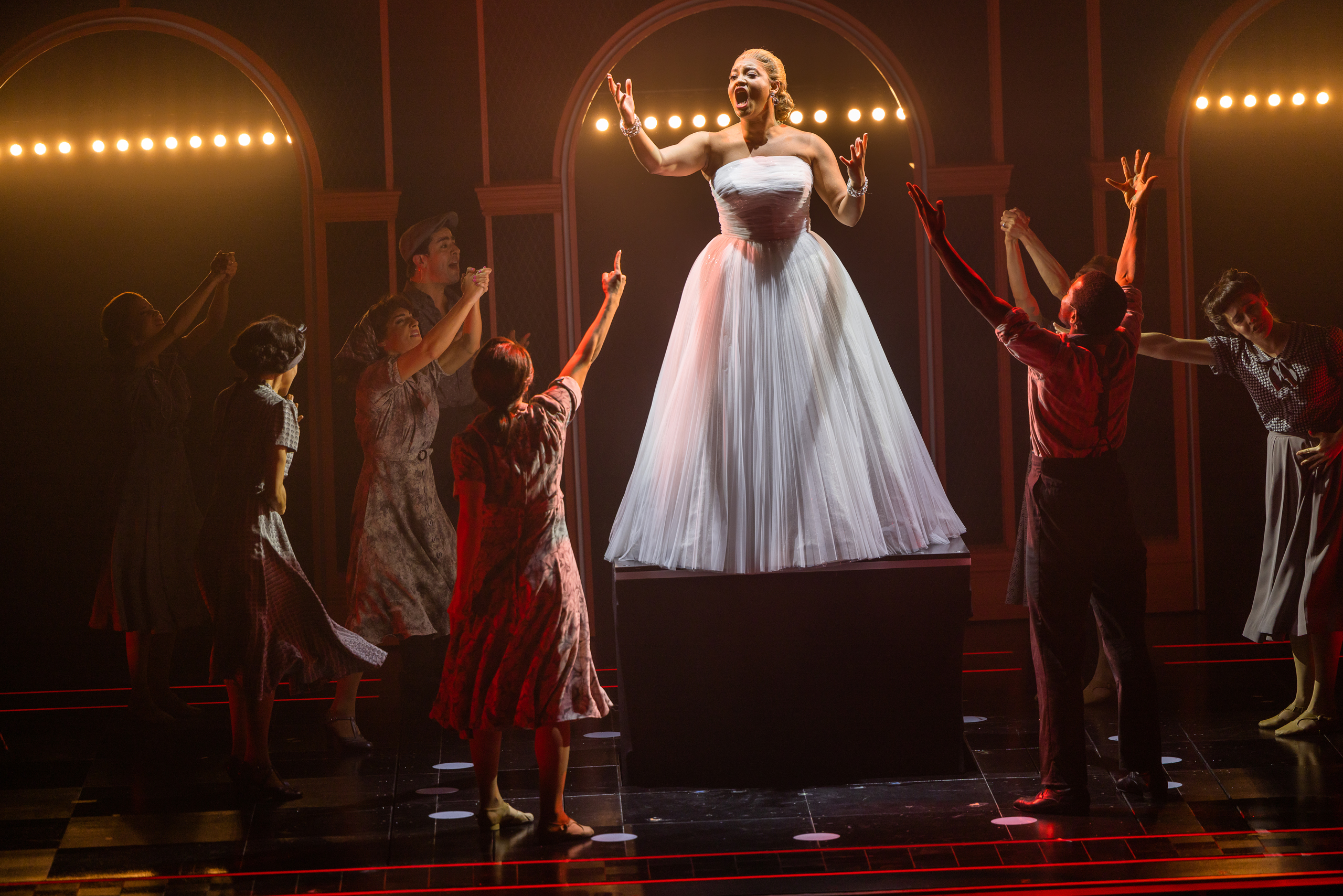 And speaking of American Repertory Theater– SEE EVITA— a splendid production, in association with Shakespeare Theatre Company, of this sonorous sexy classic now onstage at the A.R. T. in Cambridge. A killer cast has been assembled lead by Shereen Pimentel as the iconic Eva Perón. Her gown may hover  aloft like the Phantom's chandelier, but her voice and presence anchor this exceptional mounting of the Tony-Award-winning musical featuring one of Andrew Lloyd Webber and Tim Rice's most delectable scores.  The production also features sensually arresting work by  co-choreographers Emily Maltby and award-winning Argentine tango choreographer Valeria Solomonoff and associate choreographer Kelsey Burns. It's hard to know where to look when these dancers are on stage.  SEE EVITA THROUGH JULY 16 and keep your summer sizzling! 
And finally–SEE AS YOU LIKE IT Shakespeare's gender-switching comedic roundelay which Actors' Shakespeare Project in partnership with THE THEATER OFFENSIVE plays to the hilt!! The comedy leaves the binary behind and blows past all gender-bending, cross dressing boundaries, exploding text and subtext into a jubilant celebration of LOVE in all its guises– as you like it!  The production stars a cast of the hottest young and established actors now performing onstage in Boston.  This ensemble blew my mind– especially the riotously sexy Genevieve Simon as a frisky and wise Rosalind who woos Mishka Yarovoy's lovesick Orlando. Bobbie Steinbach has never been better as the witty and wise Jacques; her comic timing first makes us laugh then makes us think. She underplays to perfection. Regine Vital is warm and alive as Rosalind's best cuz Celia. Nathan Malin tears at our heartstrings as goofy shepherd Silvius in pursuit of the smashing Lindsay Eagle as Phoebe (and also a daunting Charles the wrestler) smitten by Orlando! There's so much talent on that stage it's hard to take it all in. See for yourself at the beautiful Tufts University's Balch Arena Theater only through THIS WEEKEND SUNDAY JUNE 25!!