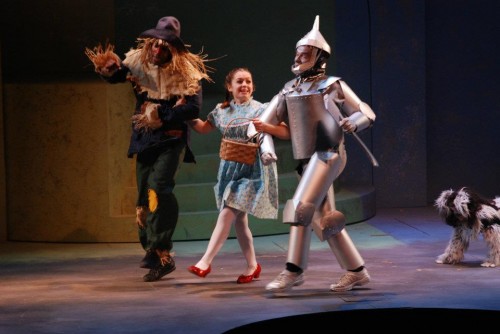 This week, I hope you're off to see the wizard– the wonderful WIZARD OF OZ at The Wheelock Family Theatre! If you have kids AND you have just about run out of things for them to do this school vacation week, ease on down the road to one of the most entertaining productions of this classic I've ever seen. We're talking great performances led by a winning Dorothy –Katherine Leigh Doherty a senior at Noble & Greenough School, AND a Broadway baby! She starred in the Broadway production of MARY POPPINS and later in the Broadway production of A LITTLE NIGHT MUSIC with Angela Lansbury and Catherine Zeta Jones. The girl is a natural with a clear expressive soprano, and conjures up Judy Garland when she speaks and moves!
And her little dog Toto is actually a talented, petite little actress (Sofia Pilar Villafane) who almost steals every scene she's in, while remaining completely in character as Dorothy's cuddly canine companion on the yellow brick road– clever moveable blocks on a colorful cartoony set. Munchkin Land is populated by a stage full of kids who bring their bright energy to every munchkin moment– a treat for budding young thespians in the audience!
Scarecrow (Ricardo Engermann), and Tin Man (Shelley Bolman) dazzle us with their slinky moves and metallic grooves; but it's Timothy John Smith as a blustery funny cowardly lion who has the biggest voice and gets the biggest applause. The Wicked Witch of the West is cleverly re-imagined by Jane Staab in a white wig, who's not as forbidding as Margaret Hamilton's green-faced hag; Staab's wickedness dissolves into peevishness at crucial moments, and we find ourselves laughing ourselves silly at her undoing. She's wicked good– and so is this production!!
See THE WIZARD OF OZ  through February 26th!! With 1pm vacation week matinees, and an extra performance added on 2/25 at 7:30!