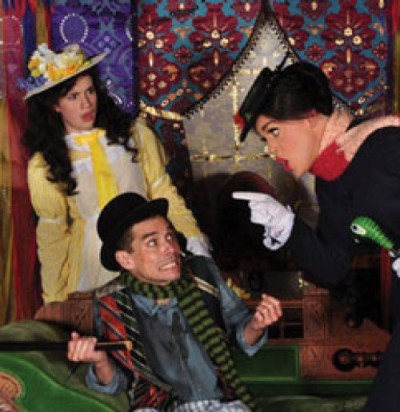 I have never laughed so long and so hard in my life. I may never need abdominal exercises again: I just saw the most obscenely funny show in town– MARY POPPERS now playing at MACHINE– otherwise known as The Ramrod Center for the Performing Arts. It's the latest Ryan Landry and the Gold Dust Orphans extravaganza, a raucous, raunchy, madly funny take on everybody's favorite flying nanny, but it's really a trip through writer/performer/parodic genius Ryan Landry's endlessly inventive, dazzlingly demented brain.
From the first glimpse up Ms. Poppers' hoop skirt during an insanely staged entrance from on high, we know we're in the land of Landry and anything goes. THIS SHOW IS NOT FOR CHILDREN, no matter how much they may need a nanny.  But what seriously damaged adult doesn't need the brilliantly funny Olive Another as the primly improper Ms. Poppers, whose way with her wayward wards involves opening a crystal meth lab in the nursery?!
From there, it's a mere trip wire away from explosive tap dance routines, Busby Berkeley-esque production numbers, flying puppets, and a ribald roundelay of references from Darth Vader to Maya Angelou. The choreography crackles (YAY Johnnie Pirroni)–pushing the pace to a breathless, tightly directed two hours. Things calm down briefly– only to make way for one of the ten funniest moments I've ever seen on a stage in Boston; I will just say that you may think twice before deciding to feed the birds.
The cast delivers some of the best comic and musical performances ever in a Gold Dust Orphans production. Olive Another as Mary Poppers manages to be both wildly over the top, and perfectly persnickety right down to the bottom of her bumbershoot. It's clear Billy Hough as the very bawdy "Burt," with a wicked gleam in his eye, can more than sweep your chimney.  The silver-voiced Grace Carney and Liza Lott shine as the naughty Banks children, while the ever delightful Penny Champayne kills as their haughty mother. Ryan is for once, almost staid in a pair of pants, playing straight man to his own pooch the adorable Rhoda; part Pomeranian, part Jack Russell, part Jack Benny– Rhoda, in a riotous cameo, steals the show with her doggie deadpan.
MARY POPPERS is Super Fabo Dragalicious Sexy and Precocious!
SEE IT through May 20 at MACHINE:  1254 Boylston Street, Boston.