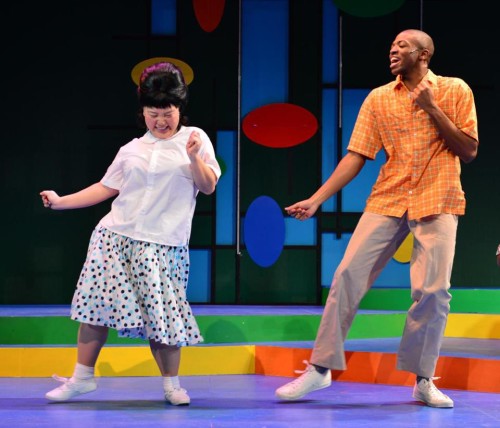 Take a little hairspray, some rock N' roll, racism, and a hint of integration, mix it with a teenage romance in 1960's Baltimore  and base it on the 1988 movie written and directed by b-movie schlock meister John Waters– and you've got an infectious little musical called HAIRSPRAY!!! I've always loved this show and it's onstage right now in a winning production at WHEELOCK FAMILY THEATRE!
The credo at WFT is "Inclusion" with a capital "I," and that's exactly what this show is about. The heroine is the rotund Tracy Turnblad, here played by Asian American Jenna Lea Scott. She and her character are cute, innocent, and talented–and definitely NOT the standard, all-American, white, teen-queen ideal– in the 60's at any rate! Tracy falls for "Link" (Michael Notardonato) the dreamiest guy on TV's "Corny Collins Show." Turns out "Link" isn't missing a thing; he eventually jilts the pretty but "snootiful" Amber Von Tussle (Jane Bernhard), and throws Amber's ambitious mother and show producer Velma into a major tizzy. Aimee Doherty as "Velma" is definitely "Cruella deVelma" in a wickedly funny performance.
By the end of the show, Tracy's goofy, goggled girlfriend Penny Pingleton (Jennifer Beth Glick–funny, but she could tone it down a bit) is dating the"colored" boy next door–Seaweed J. Stubbs (the charming Jon Allen). Tracy' has successfully integrated the Corny Collins show with "Negro" music and dance moves, and Tracy's mom (Robert Saoud in drag–who could kick it up a notch) has got it goin' on!
If anything the show could pick up the pace, but the voices are solid across the board, as are the production numbers, costumes and set design, and the enitire cast  bubbles over with buoyant energy. The production is also subtitled and signed for the hearing-impaired so no one's left out.
The show's genius is that it tackles all of these potentially explosive topics both matter of factly and head on; its innocent tone, and upbeat score are completely disarming, subverting any resistance. In many ways it's an ideal show for a young audience all of whom are trying to figure out who they are and where they belong. Overweight? Black or white–both? Gay, straight, or transgendered?  Some of these issues and jokes may even feel dated–thank goodness. The show remains a safe haven for anyone seeking acceptance, and is propelled by a welcoming tone, and a vibrant score that culminates in one of my all time favorite affirmations and musical numbers– the jubilant YOU CAN'T STOP THE  BEAT. I want that at my funeral. See HAIRSPRAY  at Wheelock Family Theatre through FEBRUARY 23!