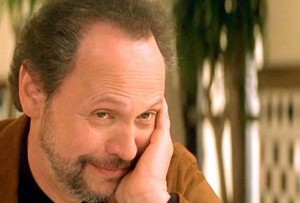 There's one thing we know for sure about the 84th Annual OSCARS –Billy Crystal will host, and we will be in good hands. The rest is up for grabs. Here are my stellar predictions, a skill honed practically in the womb and refined during my grammar and high school years as I sat glued to the TV wondering if Liz Taylor's periwinkle gown really did match her violet eyes, and how could Barbra Streisand wear those see-through pants? And OMG — Sidney Poitier for LILIES OF THE FIELD!!
So here goes. These are my PREDICTIONS for OSCARS 2012:
BEST PICTURE: I predict THE ARTIST, though it's practically neck and neck with THE DESCENDANTS in my estimation. THE ARTIST is a love letter to movies, and the academy loves that.
BEST DIRECTOR: I predict Martin Scorsese for HUGO– a much admired tour de force in 3D which is another valentine to movies by a brilliant filmmaker much revered but not as often honored. My choice: The reclusive Terrence Malick for the astonishing THE TREE OF LIFE which attempts to convey the meaning of life– and almost does.
BEST ACTOR: I predict George Clooney.  He has replaced Jack Nicholson as the reigning King of Hollywood and he also gives the best performance of his career which looks better and better every time I see it, and I have seen it three times. Clooney is also my choice.  Only Brad Pitt could upset him. But not in real life.
BEST ACTRESS: I predict Meryl Streep– though this is THE toughest race to call, and the strongest category. The fact is,  Streep gives a jaw-dropping performance and I don't think anyone in the academy can stand to see her lose for the 15th time. I would be pleased if she were to win, though I'd be just as pleased if Michelle Williams won for her turn as Marilyn Monroe, and I know Viola Davis would make me weep if she were to win for THE HELP, and then there's feisty little Rooney Mara who braved all those tattoos and then some in THE GIRL WITH THE … well you get the picture….
BEST SUPPORTING ACTOR: I predict Christopher Plummer for BEGINNERS. He's a marvelous actor in a weak field, getting on in years, and never won an Oscar. Not my choice. Boring film and he was barely in it. I like Jonah Hill as the geeky numbers cruncher in MONEYBALL. But I'm the least excited about this category.
BEST SUPPORTING ACTRESS: I predict Octavia Spencer who was just fine in THE HELP. Everyone's talking about her, her character was extremely likeable  and the academy will want to honor this film.  But my choice, hands down:  Melissa McCarthy who made me scream, so original was her character, so off the wall funny was her delivery.
So there it is. I'll be glued to my set, tweeting through the night, wincing at every lame joke, laughing at every fashion faux pas (please Bjork– come back!) weeping at every sappy acceptance speech, and feeling like a kid with stars in her eyes again. Watch with me!